from Day by Day with the Persecuted Church

For it has been granted to you on behalf of Christ not only to believe on him, but also to suffer for him.
(Philippians 1:29)
Joseph Ton
Suffering is not something strange. Actually, it is not even a tragedy, but a favor. "To this you were called, because Christ suffered for you, leaving you an example, that you should follow in his steps" (1 Peter 2:21).
According to Peter, suffering is our calling. It is even a favor. Peter and John were flogged, which is a terrible punishment. But when they were sent away with bloody backs, they rejoiced "because they had been counted worthy of suffering disgrace for the Name" (Acts 5:41).
Peter and John considered it a special honor to be flogged, as if they realized that they had received something which was not granted to everyone.
A Christian must be found worthy to suffer for the Lord. Such suffering is a calling, a favor and an honor.
Joseph Ton from Romania. Joseph Ton describes a number of spiritual principles of God's faithfulness despite suffering. Edited with permission from the Dutch booklet entitled Lessen in Lijden.
Copyright [C] 1995 Open Doors International. Used by permission.
Click here to sign up for a free monthly newsletter from Open Doors about persecuted Christians.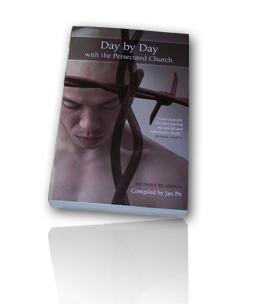 Day by Day with the Persecuted Church
compiled by Jan Pit with a forward by Brother Andrew (paperback, revised 2000)
Compelling wisdom from the pen of actual believers living amidst persecution, you'll be connected to the suffering, courage, and depth of life that exists in the harshest places in the world. Each of these 365 thought-provoking devotions will deepen your understanding of Christian persecution and provoke you to pray for our brothers and sisters with a new found depth.