from Day by Day with the Persecuted Church

When you are brought before synagogues, rulers and authorities, do not worry about how you will defend yourselves or what you will say, for the Holy Spirit will teach you at that time what you should say.
(Luke 12:11-12)
Sister Chen
Some years ago Brother Yuen was arrested. He was put in prison and then brought to the town square to be questioned openly. All believers were asked to join the accusation. The aim was to scare others by killing him. I was one who was forced to join the accusation.
This is what I saw - Brother Yuen stood in front of the government officials. No sad face, no frustration. Just a peaceful face which smiled. It was as if I saw a life overflowing with peace and love. I saw Yuen very clearly. How in the world could he be so peaceful? I saw a light shine in his eyes that I had never seen there before. O yes, Brother Yuen had always been a faithful Christian. I remembered him as a quiet man, who lived with God without wanting to stand in the limelight. But now ... the light of life was shining from God's throne onto this imprisoned Christian. Then he spoke, as he never had before…
"I love Christ, I spread Christ, I trust in Christ, I follow Christ and I remain faithful to Christ. I am willing to accept what will come to me. I seek nothing else except Him. I hope that more people will come to accept Christ."
We came with sorrow, weakness and pain, yet we went back with comfort, strength and joy. We realized that this was not Brother Yuen, this was God, standing by, holding up, giving words to speak.
That God is ours today, His strength is ours.
Will Yuen's testimony be ours too?
Sister Chen is from China and is a pillar of God's house in this vast land. Due to security reasons, we cannot introduce her further to you, but her testimony speaks for itself.
Copyright [C] 1995 Open Doors International. Used by permission.
Click here to sign up for a free monthly newsletter from Open Doors about persecuted Christians.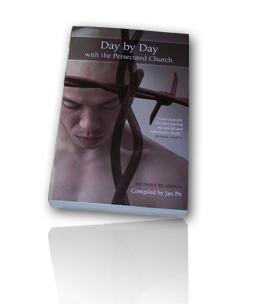 Day by Day with the Persecuted Church
compiled by Jan Pit with a forward by Brother Andrew (paperback, revised 2000)
Compelling wisdom from the pen of actual believers living amidst persecution, you'll be connected to the suffering, courage, and depth of life that exists in the harshest places in the world. Each of these 365 thought-provoking devotions will deepen your understanding of Christian persecution and provoke you to pray for our brothers and sisters with a new found depth.