from Day by Day with the Persecuted Church

So Jacob served seven years to get Rachel, but they seemed like only a few days to him, because of his love for her. (Genesis 29:20)
Ferenc Visky
Jacob had to serve Laban for seven years under difficult conditions to get his wife Rachel. In fact, the whole period of his service amounted to twenty years (Genesis 31:41). Love delivered him from the tyranny of time. Where love is, there is eternity, timelessness.
Convicts in prison undergo the heaviest crisis when the last remains of a life in freedom are taken from them. I went through that crisis together with eight other brothers - our heads were shaved bald and we were given striped prison clothes. Our sentences varied from eighteen to twenty-two years' imprisonment. We had to give up the life we had led until then. All of this was accompanied by derision and rough abuse from the guards, between grey walls with barred windows. All of us bore the visible signs of our readiness to die in silence. But we also experienced the comfort of the Lord in this desperate situation. He sent us this text, "...they seemed like only a few days to him, because of his love for her." I whispered it in the ear of the brother who stood beside me and he passed it on to the next. As if in a holy relay, it passed the whole row, "...because of his love for her."
God, too, loved us so much that He sacrificed His own beloved Son with joy to save us. Jacob didn't count the years, the only thing that counted for him was Rachel. Even during the long years of service he was a free man. Love made him free. When the apostle Paul speaks about his suffering for the name of Jesus, he says that the troubles are "light and momentary" (2 Corinthians 4:17).
When you love the Lord, your captivity for His sake, your suffering for Him is light and a pleasure.
Ferenc Visky is from Romania. He and his wife write in a moving way about their life with the Lord despite heavy persecution.
Copyright [C] 1995 Open Doors International. Used by permission.
Click here to sign up for a free monthly newsletter from Open Doors about persecuted Christians.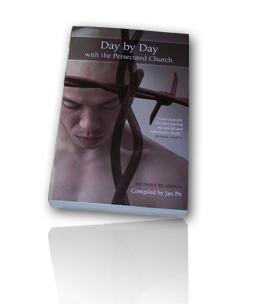 Day by Day with the Persecuted Church
compiled by Jan Pit with a forward by Brother Andrew (paperback, revised 2000)
Compelling wisdom from the pen of actual believers living amidst persecution, you'll be connected to the suffering, courage, and depth of life that exists in the harshest places in the world. Each of these 365 thought-provoking devotions will deepen your understanding of Christian persecution and provoke you to pray for our brothers and sisters with a new found depth.