from Day by Day with the Persecuted Church

When a period of feasting had run its course, Job would send and have them purified. Early in the morning he would sacrifice a burnt offering for each of them, thinking, "Perhaps my children have sinned and cursed God in their hearts." This was Job's regular custom. - (Job 1:5)
Job
Job was not only an upright believer (there was no better on earth, 1:8) and an outstanding business man (the richest in the area, 1:3); he was also a good father.
Whenever his children came together to celebrate, Job sat at home and worried. He thought it was good that they kept in touch with each other regularly - that there were such close family ties. He was not aware of what took place on such occasions - he was not invited. The older generation was not invited - it was not appropriate.
Job was with his family in spirit. He knew that the prosperity of his children could easily lead to leaving God out of their lives. "Surely they will not forget God?" Because he could not at that time speak to his children about God, he talked with God about his children. This was Job's practice.
Praying is sometimes the only thing that you can do for your children. Admonishment often brings distance rather than nearness. Children must be able to go their own way. Job had to let his children go - we must also.
The best way to let them go is to place them in the hands of God. Job did this. You may also do this - over and over again.
Copyright [C] 1995 Open Doors International. Used by permission.
Click here to sign up for a free monthly newsletter from Open Doors about persecuted Christians.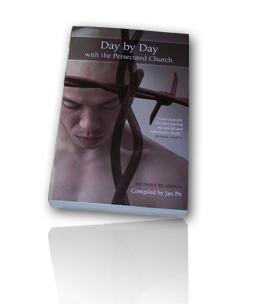 Day by Day with the Persecuted Church
compiled by Jan Pit with a forward by Brother Andrew (paperback, revised 2000)
Compelling wisdom from the pen of actual believers living amidst persecution, you'll be connected to the suffering, courage, and depth of life that exists in the harshest places in the world. Each of these 365 thought-provoking devotions will deepen your understanding of Christian persecution and provoke you to pray for our brothers and sisters with a new found depth.