Preach it, David!
Linda Buxa
I was reading Psalm 73 the other day and wanted to shout, "Preach it, David!"

"For I envied the arrogant when I saw the prosperity of the wicked. They have no struggles; their bodies are healthy and strong. They are free from the burdens common to man; they are not plagued by human ills" (Psalm 73:3-5).

He put to words the feelings in my heart. And he is spot on, don't you think? I look around and see businessmen who cheat their way to wealth, people who lie without consequence, bosses who treat their subordinates like trash but get promoted anyway. The people who love Jesus seem to get stepped on, ignored, mocked.

I was on an aggrieved soapbox when David got to the part of the psalm that stopped me short: "When my heart was grieved and my spirit embittered, I was senseless and ignorant; I was a brute beast before you" (verses 21,22).

I wanted David to stop preaching it, but he was right. Being jealous of people headed to hell just highlights my ignorance. Envying their temporary wealth just makes me shortsighted. Wishing for a burden-free life shows I still don't grasp how God refines me and draws me close to him.

So I listen as David keeps preaching it: "You guide me with your counsel, and afterward you will take me into glory. Whom have I in heaven but you? And earth has nothing I desire besides you" (verses 24,25).

Amen!
---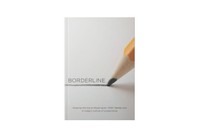 Draw the line at those "little" deadly sins!
Borderline is a warmly conversational, yet thought-provoking new book that will inspire you and perhaps even reset your views on the borderline issues. And it'll remind you all over again of the power of God's unconditional love and grace to help guide you through.
For more from Time of Grace visit them at TimeofGrace.org.