April 17-18
The Reach of God's Love 
Acts 9:1-31
Do you know someone with a hostile attitude toward God? It probably seems impossible that such a person could ever be saved. But no one is beyond the reach of our loving heavenly Father.
Saul of Tarsus, also known as Paul, is a perfect example. He was a Pharisee who persecuted Christians. In fact, he approved of stoning Stephen to death for his faith in Christ (Acts 8:1). Paul's hatred for believers derived from his ignorance of grace and sin. According to the law, he was as close to blameless as was humanly possible. Isn't it hard to imagine a person like this realizing his need for a Savior?
Saul was intent upon ridding the world of Christ-followers. But the Lord had other plans. When blinded by light and confronted with his wrong actions, Saul responded to Jesus, repented, and believed. For the rest of his life, the apostle was committed to spreading the gospel.
Our almighty God can reach anyone. Salvation is possible only when He convicts an individual of his or her sin and the need for redemption. The Lord's intervening hand, however, does not stop once a person is saved. He continues to reveal areas of sin that need attention. Then He empowers the believer, giving strength and guidance through the sanctification process.
Conviction is usually uncomfortable. Often, we go to church, hoping to be uplifted by the pastor and to leave feeling good. While encouragement, peace, and joy are vital aspects of the Christian life, refinement is also necessary. It is the testimony of Christ's hand in our life, molding us to be like Him.
For more biblical teaching and resources from Dr. Charles Stanley, please visit www.intouch.org.
Click here to watch Dr. Charles Stanley & In Touch Ministries Video Online
and
click here to listen to Dr. Stanley at OnePlace.com.
FEATURED RESOURCE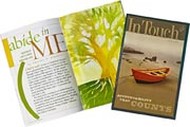 In Touch Magazine
Stories that Inspire, Teaching that Renews
If you like Dr. Charles Stanley's radio program, TV broadcast and books, then you'll love his free, award-winning monthly magazine. It's full of informative resources that will touch your heart and invigorate your faith. Every month, In Touch magazine brings readers daily devotionals from Dr. Stanley, in-depth Bible studies, inspiring articles and insightful teaching to help strengthen your family and your relationship with God. Click below to start your free subscription to In Touch magazine. 

Used with permission from In Touch Ministries, Inc. © 2009 All Rights Reserved.