In Touch Daily Devotional 
by Dr. Charles Stanley
---
November 6, 2006
Raising the Level of Our Prayers
Last week, we began looking at raising the level of our prayers. Through the apostle Paul's petitions, we learned the importance of knowing God intimately, giving thanks for the spiritual health of others, and praying for their spiritual growth. Ephesians chapter three provides further insight into what sets his prayers apart from ours.
First, it's Paul's posture in prayer. Humility marked the apostle's requests. He knew it was not superior knowledge or the eloquence of his words that caused God to hear and respond. His prayers were heard because of Jesus. Likewise, our physical posture during prayer doesn't matter to the Lord, but our heart attitude does. A submissive mindset is of great value to Him. Physically kneeling in prayer isn't worth much when we're standing tall and proud on the inside. And despite having an impressive list of credentials, Paul did not make himself the center of the conversation. (Philippians 3:3-8) His focus was always on the Father and Jesus.
The basis of Paul's prayers also set them apart from ours. The foundation of Paul's prayer life was the Trinity—Father, Son, and Holy Spirit. In Ephesians 3:14-16, he declared the fatherhood of God, the one from whom His whole family in heaven and earth derives its name. Paul also prayed for God to strengthen the saints with power from the glorious riches found in Christ through the Holy Spirit. He asked the Lord to do something for the Ephesians based on His inexhaustible capacity and matchless power.
When we want to act on someone's behalf, the most powerful thing we can do is pray. Spend time every day in concentrated communication with God.
 
FEATURED RESOURCE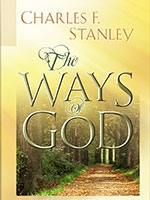 The Ways of God
from Dr. Charles Stanley
God's ways are always perfect, and following them leads to fulfillment and success. One of life's undeniable truths is that your choices will ultimately determine your future. While you can decide for yourself what career field to enter or who to marry, nothing compares with seeking God first and relying on the wonderful principles of His Word. In this series, Dr. Stanley teaches that as you serve God and seek His ways, you'll be blessed with peace, wisdom, and guidance for the journey ahead. Order here  now!
To see more resources from In Touch Ministries, please visit us at www.intouch.org  or go directly to our bookstore at In Touch Ministries.