Disaster or Opportunity? You Decide

At 44 years old Phil had attained an amazing level of career success. Growing up in a family without TV he had developed an early appreciation of books. Now after 25 years in the publishing industry he was head of an $80 million division of one of the world's largest and most respected publishers. He knew that being there was part of his calling. And yet he recognized a "growing dissonance" with the pressures from New York stockholders on the bottom line at the expense of product and customer focus. However, he assumed he needed to "suck it up, and stay – out of fear and a sense of responsibility."
His unrest was addressed on a fateful day in 2004 when, rather than receiving an expected promotion, he was given a severance package and the invitation to clean out his desk. While that experience was "scary and humbling," Phil says his thought was, "You've answered the prayer of my heart – not my lips, but my heart." He says he would never have taken the "risk" of leaving on his own.
Today Phil has capitalized on an exploding trend in publishing – downloadable audio books. His company, eAudioSource.com is a leading provider of audio books and Bibles. You may notice that he is one of 48 Days recommended businesses. He simply found a new, innovative and fitting opportunity with even more potential for time, freedom and income than anything he had experienced in previous positions. In place of the challenges of a traditional publishing house, his "store" is open 24 hours a day, 7 days a week, with no employees, no physical inventory, and no limits to expansion. He is using every bit of his background, his valuable relationships and his unique expertise. He is still in publishing and, more importantly, is still fulfilling his same mission and calling in his life.
What a great example of taking one of those unexpected yet inevitable transitions that life brings us and using it as a springboard for even greater success – personally, in relationships and in creating balanced, fulfilling, purposeful and profitable work. Many of you are walking through similar transitions right now. Was losing your job or business a tragedy or a blessing? Are you expecting to use your background to create a more fulfilling new season in your life – or are you expecting less? Remember the Biblical truth: "As a man thinketh in his heart, so is he."
---
Check out
Phil's special offer for 48 Days members for
The Word of Promise Audio Bible
. You'll hear the scripture come alive with readings by well know actors such as Jim Caviezel (Jesus in the Mel Gibson's Passion movie), Richard Dreyfus, Lou Gossett Jr., Michael Smith, Rebecca St. James and others. Visit:
http://www.eaudiosource.com/48days/
---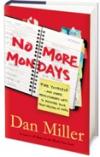 Dan Miller is today's leading authority and personality on careers and 'Work You LoveTM'. As bestselling author of 48 Days To The Work You Love, and now No More Mondays, Dan reaches over a million people every month ia his newsletter, podcast, and blog with the best trends and opportunities in the workplace and small business. For more information, visit http://www.48days.com.