What is Your Passion?

If you don't combine your passion with your work you will never achieve excellence and fulfillment. I imagine it kind of like having a lawn mower engine in a Porsche. Yeah, it will move along but it can hardly get out of the way of other traffic and it sure doesn't give you the thrill and exhilaration that driving a Porsche should. (I took a friend's Porsche 959 for a spin recently. It had been modified from its original 331hp to 615 horsepower - what a rush!)
Every week I hear from lots of people who are still trying to find their passion. Here are some examples:
Dan, I cannot think of anything that just supremely stirs my drink. I have no passions or dreams. (I'm in my early 50s). I mean, there are some "warm" areas. But there is nothing I feel like I want to give my life to. The old cheese has moved, and the old dreams are dead and gone. I'm looking for a new one.
I'm currently working with a high level financial executive who, after 26 years with the same company, is being "invited" to leave. He's having to catch up with the new opportunities because for 26 years "I've had my head down, and pencil up."
Today I talked with a 34-year-old who has a history of starting businesses "that have nothing to do with my passion." And then he wonders why it's such a struggle to make them work.
I'm also working with a 48-year-old dentist who after years of frustration says, "I just keep getting better at what I intend to get out of."
What's blocking you from finding your passion - and integrating it into your work? Are you convinced that work is meant to be boring and stifling - only a means to a paycheck? Do you think that fulfilling God's will always means sacrificing your true passions? Do you believe that if you followed your passions your income would drop dramatically? I believe all of these are false statements.
A couple months ago I wrote an article "Is Your Music Still In You?". The response to that was so overwhelming we now have produced business card-sized magnets with those words on them for a constant reminder to not let that happen.
What's your reason for not living in your passion? And what are you going to do to change?
---
Click through to
comment
at the bottom of this article on my blog. I'll choose 10 of the most interesting responses and send you a "Is Your Music Still in You?" magnet.
---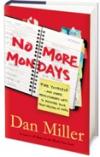 Dan Miller is today's leading authority and personality on careers and 'Work You LoveTM'. As bestselling author of 48 Days To The Work You Love, and now No More Mondays, Dan reaches over a million people every month ia his newsletter, podcast, and blog with the best trends and opportunities in the workplace and small business. For more information, visit http://www.48days.com.