Author Advises Christian College Students How To Guard Faith
Jim Brown

Agape Press

2004

2 Aug

COMMENTS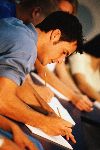 Since young believers starting college in a few weeks can expect to find their faith under assault from both professors and fellow students, a university of Texas professor is advising these Christian students how to guard their faith on campus.
University of Texas professor J. Budziszewski has written two valuable resources for Christians on college campuses. How to Stay Christian in College deals with many of the faith challenges a student is likely to encounter, and gives incoming freshman the intellectual grounding and practical advice they'll need to grow as Christians. Meanwhile, his book Ask Me Anything: Provocative Answers for College Students offers answers to many of the relationship questions that college students ask.
Budziszewski says both books are designed to prepare young believers and their parents for what Christian students will face in college. That is because generally, he says, these young adults have not been given an adult preparation for living out their beliefs.
"We've given them a child's preparation for living out their faith as adults," the author explains, "and so often they're on their own to develop that intellectual grounding -- that adult understanding of the faith -- when they go off to college. And if nobody's helping them, it's hit or miss."
Budziszewski describes the university or college campus as a spiritual battlefield, and he says the biggest mistake many young Christians make in that environment is to try to "go it alone," not realizing they need a support system.
"Many of them have high expectations for themselves," the professor notes, "but they go off to school in a very individualistic way. They say 'It's just you and me, God,' and they think, 'I can worship by myself, I can study the Bible by myself, pray by myself.' And they don't stay in contact and fellowship with other Christians. That's a disaster."
In order to stand against the inevitable temptations and challenges of college life, Budziszewski advises young believers need to join a campus Christian fellowship and a Bible-believing church. He says having such support will help Christian college students not only to hold onto their faith in that environment, but also to grow spiritually.


© 2004 Agape Press. Used with permission. All rights reserved.