Muzzle Your Mouth
By:Rick Boxx
March 21, 2016
Recently, I saw an old friend that knew me in my young wild days. He began sharing stories and joking with me about my foolish escapades from those past years.
It was tempting to swap stories from our past, but I knew that it could easily lead me to say and discuss things that would not be pleasing to God. Instead, I chose to switch topics and spend time learning about his life.
King David wrote in Psalm 39:1, "I will guard my ways that I may not sin with my tongue; I will guard my mouth as with a muzzle while the wicked are in my presence."
The workplace often comes with temptations to join in conversations that will not have a good result. During those occasions guard your tongue.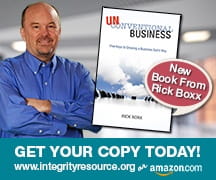 Learn more about Rick Boxx and Integrity Resource Center