Christmas shopping can be really difficult for my species. Many of us men give gifts to our significant others with fear and trembling. Humor writer Dave Barry relates the confusion most men deal with when giving a gift to their wife.
He could tell by her reaction to the gift that she had not been dreaming of getting an auto emergency kit, even though it was the deluxe model with booster cables and an air compressor. Clearly, this violated an important rule, but the man had idea what the rule was, and his wife was too upset to tell him.
Barry continues his thoughtful treatise…
So why is the Christmas season so difficult for men? There are many complex reasons, by which I mean: women. The problem goes back to the very first Christmas. We know from the Bible that the Wise Men showed up in Bethlehem and gave the baby Jesus gifts of gold,frankincense, and myrrh. Now Gold is always a nice gift, but frankincense and myrrh - at least according to my dictionary - are gum resins.
Barry asks the vital question…
Who gives gum resins to a baby? The answer is…Men. The three wise men…being men, didn't even start shopping for gifts until the last minute, when most of the stores in the greater Bethlehem area were closed for Christmas Eve. The only place still open was Big Stu's House of Myrrh.
Even though Barry's interpretation of the Gospels might be a little suspect…I do think he is correct about the difficulty in finding a gift for Jesus on His birthday.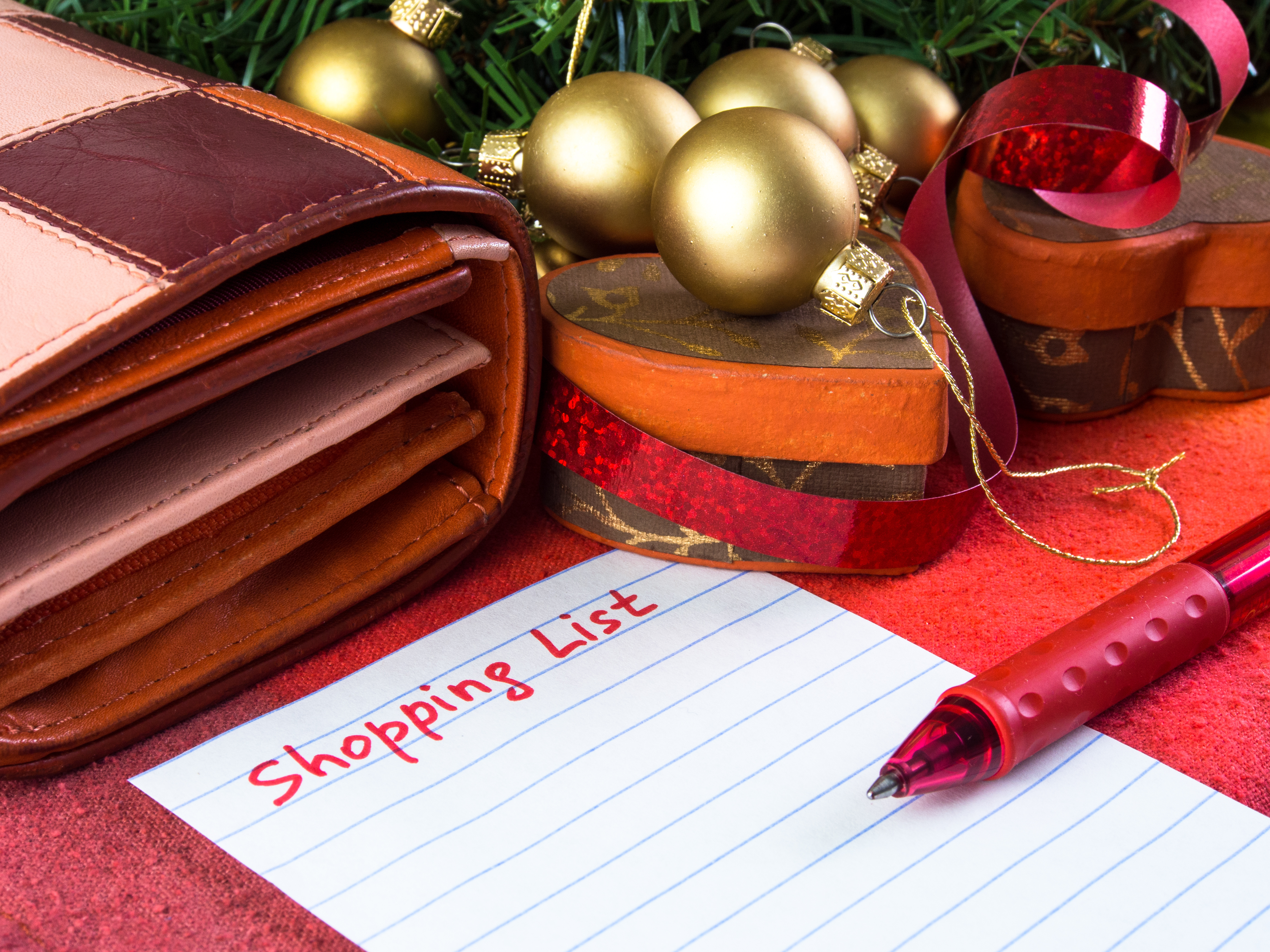 On December 24th or 25th most of us will exchange gifts to celebrate the birth of Christ. Suppose you had a big party to celebrate my humble birthday this April. All of my close friends and acquaintances show up and exchange gifts. But there is nothing for me. Finally someone mentions how grateful they are for my birthday so we could all be together. I become hopeful. Then somebody yells that the refreshments are ready so everyone rolls into the kitchen and I am left sitting with no gifts on my birthday. I wonder if we don't do that to Jesus. We put up a reason for the season signs and all of that. But it is so easy to get all caught up and not even think of a gift for the guest of honor at our Christmas celebrations.
So what can you give the Lord of the Universe? If you think your mother-in-law is tough to buy for what do buy for the Savior who has everything? I decided to go back to the Three Wise Men and see if there was more to their gifts than first appears. What was the meaning of the gifts presented by the Magi? The simplest meaning is that these men brought items which represented the greatest worth. All of these gifts were rare, precious and expensive. Whatever else we may learn from this story, we know that they gave their best in honor to the One they believed to be the King, the Messiah. It's interesting that we don't know the names of the Magi but we know what they gave. We don't know where they came from but we know that they worshiped the Christ child.
They entered the house and saw the child in the arms of Mary, his mother. Overcome, they kneeled and worshiped him. Then they opened their luggage and presented gifts: gold, frankincense, myrrh. (Matthew 2:11, NLT)
The key fact for Nativity purists is the Magi did not visit the Baby Jesus in Bethlehem. So the typical Nativity scene on the mantle is chock full of Biblical errors. They showed up at the house, bowed down before Him and they offered Him gifts. What an amazing spirit that must have surrounded that child that caused men of importance, wealth and education to fall down before Him!
The first gift mentioned is gold. Gold has always held in extremely high value - as long ago as 2,500 BC, gold was especially prized, and used as a medium of exchange. Even today when investments get shaky you start hearing about buying gold as a hedge against economic downturns. The value of gold seems to be a constant in our civilization. In both the Old Testament Tabernacle and the Temple, gold was used plentifully and was clearly associated with worship.
So should we give Jesus gold on His birthday? Most of us have a rather limited supply of gold. I am going to suggest that we give Jesus a commodity that is as valuable in today's culture as gold was in the time of the Magi.
That commodity of great value?
Time.
When I think of gifts that I can give to Jesus…is there anything more precious than my time?
When you love someone you want to spend time with them. If you say you love your wife but you go several days or weeks without talking to her she might be suspicious. When we say we love our children but we can't work them into the schedule they begin to have doubts. When a young couple falls in love they want to spend every moment together. When they are apart they think of each other. As Percy Sledge famously sang that when a man loves a woman he can't keep his mind on nothing else.
So we say we love Jesus. But we probably have little difficulty thinking of something or someone else. We tell others that He is the center of our universe…but we can't carve out the time to spend with Jesus to develop that relationship. I am confessing here that I have been guilty of this far too often in my journey with Jesus. My lips confess my commitment to Him but my time with Him reveals my true priorities. The uncomfortable truth for me as a husband…as a father…and as a follower of Christ is that my calendar reveals my heart. I make time for the things that are most important to me.
Gift suggestion number one for Jesus on His birthday. Give Him a little time. Sit down with Him Talk to Jesus. Enjoy His company.
Stay tuned for another last minute gift idea for Jesus. Perhaps it is not that hard to give something to Christ this Christmas.
Reposted from "Confessions of a Bad Christian". Contact Dave at Facebook or at daveburchett.com.
One of my favorite Christmas stories happened during the horrors of war. The Christmas carol "Silent Night" was responsible for a wartime Christmas miracle.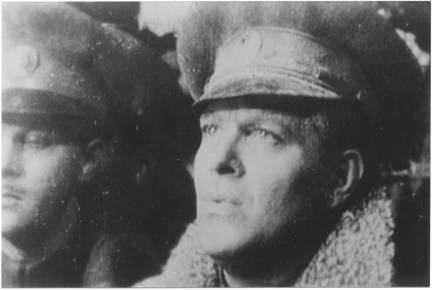 The year was 1914 and soldiers were having to spend Christmas Eve night on the battlefields of France during World War I, the Great War, as it was called. After only four months of fighting, more than a million men had already perished in the bloody conflict. The bodies of dead soldiers were scattered between the trenches. Enemy troops were dug-in so close that they could easily exchange shouts.
On December 24, 1914, in the middle of a freezing battlefield in France, a miracle happened. The British troops watched in amazement as candle-lit Christmas trees began to appear above the German trenches. The glowing trees soon appeared along the length of the German front.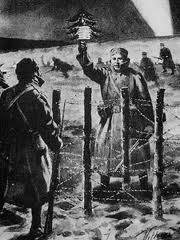 Henry Williamson, a young soldier with the London Regiment wrote in his diary: "From the German parapet, a rich baritone voice had begun to sing a song I remembered my German nurse singing to me…. The grave and tender voice rose out of the frozen mist. It was all so strange… like being in another world — to which one had come through a nightmare."
Silent Night
Holy Night
All is calm
All is quiet
"They finished their carol and we thought that we ought to retaliate," another British soldier wrote, "So we sang "The First Noël" and when we finished, they all began clapping. And they struck up "O Tannebaum" and on it went… until we started up "O Come All Ye Faithful" [and] the Germans immediately joined in …. this was really a most extraordinary thing — two nations both singing the same carol in the middle of a war."It is recorded that enemy soldiers greeted each other in the no man's land that was a killing zone the day before. The soldiers wished each other Merry Christmas and agreed not to fire their rifles on Christmas Day. The spontaneous cease-fire eventually embraced much of a 500-mile stretch of the Western Front. According to the reports of soldiers at the scene, hundreds of thousands of soldiers celebrated the birth of the Prince of Peace among the bodies of their dead.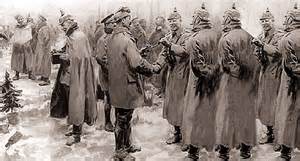 Other soldiers told of how the "enemies" exchanged badges and buttons from their uniforms. Others shared photos of wives and children and some even exchanged addresses and promised to write after the war ended. The German troops rolled out barrels of dark beer and the British reciprocated with offerings of plum pudding. Some soldiers produced soccer balls and a spirited match broke out as fellow soldiers shouted encouragement.
At one location along the front the men who just the day before sought to kill one another now gathered together to bury their dead. Together, with heads uncovered, they held a service to memorialize their fallen comrades. A solitary voice began to sing Silent Night, in French. He was joined by another voice — this one singing in German — the words of a Christmas song known and beloved by all.
But the miracle of peace was temporary. Slowly, under threats from their officers, the troops returned to the trenches and the recoils of rifles split the temporary "Silent Night." Some soldiers admitted aiming so their bullets flew well above the heads of the "enemy."
Perhaps those of us who celebrate the birth of the Savior could learn a lesson from this Christmas miracle as we engage those who do not share our beliefs and faith in Jesus. Those on the other side of the cultural trenches are not unlike us. The message delivered in Bethlehem was peace and goodwill toward all men. When we fight the cultural war we need remember that the whole purpose of Jesus invading our space and time was to love and ultimately die for those on both sides of the battle.
But perhaps the biggest lesson is how the power of a unified focus on Jesus can unite even bitter enemies. My heart aches as I see Christians splitting ranks over things that don't amount to a hill of beans on an eternal scale. I picture Jesus weeping over the churches of America like He wept over Jerusalem. I picture Him weeping over how Christians in this country divide over non-essentials and fail to communicate the joy and life-changing power of the good news of the Gospel. Jesus gave this final command to His followers…
"Go out and train everyone you meet, far and near, in this way of life, marking them by baptism in the threefold name: Father, Son, and Holy Spirit. Then instruct them in the practice of all I have commanded you. I'll be with you as you do this, day after day after day, right up to the end of the age." (Matthew 28, The Message)
Pretty straight forward. Nothing in there about personal gain, power, or prestige. The power of what happened on that Silent Night united enemies centuries later on a French battlefield. My Christmas prayer is that the miracle of God becoming man will unite you and me, His followers, to seek what actually matters. To really make it about Christ and not about us. To model His grace to a culture that desperately needs that grace. While we still have the chance.
(Note: There is a movie (Joyeux Noel), a DVD (The Christmas Truce), a children's book (Christmas in the Trenches) and a historical book (Silent Night: The Story of the WW I Christmas Truce) about this event if you want to know more about the story.
Reposted from "Confessions of a Bad Christian". Contact Dave at Facebook or at daveburchett.com.
Recently I poured over the new titles at the local Christian bookstore. The usual suspects dominated most of the shelf space. One of the most important books in my Christian journey was not displayed. And that is a shame. Because this book has a message that needs to be heard.
The original version of the book was entitled TrueFaced and the newest revision is called The Cure. I don't think I have ever had a book (excluding the inspired one) impact me as much as this one.
I am borrowing one little bit of content that is very timely during this month. John Lynch is one of the authors of the book and in this section he addresses how we are programmed from childhood to default to performance theology. He calls it the "Santa Claus is Coming to Town theology".
You better watch out
Better not cry
Better not pout
I am telling you why
Santa Claus is comin' to town
He's making a list….checking it twice…three times…every day
Gonna find out who's naughty and nice
Santa Claus is comin' to town
He sees you when your sleeping, nows when your awake, he knows when you've been bad or good so be good for goodness sake.

Oh, he's watching. Waiting for you to screw up so you will get coal instead of a bicycle. You had better please him. And we teach our kids to put on the mask and be something they are not. Because Santa Claus is comin' to town. This omniscient being who is judging our every deed is coming to town…and we learn to do the dance early. Buck up…be good. Don't cry. Don't pout. Santa Claus is coming to town. (©Copyright 2003, William Thrall, Bruce McNicol, John Lynch. All rights reserved. Unauthorized duplication prohibited.)
He is exactly right. We learn that we get good things and receive love only when we are good and do good things. Santa is pleased (and we later substitute God) when we behave properly. So we learn early. We had better be good. Or least fool everyone around us to think that we are being good.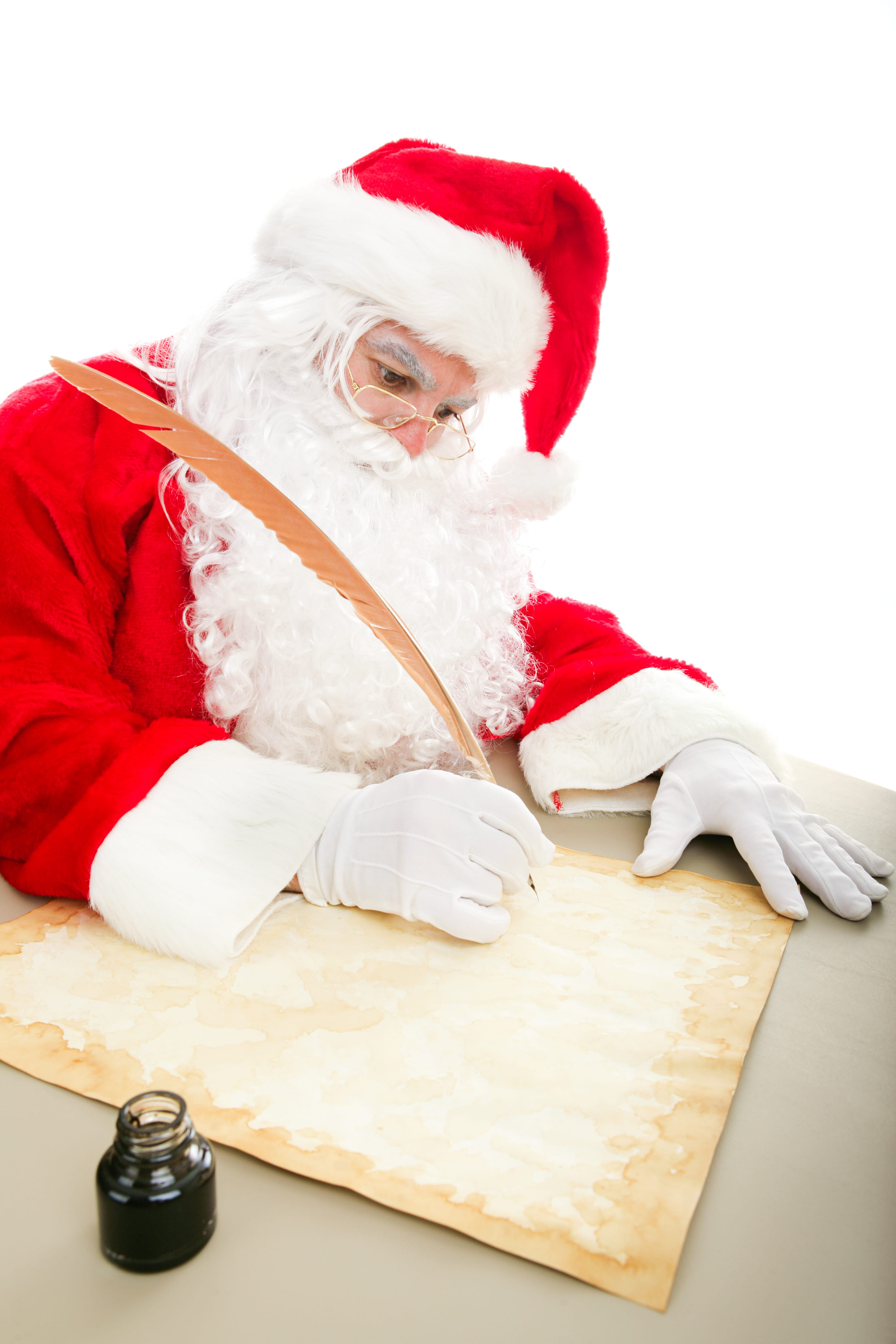 Ask any child this Christmas if they are being good and I will wager you will never hear this response.
"Well, to be honest, I am really struggling with the whole being nice thing. I have actually been pouty and I cried yesterday. It just isn't working out this Christmas so I suspect the video game system will have to wait."
Nope. What you hear is the lie that we learn early and too often keep handy in our arsenal for a lifetime.
"Oh yeah. I am being really good!"
I remember (vaguely) the tension of the Santa Claus years. I knew I hadn't really changed much if at all. I tried to modify my behavior for a week or two leading up to Christmas but I knew I failed. I learned a couple of things early. I learned how hard it is to change behavior by sheer willpower and I learned that I could apparently fool Santa by living a lie. I learned that that he would bring me presents in spite of my failures if I covered it up. I did not learn about grace. That maybe Santa gave me gifts because of who I was and maybe he came to my house because I was lovable instead of rewarding me for what I had done to please him. I figured I had fooled him and to get the good stuff I would have to continue to hide the little boy who broke an ornament and then hid it.
Isn't that too often how we view God? We had better not cry. Better not sin. I'm telling you why. Jesus is coming to town. He's making a list and He is checking it not once or twice but every moment of every day. God knows if you've been bad or good so if you want to be healed or happy or prosperous you had better be good for goodness sake. If I do mess up I am scared to death that I will get a bad life or miss all that God has for me. So I put on the mask and try to be really good for Jesus. If I can fool those around me maybe, just maybe, I can fool God too.
Satan sells the lie so convincingly. And we buy it for months and years and even decades.
But God and Santa are very different in their approach. God does not keep a list. He is not impressed by our hernia inducing straining to control sin.
You know the verse well.
God saved you by his grace when you believed. And you can't take credit for this; it is a gift from God. Salvation is not a reward for the good things we have done, so none of us can boast about it. (Ephesians 2:8-9, NLT)
Jesus offers us so many gifts. But the one we seem to have the hardest time unwrapping is the gift of grace. The gift that allows us to become who God desires us to become as we simply trust Him and quit trying to be "good" for goodness sake. We are saved by grace and faith in Christ. We become like Him by the same radical strategy. Faith that He has changed us into a new creation. And understanding the grace that gives us good gifts even when we don't deserve them.
Don't let the Santa Claus theology creep into your journey. Go straight to the gift of grace that Jesus left under the Cross. Open it. And clothe yourself in His salvation, acceptance and love. It may be the best gift you have ever given yourself.
Reposted from "Confessions of a Bad Christian". Contact Dave at Facebook or at daveburchett.com.