I have become so discouraged with the level of discourse on Twitter, Facebook and the internet in general. The anonymity of cyberspace makes the cowardly courageous and the mean spirited downright evil. I have watched with sadness as Twitter trolls have destroyed or severely damaged people who posted unfortunate or thoughtless remarks. Sometimes the venom is directed at those who simply have a sincere difference of opinion on moral issues. Recently a video went viral with ESPN reporter Britt McHenry. Her rant against an employee of a towing company was disturbing. It was particularly hard for me to hear because I am from a working class and uneducated family. I immediately found myself judging her and condemning her.
Then I stepped back and remembered a wonderful line from Pastor Tullian Tchvidjian. "We all sin and fall short of the glory of God. But that doesn't keep us from comparing distances."
That is exactly what I was doing! I was comparing distances from my own sinful judgement and comments about other people against what I was hearing in this video. At least I haven't said that! But God's Word says I am condemned when I judge, idolize, lie and covet. It doesn't matter whether it is less offensive than another person's actions. Whether I fall a bit short or a mile short is meaningless. I have fallen short. I am a desperate sinner in need of a Savior. Today I asked for the Holy Spirit to examine my heart. I am not responsible for the comments of others. I am accountable for my comments and thoughts before the One who went to Cross to win my forgiveness.
I thought about a familiar passage from the Gospel of John. What if we modified it for our culture today? I do this with the full knowledge that I many provoke the internet Christian hall monitors to judge and criticize me. But it gave me pause to think how Jesus might respond to today's condemning mob. Here is a modern version of a well known story.
A crowd soon gathered, and He (Jesus) sat down and taught them. As He was speaking, the teachers of politically correct speech brought a woman who had been caught in the act of hateful speech. They put her in front of the crowd.

"Teacher," they said to Jesus, "this woman was caught in the very act of intolerance and hate speech. We say she should be fired, disgraced, and shunned. What do you say?"

They were trying to trap Him into saying something they could use against Him, but Jesus stooped down and looked at the device in His hand. They kept demanding an answer, so He typed a message that appeared on every device in the crowd simultaneously. They read the message on their screen. "All right, but let the one who has never unfairly judged another and who has never said an ugly untruth about another send the first Tweet!" Then he looked down and typed something else.

When the accusers read this, they slipped away one by one, beginning with the oldest, until only Jesus was left in the middle of the crowd with the woman. Then Jesus stood up again and said to the woman, "Where are your accusers? Didn't even one of them condemn you?"

"No, Lord," she said.

And Jesus said, "Neither do I. Remember that every person is precious in My sight and that I loved them enough to endure the Cross. Go and sin no more."
Forgive me for taking liberties with such an amazing text. But I think it brings it home for us that I (and you) are just like that mob who dragged the woman to Jesus.
Lord Jesus,
Forgive me for my judgement of others. Forgive me for my ugly thoughts. Forgive me for my mean comments about those you love dearly. And thank you for still loving me in spite of the ugly reality of my sin. I fall on your grace today.
Thank you for loving me. Help me to love others in the power of Your Amazing Grace.
Amen
A recent feel good story got only modest play in the everyday tsunami of bad news. Gainesville State School is a Texas juvenile correction facility for felony offenders. The school fields a basketball team that gets to make a few visits outside of the facility to play games. One of the givens is that the Gainesville Tornadoes cheering section will be non-existent. That bothered some of the students at Vanguard College Preparatory School in Waco, Texas and they decided to do something about it.
The students organized a cheering section for Gainesville when they traveled to Waco in January. T-Shirts were produced with the Tornadoe's logo and the words "We Believe" across the bottom. The cheerleading squad was split in half and they wore the black and white for Gainesville instead of their familiar green and white colors. Vanguard fans wore black in support of the visiting team.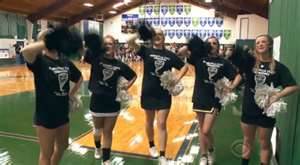 The Tornadoe players had no idea what was about to happen when they ran on the court. They ran, awkwardly at first, through a cheering line of students and fans. The look on their faces morphed from surprise to joy as they realized that someone was cheering for and not against them.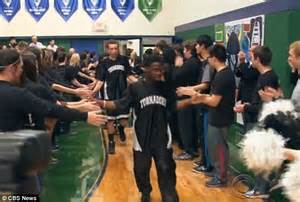 Fans in the stands dabbed tears from their eyes as they got caught up in the moment. After the game the players said they would never forget this moment. Head Coach Walt Scott noted that it is not often that his players get encouragement.
These young men had made some very bad decisions to get them to the Gainesville facility. They were suffering the consequences of those bad decisions. But the message they heard that one night was a message of affirmation. That you are important. Redemption is possible. Someone does believe in you. Hopefully that message will be a literal game changer for many of those young men.
Affirmation is a game changer for all of us. Here is a snippet from one of my favorite chapters in Stay about the power of affirmation. No creature does a better job of affirmation that our canine friends.
We should not be surprised that people respond positively when they are told how much they matter. More important, we matter to God. His Word is full of affirmation for those who choose to trust Him.

To all who believed him and accepted him, he gave the right to become children of God.
(John 1:12, NLT)

You are the ones chosen by God, chosen for the high calling of priestly work, chosen to be a holy people, God's instruments to do his work and speak out for him, to tell others of the night-and-day difference he made for you—from nothing to something, from rejected to accepted.
(1 Peter 2:9-10, The Message)

Even before he made the world, God loved us and chose us in Christ to be holy and without fault in his eyes.
(Ephesians 1:4, NLT)

We are God's masterpiece. He has created us anew in Christ Jesus, so we can do the good things he planned for us long ago. (Ephesians 2:10, NLT)

No longer do I call you servants, for the servant does not know what his master is doing; but I have called you friends, for all that I have heard from my Father I have made known to you.
(John 15:15, ESV)

Jesus calls me His friend. Even when those around you are failing to fill up your affirmation bucket, you can still go to Scripture and find out how God feels about you. Is there a more important affirmation than that? When you believe that your heavenly Father recognizes your worth, it gets easier to find things to affirm in others. How can I suffer from a poor self-image if this is true? Jesus calls me friend, for goodness' sake!
Don't miss a chance to affirm others. Be intentional, making it a way of life. Hannah has me enrolled in intensive affirmation training. Every time my canine instructor sees me, she treats me like the most important person in the world. Her exuberance never fails to warm my heart.
Affirmation is a powerful tool of God's redemptive grace. For many of those young men who traveled to Waco that night it might have been the very first time that they heard a message of grace. Grace says you can still be loved and accepted even after you make terrible decisions and do bad things. That is exactly what happened when God reached out to love me (and you) after our own terrible decisions and bad actions. God delights in redeeming bad people because, as Tullian Tchvidjian so accurately states it, that is all He has to work with.
Affirm someone in your life today. When you see someone who is loved and admired by everyone I suspect you will find this common trait. They are a full time affirmation bucket filler for everyone around them. Are you willing to swap judgement for affirmation? It will be a game changer for you and those you affirm.
Read the first chapter of Stay:Lessons My Dogs Taught Me about Life, Loss, and Grace by clicking this link.
(This is my annual revisit of one of the great stories in sports. Something to take your mind off of tax day)
April 15th is not my favorite day of the year. Tax day is never fun for a guy who is organizationally challenged. My idea of being prepared is having everything in one box. But April 15th is a great day for baseball fans.
Jackie Robinson made his major league debut at first base for the Brooklyn Dodgers on this date in 1947. It was a historic and significant day for baseball but even more so for our country. You can argue that the American civil rights movement was ignited when Robinson came to bat in Dodger Blue. The journey for Robinson was difficult at best and nearly impossible at worst.
Many Dodgers players, mostly Southerners led by Dixie Walker, threatened to walk if forced to play with a black player. That ended when Dodger management let them know in no uncertain terms that they could keep walking to the unemployment line. I often write about the pain that is caused by thoughtless churchgoers. Can you imagine the pain that Robinson felt to have his teammates reject him for only one reason?
But one teammate reacted in a way that I wish all serious and thoughtful Christians would emulate. Team captain Pee Wee Reese was an unlikely ally for Robinson. He was born in segregated Louisville, Kentucky, and the odds were that Reese would be a part of the boycott against a black player. But the diminutive Pee Wee Reese proved to be a giant of a man one day in Cincinnati. During infield practice the Redleg players were screaming at Jackie with all of the usual hateful epithets. And then the venom was distributed to Reese. They were yelling things at him like "How can you play with this (epithet)?", as Jackie stood uncomfortably at first base. Pee Wee went over to him and put his arm around him and smiled. A silence fell over the Reds dugout and the fans witnessing this amazing act of grace, Jackie smiled back.
At Reese's funeral, Joe Black, another Major League Baseball black pioneer, said: "Pee Wee helped make my boyhood dream come true to play in the Majors, the World Series. When Pee Wee reached out to Jackie, all of us in the Negro League smiled and said it was the first time that a White guy had accepted us. When I finally got up to Brooklyn, I went to Pee Wee and said, 'Black people love you. When you touched Jackie, you touched all of us.' With Pee Wee, it was No. 1 on his uniform and No. 1 in our hearts."
Robinson later wrote this sentiment to Reese in a book inscription.
"Pee Wee whether you are willing to admit what you being just a great guy meant (a great deal) to my career, I want you to know how much I feel it meant. May I take this opportunity to say a great big thanks and I sincerely hope all things you want in life be yours."
We need a lot more Pee Wee Reese's in the body of Christ. We need men and women who are willing to step up for others when it may not be the best action for personal gain. We need men and women who are brave enough to look hatred and bigotry in the eye and call it by its name. That day in Cincinnati demonstrated the greatness of two men. And men and women who will walk them on an unpopular journey. The Apostle Paul had some good advice to accomplish that goal.
Live creatively, friends. If someone falls into sin, forgivingly restore him, saving your critical comments for yourself. You might be needing forgiveness before the day's out. Stoop down and reach out to those who are oppressed. Share their burdens, and so complete Christ's law. If you think you are too good for that, you are badly deceived.
Make a careful exploration of who you are and the work you have been given, and then sink yourself into that. Don't be impressed with yourself. Don't compare yourself with others. Each of you must take responsibility for doing the creative best you can with your own life. (Galatians 6, The Message)
I want to be willing to stoop down and reach out to those who are oppressed. As I meditate on the gift of grace and redemption I received through the Cross I wonder how I can do anything else?