(I wanted to share a little excerpt from Waking Up Slowly. I hope you enjoy it!)
I have everything I need as a follower of Christ to be content. Yet I wander looking for something new or the latest trend in the church. What I was looking for in every book, program, study, and event was the sweet Gospel of unconditional love, unmerited forgiveness, and complete acceptance. I was looking for grace. This line from poet Nancy Spiegelberg may be the most indicting summary of my misunderstanding of grace for decades.
Lord I crawled across the barrenness to you with my empty cup uncertain in asking any small drop of refreshment. If only I had known you better I'd have come running with a bucket.
I wish that everyone who hears the gospel message would comprehend the love that God demonstrates to everyone who will receive that love. Instead of turning His back on sinners who deserved just that, God chose to reach out to you and me with a radical plan for forgiveness. A plan that is unlike any other religion in history. Manmade religion always demands something to earn salvation. God's plan of redemption requires the lost to bring nothing to the table other than sin and need. Nothing. Any other presentation of the sweet gospel of Jesus Christ is a lie.
God saved you by his grace when you believed. And you can't take credit for this; it is a gift from God. Salvation is not a reward for the good things we have done, so none of us can boast about it.

Ephesians 2:8-9
Not a single requirement other than believing. A gift of grace. Grace that is so vast and inexhaustible that no sin or sinner can exceed the scope of this amazing grace to cover their sin and offer redemption. I coined an acronym for grace that only partially captures the enormity of God's love.
God's Radical And Complete Embrace.
God radically offers complete forgiveness embraces me as His child. That is exactly the picture that Scripture paints in the story of the Prodigal Son. The son rebelled, sinned, and suffered the horrible consequences of his actions. The son realized his sin and in humble desperation decides to throw himself on the mercy of his father, believing he had lost all his privileges of being a son.
But nothing had changed for his father. It reads like a Hollywood story of tear-jerking redemption. A child who is lost and hopeless. A father who never quits believing in and loving his son. The son trudging toward an uncertain homecoming with eyes downcast. Hearing a commotion down the path that sounds like distant shouts of joy. Is it a party at the home that was once his? Then the sound of sandals pounding on dirt causes the lost son to look up. What he saw was one of the most remarkable grace stories in history.
And while he was still a long way off, his father saw him coming. Filled with love and compassion, he ran to his son, embraced him, and kissed him. His son said to him, 'Father, I have sinned against both heaven and you, and I am no longer worthy of being called your son.'
"But his father said to the servants, 'Quick! Bring the finest robe in the house and put it on him. Get a ring for his finger and sandals for his feet. And kill the calf we have been fattening. We must celebrate with a feast, for this son of mine was dead and has now returned to life. He was lost, but now he is found.' So the party began.
Luke 15:20-24
The father placed the finest robe on his wayward son, most probably his own. The robe that was worn on the most special of occasions. The custom would have been for the son to bathe, don clean clothes, and then put on the robe. But in a stunning gesture of compassion, the father placed his robe over his son's filthy garments. What a gift of unconditional acceptance. Brokenness and all hope of self-salvation stripped away. We all fall on grace when we are completely honest with our hearts.
The story is the same today. The Father ran to forgive me when I acknowledged my sin and need. While I was still dirty and clothed in filthy garments I was forgiven, accepted, justified, and wrapped in the robe of righteousness. I was no longer condemned. Satan would have me forget that the robe of righteousness is wrapped lovingly around me. The author of lies reminds me (constantly) that I still wear dirty clothing. He suggests that I don't deserve to wear the robe until I clean myself up. That is the power of this story. The robe of righteousness is never earned. It is a gift of grace. On my worst day the Father wraps me up in this precious garment because of His Son Jesus.
How differently I would live if I remembered that truth every day. I am a saint. I am wrapped in the robe of righteousness. I am a new creature who is forgiven, accepted, and wrapped in this incomprehensible gift of grace. Even in my failure Jesus loves me anyway and just as much.
Life gives me sadness, loss, and loneliness, but when I trust Jesus I have hope in the darkest storm. It is hard to live in a community of grace. Legalism is so much easier than grace because it allows me to assess the situation and apply a verse or assign a task. If that person rejects that biblical admonition or task, then legalism allows me to withdraw because he or she is disobedient. Grace does not give me that option. Grace demands that I move toward the struggle of my brother or sister and not away in judgment. No wonder grace is a tough sell!
Grace wears me out and lifts me up. Grace is frustrating and exhilarating. My old nature screams that people who make bad decisions over and over get what they "deserve." They don't "deserve" to be pursued and loved and restored. They made their bed—now let them lie in it. But there is a small quiet voice in my heart that tells me that they have value. That they are loved by their Creator. And that voice asks who am I to decide who "deserves" anything?
Would you open the outrageous gift of grace and accept it as a mind blowing outpouring of love from a Father who delights in you? Whenever you feel sad, unworthy, stressed, angry, frustrated, or unloved, return to that open gift of inexhaustible grace. And bring a bucket this time.
Taken from Waking Up Slowly by Dave Burchett copyright © 2017. Used by permission of Tyndale House Publishers, Inc. All rights reserved.
There is much written about Good Friday. The sacrifice of Jesus Christ on the Cross is incomprehensible to my puny human intellect. There is much written about Easter Sunday. Christians around the world rejoice and proclaim that "He is risen!". But there is not nearly as much written about one of the saddest and most confusing days in history. The Saturday between the Friday horror of Jesus on the Cross and the Sunday mystery of the resurrection. Some churches do observe Holy Saturday but it was never a tradition in my faith upbringing.
I have been thinking about what that day must have been like for those who dropped everything to follow Jesus. How crushing those events had to be. I imagine the fear they felt that they would also be killed. And for what? On Saturday they feared they had given their careers and their very souls for a false hope.
I think in particular of Peter. I identify so much with him. Like him I throw down bold statements of loyalty to the Lord and then betray them. Like him I draw attention to my own accomplishments instead of recognizing where my accomplishments come from. Like Peter I am a generally sincere but desperately needy follower of Jesus.
You know the story about Peter before the arrest and mock trial of Jesus. Jesus tells Peter that he will deny him three times before the rooster crows at dawn. For many years I breezed by the setup to that prediction.
"Simon (Peter), Satan has asked to sift each of you like wheat. But I have pleaded in prayer for you, Simon, that your faith should not fail. So when you have repented and turned to me again, strengthen your brothers." (Luke 22, NLT)
Jesus had already prayerfully pleaded for Peter to be used in a powerful and redemptive way before the failure, shame and repentance that Jesus knew was about to happen. Our sin does not take Jesus by surprise. Why does His grace and forgiveness surprise us?
Like me, Peter did not hear the tender words of encouragement from the Lord. Nope. He blustered.
"Lord, I am ready to go to prison with you, and even to die with you."
After the arrest of Jesus a suddenly less bold Peter followed the crowd. He denied to a servant girl that he knew Jesus. He denied his alliance to another bystander. The crushing sorrow and shame of what happened next is hard to fathom.
About an hour later someone else insisted, "This must be one of them, because he is a Galilean, too."
But Peter said, "Man, I don't know what you are talking about." And immediately, while he was still speaking, the rooster crowed.
At that moment the Lord turned and looked at Peter. Suddenly, the Lord's words flashed through Peter's mind: "Before the rooster crows tomorrow morning, you will deny three times that you even know me." And Peter left the courtyard, weeping bitterly.
I imagined what the expression might have been on the face of Jesus when He turned and looked. I suspect it was a look of sadness, compassion and longing to comfort His friend. But what Peter probably saw was only disappointment and failure. Peter's tears likely flowed until they could no longer flow. I suspect it was hard to even breathe. His heart literally ached within his chest. His mind could not imagine any future hope. I wonder if he thought about running away or even ending it all. I wonder if he could think at all.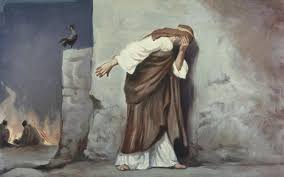 That Saturday was one of the worst days in history and Peter may have felt the pain of that awful day more intensely than anyone. He did not know what would happen the next day. Peter did not yet understand what Jesus had been telling him.
When Luke recounts that Jesus appeared to the Disciples the only one mentioned by name is Peter. What gives me hope this Easter season is the tender story of Jesus affirming and reinstating Peter to be a leader who would "feed His sheep". That is the grace that changes a heart.
I can betray Jesus. Ignore Him. Live selfishly. At some point I once again recognize my desperate need for Jesus to rescue me. For the one millionth time I turn to Him. And what happens? He lifts my shame bowed head and looks deeply into my eyes. He tells me how much He loves me. That is grace. That is real. That is love. Maybe I won't have a day quite as bad as Peter on that horrible dark Saturday but his story of redemption encourages me this Easter season.
Saturday was terrible. But Sunday was coming with the wonderful news that He is risen! He is risen for me! Jesus is pleading for me that my faith will not fail. What a joyous hope for all of us this Easter.
Dave Burchett is the author of the new book Waking Up Slowly.
Sometimes we wonder if it will ever get any better. Sometimes we wonder if we are alone in this struggle.
Those are questions that every honest follow of Jesus has wrestled with. My friend Bart Millard of MercyMe was pondering those questions when he wrote one of the most powerful songs from their amazing new record Lifer. I found it interesting that in the same time frame I was writing a chapter about doubt in my new book Waking Up Slowly.
Bart can write in a stanza what it takes me hundreds of rambling words to say. But both of us experience the same struggle. We share the hope of grace. We write and sing about how our identity is not worldly success but who we are in Christ and who God says we are because of that relationship. You should be extremely grateful that Bart Millard is the one who sings. We both try to communicate that on your worst day you are loved and cherished by the Father.
But when you write about grace and identity you know that life and/or the Enemy will give you a pop quiz. The lyrics from Even If are powerful
It's easy to sing
When there's nothing to bring me down
But what will I say
When I'm held to the flame
Like I am right now
I know you're able
And I know you can
Save through the fire
With your mighty hand
But even if you don't
My hope's still you alone.
As I finished the final edit for Waking Up Slowly I had my test. And I had to decide if the words I was about to share with you in a hardcover book with a pretty cover were true in my own life. I remember talking to my sweet wife about the situation.
"Nothing that happens in my life is a surprise to God. So I will either receive blessings I never expected from this, I will grow in my faith, or a combination of those two."
"Is that how you feel?" Joni quizzed.
"NOPE!" I responded honestly. "But that is what I am trusting and if I keep believing those truths my feelings will follow."
I can tell you that they have. God has been present. I have seen His hand in so many ways. I wrote these words in a chapter called The Doubt Bout about my own struggles.
I am drawn to Jesus. I believe that God decided to redeem man through this outlandish plan. No religion offers redemption without works other than the gospel of Jesus. I believe I have seen His hand over and over in my life. But if I am wrong and had the opportunity to live my life over again, I can honestly say I would change nothing.

I consider a life pursuing the impossible goal of becoming like Jesus to be more valuable than any honor or possession I could attain. The teachings of Jesus are so amazing and so radical that I cannot imagine that any man could have imagined them. If you drill down into just His words you will find a sacred pathway that is worth seeking.

Because I have followed the teachings of Jesus, I believe my marriage is still intact. I don't say that lightly. I honestly believe that without that faith commitment, Joni and I would not have survived. Whatever kind things that my friends and colleagues might say about me are in large part due to how I believe I should respond to them based on the words of Christ. I have been shaped and matured by this radical Rabbi who changed history. He changed me.

The Christian Gospel is that I am so flawed that Jesus had to die for me, yet I am so loved and valued that Jesus was glad to die for me. This leads to deep humility and deep confidence at the same time. It undermines both swaggering and sniveling. I cannot feel superior to anyone, and yet I have nothing to prove to anyone. I do not think more of myself nor less of myself. Instead, I think of myself less. ~ Tim Keller, The Reason For God

I have been changed by these truths. I have confronted my doubts and I have chosen to stay focused on the claims of this Rabbi from Nazareth. If I am wagering my eternity, I choose to wager on Jesus.

Taken from Waking Up Slowly by Dave Burchett copyright © 2017. Used by permission of Tyndale House Publishers, Inc. All rights reserved.
Jesus is not an easy choice at times. The Apostle John wrote that many followers were deserting Jesus after some difficult teaching.
At this point many of his disciples turned away and deserted him. Then Jesus turned to the Twelve and asked, "Are you also going to leave?"
Simon Peter replied, "Lord, to whom would we go? You have the words that give eternal life. We believe, and we know you are the Holy One of God." (John 6:66-68, NLT)
Indeed. I plant my flag of faith on that hill of eternal truth. Jesus is my hope. Even if…
I know you're able
And I know you can
Save through the fire
With your mighty hand
But even if you don't
My Hope's still you alone
I know the sorrow
I know the hurt
Would all go away
If you'd just say the word
But even if you don't
My hope's still you alone
I am trusting that today.