Recently I have been saddened by the all out sprint to judgement of people and institutions that have made mistakes. It often seems the harshest comments come from people who ought to tap the brakes before they go there. These are folks that have made their own mistakes. Big ones. And they were offered grace and second chances. My initial response was self-righteous indignation because, let's be honest, I am good at that.
Eventually the quiet voice of the Spirit reminds me that I am also that guy who is too often quick to judge. I am that guy who tries to argue with God about forgiveness and whether someone "deserves" mercy. A little snippet from my book Stay addressed this very issue after Paul threw down an incredible statement to the Ephesian church.
Be kind to each other, tenderhearted, forgiving one another, just as God through Christ has forgiven you.
(Ephesians 4:32, NLT)

That is a very tall order and one that is impossible to do without remembering how much I have been forgiven. If you say something nasty about me and ask for forgiveness, I will almost certainly grant it. If you do it again and ask forgiveness, I will probably forgive you. If you do the same thing again and ask forgiveness, I will most likely respond ungraciously and ask you to "prove" you are sorry.

Yet that illustration is exactly what I do in my relationship with God every day. I have asked Him to forgive the same sin dozens, even hundreds of times. Still His Word tells me I am forgiven and He loves me just the same as the first time I confessed that sin. That is how God has forgiven me through Christ. I should respond accordingly, forgiving each and every offense out of profound gratitude. Do you see any way around the obvious command to forgive? Me either.

Bottom line: we are commanded to forgive as we have been forgiven. Forgiveness may well be the missing ingredient to the healing of most relationships. Forgive the one who wounded you. Forgive yourself and seek forgiveness if you are the one who wounded. Perhaps your efforts will not result in reconciliation. That is sad but ultimately okay. What if the other person does not deserve to be forgiven? Consider Jesus as He looked down in agony from the cross.

Jesus said, "Father, forgive them, for they don't know what they are doing." And the soldiers gambled for his clothes by throwing dice. (Luke 23:34, NLT)

I can say with complete confidence that I have not endured the level of wounds, betrayal, mocking, and abuse that Jesus experienced. Yet He could look at those evil perpetrators and ask His Father to forgive them. That gives me some perspective. Perhaps my situations are forgivable, with His help and only with His help.

I have spent a lot of unhappy moments not enjoying the freedom the Lord intended because I did not want to forgive someone who hurt me. I grieve to think of how I have stubbornly refused to forgive others for real and/or perceived slights over the years. I can imagine Jesus looking at me with sadness (not condemnation) because I have not fully comprehended the magnitude of the debt that has been erased from my account because of Him. I can hear Him saying,

"Dave, when you choose to hold onto bitterness, you shortchange yourself on joy and peace."

If I cannot forgive, I have forgotten or never comprehended how much I have been forgiven.

Taken from Stay by Dave Burchett copyright © 2015. Used by permission of Tyndale House Publishers, Inc. All rights reserved.
How quickly I forget. I forget how much I have been forgiven. I forget how much I am loved by Jesus. I forget that I am a brand new creation. I forget I am righteous because of the finished work of Christ. I forget that there is no condemnation in Christ. I forget that I am a beloved child of God and He is for me. I forget that He has my back and He has me in His hand forever. I am forgetful.
But thank God He does not forget His promises. More than anything I need to remember that today.
Dave Burchett is the author of Stay:Lessons My Dogs Taught Me about Life, Loss, and Grace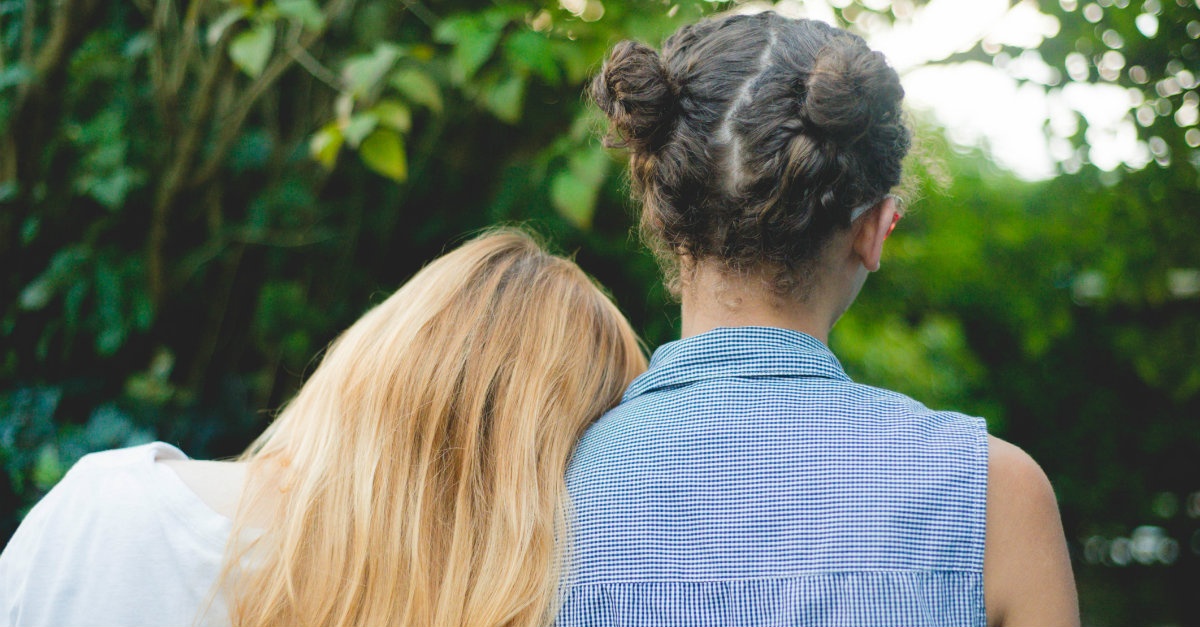 Sometimes I just want to step away from ministry. I get tired. And then the song "Lean On Me" cycles up on the iPod. That is not funny Lord. The lyrics sung by Bill Withers talks about being there for others. Life happens, John Lennon famously said, when you are making other plans. Life has been happening to us and many close to us in recent months.
Sometimes in our lives
We all have pain
We all have sorrow
But if we are wise
We know that there's
Always tomorrow
Lean on me, when you're not strong
And I'll be your friend
I have been thinking a lot about community. I have, to be honest, had many moments recently when I wondered if living in community with messy people is worth it.
I am drawn to the dysfunctional. My heart goes out to the wounded lambs. But I will confess that I struggle with the cost of walking in honest relationship with people. It is hard. I have come to understand why legalism is so much easier than grace. Legalism allows me to assess the situation and then apply a verse or assign a task. If that person rejects that Biblical admonition or task then legalism allows me to withdraw because they are disobedient. Grace does not give me that option. Grace demands that I move toward the struggle of my brother or sister and not away in judgment. No wonder grace is a tough sell.
That is the glorious dichotomy of grace. Grace wears me out and lifts me up. Grace frustrates and exhilarates. My old nature screams that people who make bad decisions over and over get what they "deserve". They don't "deserve" to be pursued and loved and restored. They made their bed now let them lay in it. But there is a small quiet voice in my heart that tells me that they have value. That they are loved by their Creator. And that voice asks who am I to decide who "deserves" anything?
A quote by Pastor Paul Donnan says it far better than I ever could.
Grace doesn't treat us better than we deserve. It treats us without the slightest reference to what we deserve. Grace ceases to be grace if God withdraws it upon any human failure. If Grace is in any way tied to something you do, then it is no longer a gift but a wage, and that's not grace.
And, to be selfish, the lyrics of Bill Withers tells me why it is in my own best interest to give grace willingly.
I'll help you carry on
For it won't be long
Till I'm gonna need
Somebody to lean on
Yep. It is just a matter of time until I will be begging for grace for some stupid action or word. Paul knew that was true and reminded the Galatian Church.
Live creatively, friends. If someone falls into sin, forgivingly restore him, saving your critical comments for yourself. You might be needing forgiveness before the day's out. Stoop down and reach out to those who are oppressed. Share their burdens, and so complete Christ's law. If you think you are too good for that, you are badly deceived. (Galatians 6, The Message)
Why are we so willing to receive grace and not extend it? Maybe the next lyric has a clue.
Please swallow your pride
If I have things
You need to borrow
For no one can fill
Pride. Pride causes us to cover our needs because that would show weakness. Pride tells us to wear a mask of false joy so that others won't know our shame and sin. Our Father in Heaven designed this journey to be lived in community. God knows that we need Him and we need one another. Healthy community is not unlike two parents being the healthiest community for children. Sometimes a child needs his or her father and sometimes only the mother can touch their need. In the same way there are times when only Abba Father can comfort my soul but at other times I need the community of fellow believers to get through.
We all need somebody to lean on
I just might have a problem
That you'll understand
We all need somebody to lean on
Yes it is hard to walk with the wounded. Yes it is frustrating to watch messy people make the same mistakes over and over. Yes it is tiring to give grace to the needy. But my heart's desire remains the same. These words to the Church at Corinth wrap it up nicely.
So we're not giving up. How could we! Even though on the outside it often looks like things are falling apart on us, on the inside, where God is making new life, not a day goes by without his unfolding grace. These hard times are small potatoes compared to the coming good times, the lavish celebration prepared for us. There's far more here than meets the eye. The things we see now are here today, gone tomorrow. But the things we can't see now will last forever. (2 Corinthians 4, The Message)
You can read a free chapter from Dave's newest book Stay by clicking here.
Joni and I recently enjoyed a brief and delightful getaway to Fredericksburg, Texas. But there was one sad moment that I keep thinking about.
We stayed away from the city and drove country roads into town. Each day we passed a sheep pasture. We chuckled about one adventurous sheep that found a way to get out of the fenced area and grazed happily in tall grass along the road. He seemed to know what he was doing and never got too close to the dangerous highway. The next day he was out again enjoying his freedom and a different grazing menu.
Then we spotted another sheep that had also tried to find greener grass on the other side. This poor creature had gotten stuck under the fence and it had not taken long for the searing Texas heat to take his life. It was obvious that this unforunate animal had everything he had needed on the safe side of the fence. He was clearly well fed. But the lure of something more enticing led him to danger. Given the free ranging exploits of the one sheep and the tragic death of another it was apparent that this flock had a rancher and not a shepherd. It was easier to build a fence than take the time to watch the sheep constantly.
Tragically that is what too many churches model for their flock. We are too often ranchers who build a fence of rules and performance expectations instead of taking on the messy role of shepherding. All of that roiled around in my brain as I pondered what our role as shepherds should be when we see friends and loved ones going astray. It is such a difficult thing to speak truth into the life of someone who is determined to go their own way. Perhaps a gigantic clue is embedded in a verse from the Gospel of John.
Now the Word became flesh and took up residence among us. We saw his glory—the glory of the one and only, full of grace and truth, who came from the Father. (John 1:14, NET)
Jesus was full of grace and truth. Most of us are full of truth or we are full of some variation of that. I suspect in God's wisdom, grace comes first because we have a far harder time communicating with grace. I am usually willing to be "honest" and tell you where you are wrong. Doing that with grace and truth requires me to love you and to be vulnerable. Jesus modeled a perfectly balanced blend of grace and truth.
That is my prayer as I engage those who have made mistakes and are suffering the consequences of those decisions. I pray that I will always present truth as a gift of grace from a loving God instead of performance demands in order to be acceptable to Him. Here is what I have learned over many years of failure and struggles.
Truth presented as law hardens hearts. Truth presented with grace changes hearts.
When we meditate on the grace given to us as a free gift by our gracious God we can can begin to model Paul's words to the church at Ephesus.
Instead, we will speak the truth in love, growing in every way more and more like Christ, who is the head of his body, the church. (Ephesians 4:15, NLT)
We need more shepherds in the body of Christ. I pray that you will be willing to love and restore those sheep that wander with grace and truth. Always together.
You can read a free chapter from Dave's newest book Stay by clicking here.