Even in my rock and roll days I liked Glen Campbell. There was something about his smile and warmth that made him seem real. Glen seemed like the kind of person you could approach and he would be kind. You never know with celebrities so I was delighted to hear from sound technicians who worked with him that he was exactly that. Kind and approachable. His final gift before his death was a moving and deeply personal look at how Alzheimer's affects a family in the documentary "I'll Be Me".
So that background makes this week's musing even more impactful.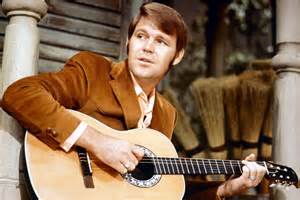 One of my favorite Glen Campbell songs, "Try a Little Kindness", is a message that we desperately need to hear and heed in our current societal climate.
You got to try a little kindness
Yes show a little kindness
Just shine your light for everyone to see
And if you try a little kindness
Then you'll overlook the blindness
Of narrow-minded people on the narrow-minded streets
Boy howdy do we have some narrow minded people loudly making their presence felt. People so narrow minded they could look through a peephole with both eyes. The lyrics of Try a Little Kindness seem like a simple and even naive sentiment. I would argue this little chorus is one of the most important and doable things that we as followers of Jesus can do to shine a little light. And we have been given that assignment by our Lord.
"You are the light of the world—like a city on a hilltop that cannot be hidden. No one lights a lamp and then puts it under a basket. Instead, a lamp is placed on a stand, where it gives light to everyone in the house. In the same way, let your good deeds shine out for all to see, so that everyone will praise your heavenly Father." (Matthew 5:14-16, NLT)
I wrote a chapter about the power of kindness in my new book, Waking Up Slowly. Here is a brief portion of that chapter.
The amazing thing about God's grace is that He is not a God of a second chance. He is a God of chance after chance after chance ad infinitum. We are never outside God's redeeming grace, no matter how much or how often we blow it.
How is that even possible? We write off people after one or two offenses. How can God keep forgiving us after count- less offenses? It doesn't make sense. That is because grace does not make sense in our accounting system. So how does that work in our relationships with our community? The apostle Paul pulls it all together perfectly in his letter to the church in Ephesus:
Instead, be kind to each other, tenderhearted, forgiving one another, just as God through Christ has forgiven you. (Ephesians 4:32, NLT)
Kindness should be contagious because the God of the universe has been kind to us. That is part and parcel of the love story of the gospel.
Don't you see how wonderfully kind, tolerant, and patient God is with you? Does this mean nothing to you? Can't you see that his kindness is intended to turn you from your sin? (Romans 2:4, NLT)
I used to be impressed by talent and prestige. Now I find that I am more impressed by kindness. Billy Graham observed how we all—especially children—benefit from a little kindness: "Often the only thing a child can remember about an adult in later years, when he or she is grown, is whether or not that person was kind." I find that to be so true when I run down the list of adults from my childhood. I filter them by that very trait. They were either kind or unkind.
My memories from high school have changed too. I once sorted classmates by prettiness and athletic ability. Now I sort my high school acquaintances by kindness. All the things that identified us in high school are meaningless now. Who cares if you were a cheerleader, quarterback, National Merit scholar, or the kid trying to find someone to sit with at lunch? What matters is whether you were kind and considerate of others. I spent my high school years walking a tightrope, trying to be part of the "in" group, while trying to live out my newfound faith in Jesus. If I failed to be kind in that awkward dance, I am truly sorry.
Paul recognized the importance of this contagious gift in his instructions to the church at Colossae:
Since God chose you to be the holy people he loves, you must clothe yourselves with tenderhearted mercy, kindness, humility, gentleness, and patience. Make allowance for each other's faults, and forgive anyone who offends you. Remember, the Lord forgave you, so you must forgive others. Above all, clothe yourselves with love, which binds us all together in perfect harmony. And let the peace that comes from Christ rule in your hearts. For as members of one body you are called to live in peace. And always be thankful. (Colossians 3:12-15, NLT)
I have often said that if the church lived according to those four verses alone, there would be a spiritual awakening in the land. If we simply loved one another in the body of Christ, we could spark a revival. That is my job as a follower of Christ.
Frederick Buechner captured the idea brilliantly: "If you want to be holy, be kind."
(Excerpted from Waking Up Slowly with permission of Tyndale Publishing)
Today I remember Glen Campbell by determining to follow his advice.
If you see your brother standing by the road
With a heavy load from the seeds he's sowed
And if you see your sister falling by the way
Just stop and say, you're going the wrong way
Everyone of us can be kind. Give it a try.
One act of kindness would be to donate to the Alzheimer's Association to help find a cure for this cruel disease.
A very dear friend is going through a deep trial. This faithful follower prays for wisdom, guidance, assurance and peace. The result so far is confusing. When they pray to hear the voice of God they hear spiritual crickets. Nothing. The frustration is real. I want to do something to help and all I can offer is prayer and presence.
But when we study how God works in our lives should we be surprised with the process? A song by Laura Story resonates with my soul when I face this question. The song is called "Blessings" and the words are profound.
We pray for blessings
We pray for peace
Comfort for family, protection while we sleep
We pray for healing, for prosperity
There is nothing inherently wrong with praying for those things. But my attempt to maneuver God to grant my wishes is wrong. Laying out my will and praying for God's Divine notary seal is not how this works. Blessings are not just receiving good things from God and that truth is beautifully captured by Story's lyrics.
'Cause what if your blessings come through raindrops
What if Your healing comes through tears
What if a thousand sleepless nights are what it takes to know You're near
What if trials of this life are Your mercies in disguise
Her lyrics come out of learning to trust the object of her worship even through the trials. Her website bio describes her journey.
A brain tumor hospitalized her husband in 2006 and Story relates the decision she faced during the crisis.
"But there's a decision that I find God is asking us to make: whether we are going to choose to interpret our circumstances based on what we hold to be true about God, or whether we're going to judge what we hold to be true about God based on our circumstances."
Our faith is not based on feelings or circumstances or checking off items on the prayer list. Our faith is based on the object of our faith. God is faithful. He hears our cries. But sometimes the answer is not what we desire. Paul learned the same thing and he wrote about it to the church in Corinth. You likely know the passage. Paul was given "a thorn in the flesh" that he begged three different times to be removed. Paul had a pretty strong signal on the Faith-o-meter. Five bars. But God said no. I like the translation from The Message.
Because of the extravagance of those revelations, and so I wouldn't get a big head, I was given the gift of a handicap to keep me in constant touch with my limitations. Satan's angel did his best to get me down; what he in fact did was push me to my knees. No danger then of walking around high and mighty! At first I didn't think of it as a gift, and begged God to remove it. Three times I did that, and then he told me,

My grace is enough; it's all you need.
My strength comes into its own in your weakness.

Once I heard that, I was glad to let it happen. I quit focusing on the handicap and began appreciating the gift. It was a case of Christ's strength moving in on my weakness. Now I take limitations in stride, and with good cheer, these limitations that cut me down to size—abuse, accidents, opposition, bad breaks. I just let Christ take over! And so the weaker I get, the stronger I become. (2 Corinthians 12, The Message)
The gift of a handicap? Are you kidding me? But as I look back on the deep valleys and trials of my journey I see God's hand and my growth through those events. Blessings from the pain? Without question. And I am learning the truth of Laura Story's experience.
What if trials of this life
The rain, the storms, the hardest nights
Are your mercies in disguise?
More and more I am realizing that they are.
One of my favorite songs from Carly Simon touched an emotional chord recently. That's the Way I've Always Heard It Should Be features raw and emotional lyrics detailing the dashed dreams of many marriages. These couples have everything they were sure would make them happy. A beautiful house, manicured lawns, and a Facebook picture perfect family. Yet the truth of their lives is starkly different.
Their children hate them for the things they're not
They hate themselves for what they are
And yet they drink, they laugh
Close the wound, hide the scar
My heart hurts that I personally know a lot of people caught in that cycle. They wear a mask and smile bravely through the pain. My heart cries out that there is a better way. There is a different path that ends in a room of grace. But you have to be tired enough and sad enough to quit trying to fix yourself and especially trying to fix others.
The net result of desperate self-effort is shown in a haunting image from Simon's lyrics. The belief that if we just try harder we can keep our love alive. But she has seen the reality of relationships built only on that shaky foundation and she sings this melancholy but insightful verse.
You say we can keep our love alive
Babe all I know is what I see
The couples cling and claw
And drown in love's debris
How sad that so many relationships are "drowning" in love's debris as couples claw to survive. Culture sells that love should be a non-stop euphoric feeling but when the feeling is gone we are free to go. God says that love is a decision to love because we have been loved first by Him. We are not free to leave because we have been redeemed at great cost.
I see the same thing in my Christian journey. I hear others talk about their spiritual "victories". How they always receive financial blessings and how dynamic their prayer life is everyday. Satan suggests that is the way it should be for me and the enemy notes constantly that I am falling way short. I cling and claw and drown in sin's debris that have already been taken care of. That is the irony of my struggle.
There is a better way. The way you've always heard it should be may not be the way it should be. What if the real truth is that happiness and relational happiness is not about the other person at all? What if it is realizing that you are are a new person? What if happiness is about recognizing your need to live out of the new identity you received when you became a follower of Jesus?
Author Tim Keller wisely notes this truth. "If you seek righteousness first, you get happiness. If you seek happiness first, you get neither."
And where do we find this righteousness? The truth is it found us.
But God is so rich in mercy, and he loved us so much, that even though we were dead because of our sins, he gave us life when he raised Christ from the dead. (It is only by God's grace that you have been saved!) (Ephesians 2:4-5, NLT)
It is entirely because of Christ. Nothing I have done or will do will make me righteous. I spent four decades trying to be "righteous." When I hit a dry spell I would try harder, read more books, buck up and beat myself up because I felt so distant from God. Lots of helpful Christian friends would faithfully remind me that God hadn't moved so it had to be me. So I disliked myself more and tried harder and God seemed even more distant. I had reached the end of my spiritual rope and that is where God is patiently waiting. I cried out to Jesus something deep and insightful along these lines.
"I CAN'T DO THIS ANYMORE!"
God does not get insulted by all-caps. In fact, I picture Jesus smiling at that point because I was finally ready to trust Him and not myself. I had reached the point of brokenness that allowed me to finally let Him have full access to my heart. I reached the point where I no longer had to be right. I had reached the point where I didn't want to wear a phony mask of holiness. I had reached the point where I was willing to trust God completely with everything about me. I had reached the point where I was ready for grace. I was willing to believe what God says is true about me. That I am completely forgiven. I am completely loved. I am completely changed because of Christ. I am completely empowered with the Holy Spirit to mature into all of those things that are already true about me. I am righteous not because of anything I have done but entirely because of Christ.
If you are tired enough, discouraged enough, wounded enough and ready to scream you can't do this anymore then I have good news. You are ready for grace. Marinate in these truths today written to the church at Colossae.
Since God chose you to be the holy people he loves, you must clothe yourselves with tenderhearted mercy, kindness, humility, gentleness, and patience. Make allowance for each other's faults, and forgive anyone who offends you. Remember, the Lord forgave you, so you must forgive others. Above all, clothe yourselves with love, which binds us all together in perfect harmony. 15 And let the peace that comes from Christ rule in your hearts. For as members of one body you are called to live in peace. And always be thankful. (Colossians 3:12-15)
God is waiting for you to experience His grace. There is a better road. Maybe the way you've always heard it should be is not true. What have you got to lose? For me there was so much to gain.