I talk about Grace so much that the auto-suggest on my phone pops up the word as soon as I hit "G". I suspect that sometimes you faithful readers wish I would mix up my topics. The truth is I cannot. Understanding grace rocked my spiritual world and changed my walk with God in dramatic and wonderful ways.
I regularly extol the virtues of grace for a follower of Jesus. Grace compels you to trust others with you. Grace compels you to trust Jesus with your sin because you can't manage it yourself. Grace compels you to forgive because you have been forgiven. Grace compels you to accept others and not judge them. Grace compels you to move toward the unlovable and not away. Grace compels you to sacrifice when you desire security. Grace compels you to love when your heart is hateful. Grace compels you to trust God when you are afraid and weak.
The amazing thing about God's grace is that He is not a God of a second chance. He is a God of chance after chance after chance ad infinitum. We are never outside God's redeeming grace, no matter how much or how often we blow it.
But there is one thing that God's amazing grace does not cover.
The consequences of intentional sin. Paul makes it very clear.
Don't be misled—you cannot mock the justice of God. You will always harvest what you plant. (Galatians 6:7, NLT)
I have been deeply saddened and sometimes angered by followers of Jesus who blithely act in ways that are clearly against God's Word and then proclaim that His grace will cover them. Some call that cheap grace. I cannot label a gift bought with such a price "cheap". Indeed there are grace abusers and I wrote about that very topic in my latest book, Waking Up Slowly.
To borrow from my brother Saint Paul, here is a trustworthy saying that deserves full acceptance: grace can never be viewed as a cheap gift. It cost Jesus everything. I challenge you to kneel at the foot of the cross and look up. There is nothing cheap about the transaction that Jesus suffered for you and me. Nothing causes me to lose my Sunday school lesson quicker than the cheap-grace posse. And yes, I know that some people misuse grace. There is a word for that.

Sin.

The truth is that grace is the only real antidote for sin and should never, ever, be the excuse for sin. Paul addressed the heresy that grace gives me license to sin, and he was rightfully dismayed (you might even say ticked off ).

Sin will have no mastery over you, because you are not under law but under grace. What then? Shall we sin because we are not under law but under grace?

Absolutely not!

Romans 6:14-15, NET (emphasis added)

Here is a sampling of other translations of Paul's undisguised chagrin expressed in Romans 6:15 at the very thought that the sweet grace of the Gospel would be abused:

God forbid! (KJV)
Of course not! (NLT)
May it never be! (NASB)
By no means! (ESV)
Clearly Paul is appalled by the idea that we would even consider using this sacrificial gift of unmerited grace as cover for selfish behavior and sin.
Frederick William Faber is credited with this observation.
"God does not save us by grace so that we may live in disgrace."
Grace will provide forgiveness for sin but not escape from it's consequences. Betrayal of a spouse may make you feel better but you do not escape the weight of that sin on those you hurt and on your own heart. Just read the terrible consequences of David's adultery and you recognize that even a king described as a "man after God's own heart" cannot dodge the effects of sin. Anytime you rationalize sin by saying that grace has you covered you have bought a lie from the Enemy.
Grace was costly. Grace was painful for God the Father to implement. If you are tempted to abuse that grace perhaps you should review if you really understand the cost paid to make it possible. Grace covers everything. Except the pain left behind in the wake of selfish sin.
Regular readers of these humble ramblings (all tens of you) know what an over the top dog lover I am. I shared this illustration in my book Stay.
A sick man turned to his doctor, as he was preparing to leave the examination room and said, "Doctor, I am afraid to die. Tell me what lies on the other side."

Very quietly, the doctor said, "I don't know."

"You don't know? You, a Christian man, do not know what is on the other side?"

The doctor was holding the handle of the door; on the other side of which came a sound of scratching and whining, and as he opened the door, a dog sprang into the room and leaped on him with an eager show of gladness. Turning to the patient, the doctor said, "Did you notice my dog? He's never been in this room before. He didn't know what was inside. He knew nothing except that his master was here, and when the door opened, he sprang in without fear. I know little of what is on the other side of death, but I do know one thing… I know my Master is there and that is enough." (Source unknown)
I love that thought. One of the stories from my new book Waking Up Slowly involved our Golden Retriever Charlie. Charlie developed a large benign tumor under his front leg that made walking difficult. We took him in for what would be a rather serious surgery at his ripe old canine age of twelve. The vet did a masterful job in removing the growth and taking care of Charlie. My spiritual epiphany occurred when we were called to the animal hospital to pick him up. We waited as they brought Charlie out. He shuffled slowly out and I was taken aback by his appearance. Charlie was trembling, frightened and appeared to be in some pain. His head was down and his perpetual motion tail was strangely still. He seemed confused and disoriented. Then I walked over to Charlie and simply touched him. Almost immediately he quit trembling and he made a valiant attempt to wag his tail. We carefully got him into the car and took Charlie home to heal.
As I reflected on that scene it struck me that Charlie's reaction to my touch and mere presence was a wonderful illustration of how Jesus comforts (or desires to comfort) me. When I (his master) touched Charlie he was comforted. His pain was not gone. He was still frightened. He was still a bit disoriented and unsure. Charlie's circumstances hadn't really changed at all. But he knew that his master was there and that made it better. What a picture that is of how the touch of Jesus enables us to respond when we are frightened, in pain, disoriented and confused. We need to remind ourselves that Jesus never promised that all trouble would vanish when we believe in Him. In fact the opposite often happens. Jesus did promise that He would be there and that would be enough. My prayer for myself and for you today is that we will seek, realize, and be comforted by the touch of the Master in times of difficulty. Paul realized that contentment is not found in good circumstances. He wrote these words from prison while chained to a Roman soldier.
I rejoice greatly in the Lord that at last you have renewed your concern for me. Indeed, you have been concerned, but you had no opportunity to show it. I am not saying this because I am in need, for I have learned to be content whatever the circumstances. I know what it is to be in need, and I know what it is to have plenty. I have learned the secret of being content in any and every situation, whether well fed or hungry, whether living in plenty or in want. (Philippians 4, The Message)
I am so grateful that Paul did not write I "am" content and I "know" the secret. He was divinely inspired to honestly write that he had "learned" to be content and he had "learned" the secret of being content. It did come naturally or easily to Paul either. Don't be discouraged. If you are following Jesus and seeking the touch of the Master then you are learning as well. Contentment is learning how to be present in the present with Jesus. Our nature is to not enjoy the moment at hand and the blessings that usually surround us. Satan would have us living in regret of the past and fear of the future. Jesus said to follow Him. He told us our past is forgiven and our future is in His Hands. Enjoy the moment. Seek the touch of the Master. And continue "learning" to be content. It will change your life.
I would love to share more stories with you of faith, love and grace in my books Stay and Waking Up Slowly. Click here for more info.
Rich Mullins was (and still is) one of my favorite Christian songwriters.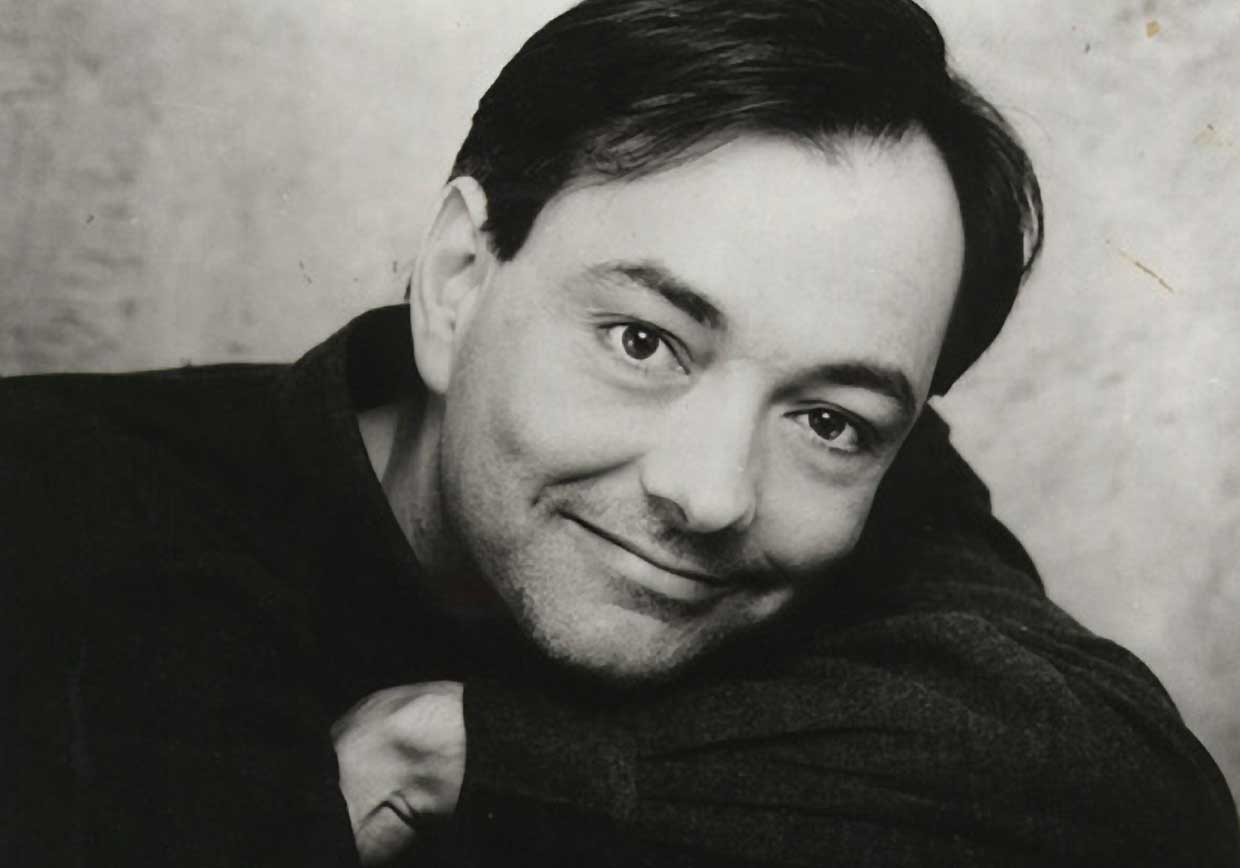 It seems impossible that it was 20 years ago today that he was killed in a car accident. His music impacted me greatly and this song was one of my favorites.
"We Are Not As Strong As We Think We Are" opens with this stanza.
Well, it took the hand of God Almighty
To part the waters of the sea
But it only took one little lie
To separate you and me
Oh, we are not as strong as we think we are.
If only we could acknowledge that we are not as strong as we think we are and then live accordingly I believe we would see an amazing difference. We need God and community to be spiritually and emotionally healthy. Yet pride tells me that I am able to handle the situation. Fear tells me that telling the truth in love will only make it worse. So one little lie or misunderstanding dealt with in my own strength negates the strength of a God who could part the waters of the seas and could no doubt heal my pain. If I let Him.
I remember when a major food company recalled thousands of chili cans that were tainted with deadly toxins. A later follow-up to that story told about cans of chili exploding as the pressure built up inside the containers.
That is a messy and disgusting metaphor for how we deal with the internal toxins of gossip, slander and hurt. We seal them up and store them away hoping it will somehow be okay. But the toxins of gossip and slander have not been killed, only compartmentalized. The pain continues to grow, slowly and inexorably. Finally the pressure builds to the point of explosion. There is a better way.
James wrote these words to the early church:
It only takes a spark, remember, to set off a forest fire. A careless or wrongly placed word out of your mouth can do that. By our speech we can ruin the world, turn harmony to chaos, throw mud on a reputation, send the whole world up in smoke and go up in smoke with it, smoke right from the pit of hell. (James 3:6, The Message)
James doesn't pull any punches, does he? One good way to cling to unity is by not believing the gossip that is spread about. And we certainly shouldn't spread it any further. Gossip is a parasite that requires a host organism to survive; don't give gossip a place to live. Think of how many times you have believed something to be true only to find out the information was mostly or even totally wrong. The threat of a libel or slander lawsuit causes some of us to be cautious in our written remarks about others. But we're not so careful about discussing our brothers and sisters. We need to give them the grace that we would hope for if the roles were reversed.
God is serious about how we communicate about others in the flock. Peter writes:
Finally, all of you should be of one mind. Sympathize with each other. Love each other as brothers and sisters. Be tenderhearted, and keep a humble attitude. Don't repay evil for evil. Don't retaliate with insults when people insult you. Instead, pay them back with a blessing. That is what God has called you to do, and he will grant you his blessing. (1 Peter 3:8-9, NLT)
So there is an added bonus for your godly communication: a blessing at no extra charge. Rich Mullin's wrote this in the chorus of the song.
We are frail
We are fearfully and wonderfully made
Forged in the fires of human passion
Choking on the fumes of selfish rage
And with these our hells and our heavens
So few inches apart
We must be awfully small
And not as strong as we think we are.
No, we are not as strong as we think we are. Rich Mullins wrote another song that you probably know.
Our God is an awesome God
He reigns from heaven above
With wisdom, power, and love
Our God is an awesome God.
We need to acknowledge that He is God and we are not. That He reigns with wisdom, power, and love. We need to leave our pride at the altar and depend on His grace and strength. And we need to not be deceived about this simple truth. We are not as strong as we THINK we are.