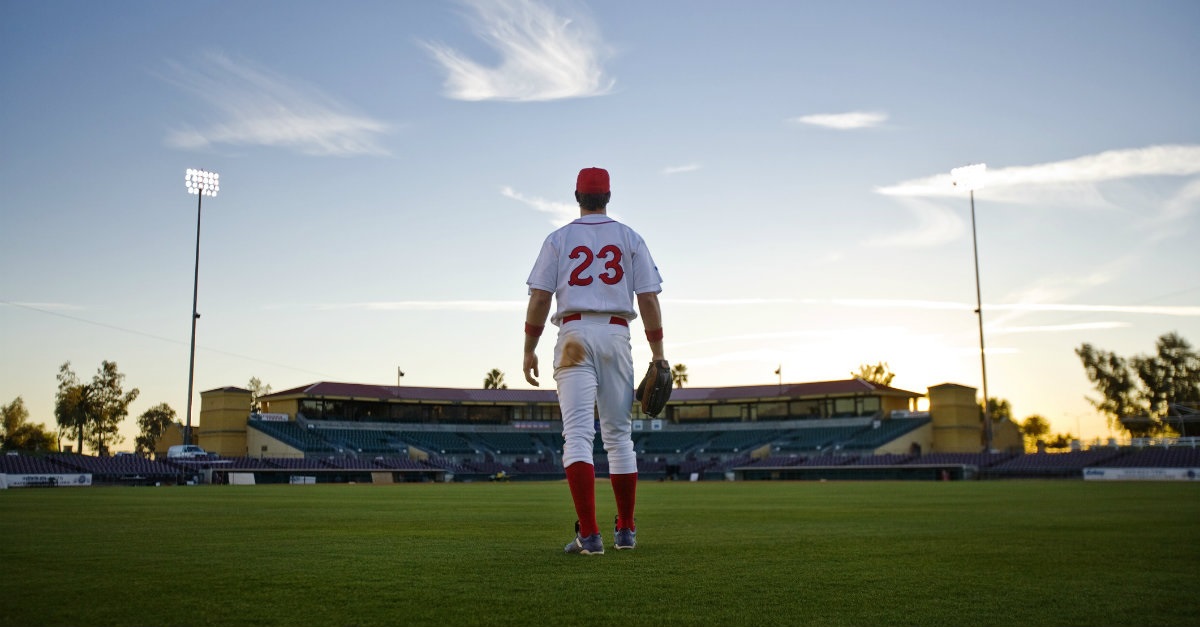 This week marks my thirty-sixth Opening Day as a television director for Texas Rangers broadcasts. Someone asked me at church if I ever get tired of Opening Day. The answer is a resounding no! When I do it will be time to move to a rocking chair at the old director's home. I feel like I am just behind Lou Gehrig as the "luckiest man on the face of the earth" to have been able to do this year after year.
In my mind there is no more special day in sports than Opening Day in baseball. It is an annual rite of Spring to post this article on the magic of Opening Day. The smell of freshly cut emerald green grass delights the senses. The base lines painstakingly and perfectly defined by a grounds crew that is committed to perfection on this day. Red, white, and blue bunting give the ball park a festive World Series look. The players bounce around like little boys. They seem a little extra grateful that they are paid to play a kid's game.
The hot dogs taste like gourmet food. Humphrey Bogard wisely said that "a hot dog at the ballpark is better than a steak at the Ritz". Souvenirs a young fan begs for become treasures to be kept until adulthood. And then it becomes a challenge to explain to your wife why a twenty-five-year old bobble head needs to be in the china cabinet.
Children skip school and parents do not care because memories are being made for both of them. There is no shot I love more as a television director than the one of a Dad or Mom pointing to the field and explaining this wonderful game to their child.
The atmosphere is truly magic. It is Opening Day and every team has hope. Every team is undefeated. Who will be this year's team that surprises and surpasses all expectations? Each fan has dreams and they are hopefully, or perhaps hopelessly, optimistic. This is a new day and a new season. Old mistakes are forgotten. Past errors are no longer important. Today is the annual renewal of the incredible marathon that is big league baseball. It is a clean slate. The team has a new identity.
I once longed for such a defining moment in my spiritual journey. It took me a long time to understand that God's Word tells us that every day is like Opening Day (Dave's paraphrase). I do have a clean slate because of Christ. There is hope. Yesterday's sins are forgotten if you have accepted the gift of Jesus on the Cross. Every morning that I awake and see the magic of a new sunrise I know that I am renewed, redeemed and ready to face the day whatever pitches are thrown my way. I don't have to wait a year to have a chance for renewal. Paul writes that every day holds the spiritual magic of renewal and victory in Christ.
This means that anyone who belongs to Christ has become a new person. The old life is gone; a new life has begun! And all of this is a gift from God, who brought us back to himself through Christ. (I Corinthians 5:17-18, NLT)
I am grateful that in my spiritual journey God that has given me a chance for "Opening Day" renewal every day of my life. I have had some really bad seasons during my career as a follower of Jesus. But I am learning that every day is a gift. I hope I have a few more Opening Days as a director. Then I long for many more as a fan with my precious grandchildren. Dan Patrick once quipped about an injured player. "He is listed as day to day. But then again, aren't we all?"
The fragile nature of our lives makes the bigger questions so much more important even as I enjoy the hope of Opening Day. Every day of my journey with Jesus can be like this special day in baseball. I can be transformed and new. Past losses (sins) can be redeemed and forgiven. There can be an exhilarating freshness in the journey. I can realize that I am a child of God and I can be grateful that I get to call Him Father. I can believe that my hope for the future is real. I can understand that I can be a better teammate to others that I encounter and not expect my team to be perfect. The magic of a fresh start happens once a year in baseball. It can happen every day for a follower of Jesus when we focus on His amazing Grace.
Author Dave Burchett's latest book is Waking Up Slowly:Reconnecting with God and One Another.
Photo courtesy: ©Thinkstock/Donald Miralle
Full disclosure. Bart Millard is a friend. So this review could have been an awkward (not Happy) dance if the movie based on MercyMe's iconic song had fallen flat. But it does not. I Can Only Imagine delivers a powerful and compelling story of redemption, forgiveness and the power of God's grace.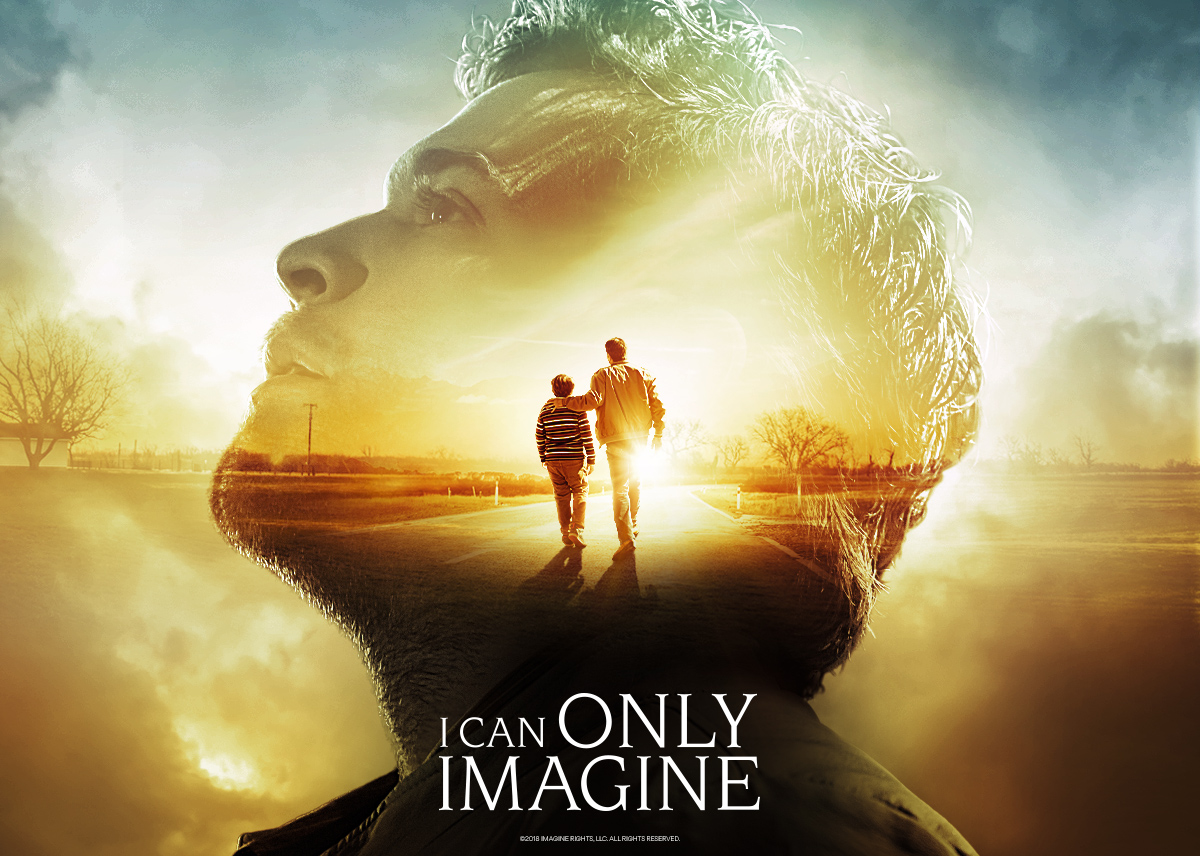 This is a Christian movie you can recommend to friends who have been wounded by life. It is unabashedly Christian but it works because it is not preaching. It is Bart Millard's story. The elements of faith are not contrived or cringe-worthy because they are simply his story. There is no more powerful canvas to illustrate faith than watching normal people do extraordinary things through the power of faith.
Dennis Quaid does a masterful job portraying Bart's abusive dad Arthur. Quaid captures the fearful rage but also the tortured pain in Arthur's own soul that needs a healing touch. J.Michael Finley plays Bart Millard perfectly although not quite as awkward as the real Bart. Sorry, I couldn't play this entirely straight. This is a well done movie across the board in storytelling, acting and photography.
Understanding Bart's difficult background made me understand even more why Bart was undone when he finally comprehended the miraculous depth of God's Grace. Learning about a Father's love that never changes inspired Bart Millard to write lyrics like this in the song Greater.
Bring your tired
And bring your shame
Bring your guilt
And bring your pain
Don't you know that's not your name
You will always be much more to me
Every day I wrestle with the voices
That keep telling me I'm not right
But that's alright
'Cause I hear a voice and He calls me redeemed
When others say I'll never be enough
And greater is the One living inside of me
When the movie ended there was applause and then an almost sacred silence. I think everyone in that room felt the power of God's redemptive love and the renewing power of Grace. It is a message desperately needed today and beautifully delivered in this movie. I didn't have to imagine that because I experienced it tonight. Please see this movie.
One of my peers recently noted that "getting old is not for sissies". Indeed. Even if you escape personal difficulties you undoubtedly have family and friends who are going through physical, emotional and spiritual trials. One of the songs that I default to when I am walking through valleys with others is from singer/composer Rich Mullins. The song is from his CD called Songs and it is simply titled "Hold Me Jesus".
Well, sometimes my life
Just don't make sense at all
When the mountains look so big
And my faith just seems so small
Right now I am in a pretty good place in my life and journey with Jesus. But then I started thinking about the many friends and loved ones who could relate completely to those lyrics in their current situation. And I can certainly remember seasons of my life when those words accurately reflected the condition of my soul.
And I wake up in the night and feel the dark
It's so hot inside my soul
I swear there must be blisters on my heart
And I remember how I used to respond. I would deduce it must be my fault and I would decide that I had to do something to bolster my faith. I had to read more verses or do a study or pray more or believe more. But the answer was far more simple and the chorus by Rich Mullins nails it.
So hold me Jesus, 'cause I'm shaking like a leaf
You have been King of my glory
Won't You be my Prince of Peace
I need to quit flailing and trying so darn hard to be righteous. Hold me Jesus. Won't you be my Prince of Peace? I have started praying a prayer that is simple and profound.
"God…would you love me today?"
And He does. But I remember how I used to think that I had to "do stuff" for God to earn His favor and receive His love and peace. For those of us "doers" who absolutely must do something here is your assignment.
Trust who God says He is.
Believe who God says you are.
Allow God to love you.
That's it. I made it so stinkin' complicated and religious for so many years. When I do those 3 things I find myself humbled. I worship. Those actions cause me to submit, sin less and want to obey from my heart. Commitment comes out of gratitude and not teeth gritting compliance.
Why did I fight this amazing grace and His unconditional love. Rich Mullins nails that too.
Surrender don't come natural to me
I'd rather fight You for something
I don't really want
Than to take what You give that I need
And I've beat my head against so many walls
Now I'm falling down, I'm falling on my knees
That was me. Hanging on to the familiar malaise of self-effort instead of surrendering and accepting grace and freedom. Rich Mullins is now with the King of glory and the Prince of Peace but his ministry continues around the world. Next time you are flailing and striving to please God why not try that little prayer.
"God…would you love me today?"
"Are you tired? Worn out? Burned out on religion? Come to me. Get away with me and you'll recover your life. I'll show you how to take a real rest. Walk with me and work with me—watch how I do it. Learn the unforced rhythms of grace. I won't lay anything heavy or ill-fitting on you. Keep company with me and you'll learn to live freely and lightly." (Matthew 11, The Message)
Learn more ways to become more connected with God, one another and yourself.
Would you join me on that journey in 2018? Click here to check it out.