Has God ever boomeranged truth - where it hits you right between the eyes? He did with me; it kind of hurts.
My son asked, "Mom, can I have hot chocolate."
I figured I was being super nice by saying yes. He wanted marshmallows too.
"You can have 6," I said.
But, six in the cup looked like a swim party of few, so I reached into the bag and grabbed the biggest handful I could. With an overwhelming feeling of generosity, I dropped them into his mug, expecting to see the face of a kid lit up in a candy shop; he didn't look impressed.
Oh well. A mom can try. 
Even so, I figured, I'd made him happy for the morning. Mission accomplished. I figured wrong. As soon as the last drop was licked out of the cup, he was at it again, "Mom, I didn't get to eat a marshmallow on its own. I only got them in my cup. Those ones were all wet."
His face was gearing up for WWIII. My face was not pleased either. I'd just given him ten times more than he deserved and he was whining about one marshmallow? Mom. Can't. Win.
And, this ungrateful kid won't win either!
"Son," I said, "You can either be thankful for what you have or be discontent with what you don't."
No sooner were these words out of my mouth than they boomeranged. Boing!!!
They hit me like this:
"Kelly, you can either be thankful for what you have -
or discontent with what you don't."Boing!!!
You may be missing me as much as he is Kelly. Boing!!!
Thankfulness is where you find joy, Kelly.
It is where you meet greater trust in me. Boing!!!
You see what you don't have,
but what you do have is gi-stinking-normous. Boing!!!
You enter my presence with a word of thanks; you find me. Boing!!!
"Enter his gates with thanksgiving and his courts with praise;
give thanks to Him and praise His name"
(Psalm 100:4)
I want more of God - and all of this is true. God has given me much. He's reached into the bag of his goodness and made the cups to overflow. He's gone above and beyond to open up life-changing spiritual insights. He's provided for me when I saw no way. He's given me the opportunity to write a book that blessed me beyond get-out with new courage.  He has grown me in patience. He has offered me a chance to be near loved ones. He's grown my faith.
God, hasn't given me a tad, He's given me a ton. Yet, sometimes, like my son, I see only the little thing he hasn't done. I focus on it, forgetting everything else. I get obsessed with that one little marshmallow and forget the sweetness of his providence.
But, what I am coming to today is - I always have something to be thankful for: Give thanks to the LORD, for he is good; his love endures forever. 1 Chron. 16:34
Quick-fire prayer: Forgive me, God for my ingratitude. Thank you that you do forgive. Thank you, you love me no matter what. Thank you, I cannot step outside of your love. Thank you, you always have a plan. Thank you, you give me handfuls of blessings. Thank you, you see my way and guide me to it. Thank you, you bestow vision. Thank you, you restore me with eyes of clarity as I approach you with the honor you deserve. Thank you, you withhold no good thing from me. Thank you, God, you are all I need. Amen.  
Get all Purposeful Faith blog posts by email - click here.
Join Kelly on her blog, Purposeful Faith, on Twitter and on Facebook.
More Reading:
Are You Viewing God Wrong? (1 Attribute that Changes So Much)
 5 Things That Self-Destruct Faith (Which You're Probably Doing)
My face. It must speak a thousand words. Words like, my day was bad, I no longer feel like a good mom, I am dead-tired and ready to pass out.
I need not say a word, my husband simply looks at me for a picture of my previous 9-hours. I guess, if I look down, it was not a good day. If I tighten my lips, it was a horrible day. If I run up to him with a smile, it was a fantastic day.
I think our face tells more about us than we know. Two days ago, I looked into a girlfriend's eyes. She was smiling on the outside, yet her eyes were droopy sad. I could tell something was wrong.  Some days, when wait at a stop light, I stare out my window at the cars turning in front of me. They don't realize it, but almost everyone is frowning. I guess the majority people's days aren't going so well.  Sad. I do like the look my son gives his sister – its an under-cover smile. I think he's proud of her.
I like that look.
What look do you convey?
I want my insides to project an outward love of Christ.
I want what God is doing in me to outshine through me.
I wonder if it does?
Just recently, I read about Moses. He and God were tight: "The Lord used to speak to Moses face to face, as a man speaks to his best friend." (Ex. 33:11)
I love those words. There is a sweet familiarity and comfort between Moses and God. It feels easy. Unforced. Natural. To me, it sounds like an everyday, I-want-to-meet-you kind of thing. It sounds welcoming. Relaxed. Connected.
God honors this kind of approach. He brings people who meet with him like this – deeper. He shows them things. He tells Moses, "I Myself will make all my goodness pass before you and will proclaim the Lord before you…" (Ex. 33:19)
Can you all imagine seeing "all God's goodness" pass before you?
What an honor! What might that look like? How might that affect you?
Moses couldn't even look at God straight on; his glory was too much to be seen in that light. But what I love is this – Even though Moses couldn't see God's face, Moses face was changed by God's goodness.
"The skin of Moses' face shone" so bright, he had to wear a veil around the Israelites.
And this really gets me thinking, you see – be with God – and you'll be different.
Let his love shine on you - and it'll no doubt shine upon others. 
Face God and see him change your tightly clenched face into a radiant face.
I want this. I want my bad days' soothed by God's good love. I want my anxiety, quenched by Him who leaves none thirsty. I want He who is light, to make my countenance bright. I want what I can't face, to go face-to-face with him who is Peace.
If like Moses, I get before God, if we get before God like this, we'll never be the same. Those we love won't be either. Approaching God head-on, accepting his face of love– will change the face of our life, I am convinced.
God, help us get before you. Help us to come to you when trials hit or when fears feel like they may drown us. Bring us into your light, into your peace. Shine your glory upon our face, so we may face the world with your light. Equip us and empower us according to your will. Amen.
More Reading:
When Your Good Intentions Fail
How Many Christians Live Grace All Wrong
The Care and Keeping of a Mean Girl
Get all Purposeful Faith blog posts by email - click here.
Join Kelly on her blog, Purposeful Faith, on Twitter and on Facebook.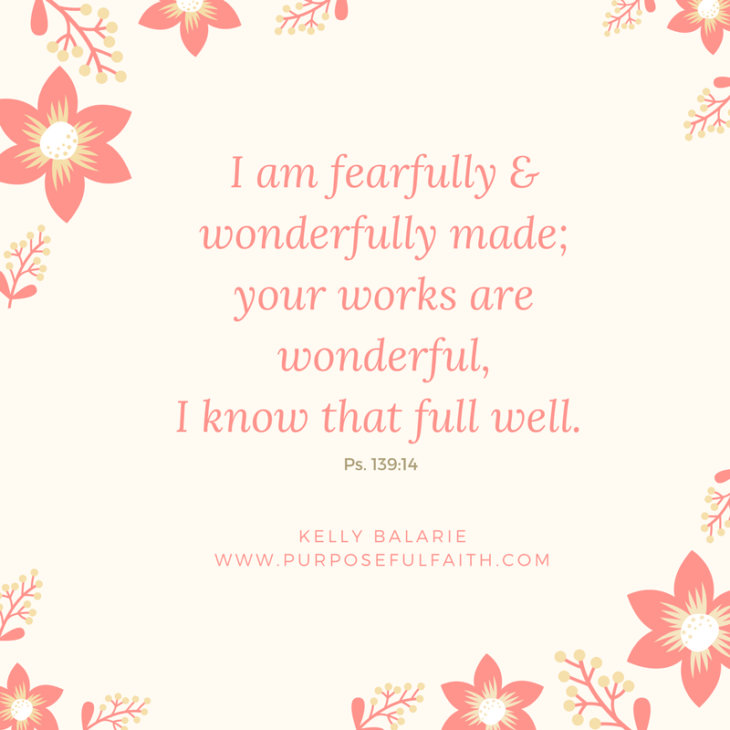 I scrolled through old photos on my phone and took notice of my face: When I turned my head to the left, I didn't look so bad. But, from the right, I looked horrible. In every single picture, when my face was straight towards the camera, my big nose tilted, crooked.
I hated it. I wanted to erase, blur or cover my ugliness.
What do you hate about yourself?
Your hips? Your weight gain? Your crooked smile? Your type B personality? Your love handles? Your tendency to be too curious? Your hair?
I do, in fact, also hate my hair. Frankly, when it's not flat ironed it looks like I stuck my finger in an electrical socket. Bzzt… clown hair (Note: not cute).
Add this to my complexion of rosacea that runs right across my nose and – yes – on those days when foundation doesn't do the trick – I wear a clown-looking nose too!!!
How do you contend with yourself when you'd rather be someone else?
This is the question I've been considering: Because sometimes I am afraid of who I am and what I look like.
I am afraid others will think I am weird. I am afraid I will look dumb. I am afraid I will be left out. I am afraid these weird features will be compounded by a fresh wrinkle. I am afraid you will stand and look at me just a few moments too long to sum up what is so wrong with my face – or my outfit.
I am afraid I'll know what you are up to and I'll have to deal with a whole mountain of inner awkwardness. I can't climb well.
What about you makes you take cover? Feel ashamed? Embarrassed?
Did you know? God loves that part of you. He delights in it. He made you that way.
What would it look like if you accepted it, the way he accepts you? What would it look like to use that very thing - for his glory? For his advantage?
Scared to talk in public? Do a Facetime video.
Feel your heart beat out loud when you are around a circle of women? Approach one of the with a word of encouragement.
Hide your face under sunglasses and a hat? Go sans make-up and wear a smile that shines God's goodness.
Feel too intellectual or too intense? Let it loose. Let it fly. Be you.
There is something liberating about approaching the world– just as you are, just as God made you. There is something freeing about not worrying about your worst. There is something redemptive about relying on the fact – God loves you.
You find yourself.
I praise you 
because I am fearfully and wonderfully made; 
your works are wonderful, 
I know that full well. Ps. 139:14
Kelly's new book, Fear Fighting: Awakening Courage to Overcome Your Fears has been called "A must read," "Breathtakingly honest" and a "Great Toolbox to Overcome Fear." Read it today.
Discover how to flee from fear and fly in faith through 4 Days to Fearless Challenge.

Get all Purposeful Faith blog posts by email - click here.