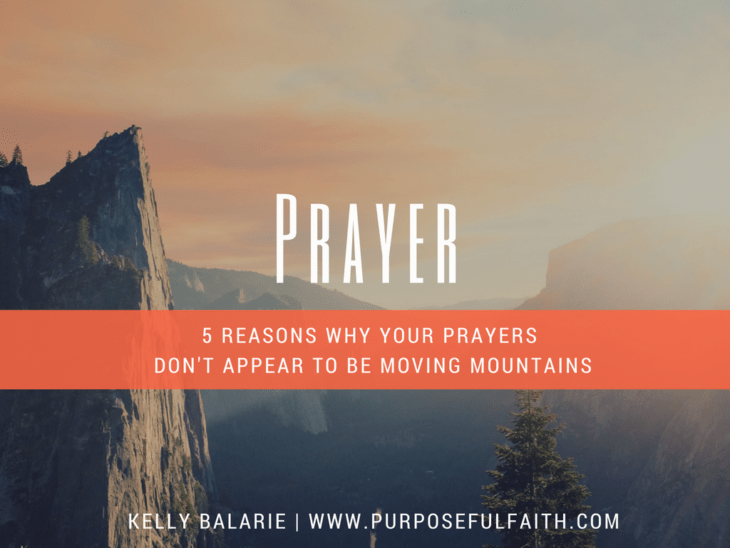 I stared out the window.  My eyes squinted, not because the sun was blinding me, but because I was furious with God.
Absolutely. Stinkin'. Furious.
He failed me. And from where I stood in that moment, on those knees that were bended in prayer for the past six months - my view wasn't pretty. I pleaded and postured and trusted to no end - and I saw nothing for it. I believed God was going to come through for me - and now I am left looking at a pile of nothingness. Even worse, I am looking at damages.
God not only didn't come through, he hurt me.
So, like any good Christian girl, I went to church. And when they sung, "How great is our God," I lip-synced. When they asked us to pray, I kept my insides empty. And when my husband asked what stood out in the pastor's message, I grunted, "Mmm...hmmm...."
Do you feel that God abandoned you?
Maybe someone is still sick. The spouse is still mean. The dog is still lost. Your heart is even more lost. A child still won't return. Your finances are in the dumps. A friend has gone and hurt you. Your past is not healed. You live in a place that is horrible. Your car won't stop breaking down. Your face is getting old. Your kids are getting obnoxious. Your life looks ugly.
Whatever is going wrong, it's because God is gone rogue.
Whatever is broken is because Mr. Fixer Upper didn't do his job right.
Whatever makes us feel uncomfortable is because the God of comfort lost his magic.
Oh, I know these feelings alright. To say they've never existed is probably to lie.
But, years later, upon reflection of this bitter hour, I see things through a different prism, a different angle. Whoever said time heals, knows its true. And it is. Looking back, I see both Him and me through time and things played out. Sense arrives.
I've observed:
1. Sometimes you don't get the lesser prayer because God is answering a bigger prayer.
Let me tell you about my son. He was a screamer on steroids. He'd wail so hard a lung would nearly pop out.  I'd pace. I'd try to keep him together. I'd try to keep me together. It was a song and dance, an anxious time. God didn't answer my prayer that he sleep. But, you know what? In retrospect, it was an anointed time. It kept my husband up, and me too, so we could pray my numb legs and hands were not an actual diagnosis of Multiple Sclerosis. You know what? God answered that prayer.
2. Seasons come, but seasons also pass. 
Back to the 10-pound screamer...he screamed, but six months later, he stopped screaming. I no longer had to endlessly bounce, with a broken back and arms that felt as if they might fall off. He, miraculously, like an angel, fell asleep on his own. Not only that, he made it through the night! What is hard today, may often becomes joy the next morning.
3. Waiting produces patience.  What we often fail to realize is that patience = faith. We pray, "God make me more faithful." This is usually the equivalent of praying, "God make me a better waiter." It is in the wait that we learn faith. It is here where iron meets the road and we either stick it through with God - or we bail.
4. God's sole job is not to keep me happy. There is no law that says God must keep me happy. He often does, because he loves me. But, also, because he loves me, he teaches me. Just as I allow my son to learn from his mistakes, often God lets us live out ours, so we can return closer to him.
5. What looks like rejection is often protection. We see life horizontally. God sees life horizontally, vertically, cross-diagonally and inside out, he sees it up and down and all around. He sees how person A affects person B and how person B may know Jesus if person A goes here or there. He also sees how shutting a door may prevent our foot from getting jammed in it.
God hasn't given up on the disgrace that is you. He doesn't have better or more important people to deal with. He doesn't discount your prayer as stupid, frivilous or worthless. He doesn't see you as needy. He loves your need. He loves your longing. He loves you voice that calls out for his name.
Even more, God has a plan. It isn't a plan that looks like your days activity. It looks like a matrix, a flow-chart and a high-level war plan for greatness that is being worked out on spiritual, eternal and visible levels. You can't understand it. But, you're not meant to.
"For my thoughts are not your thoughts, neither are your ways my ways," declares the LORD.
Surely, as I have planned, so it will be and as I have purposed, so it will happen. Is. 14:24
Get all Purposeful Faith blog posts by email - click here.
Join Kelly on her blog, Purposeful Faith, on Twitter and on Facebook.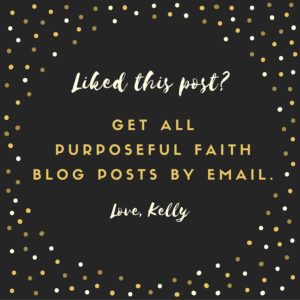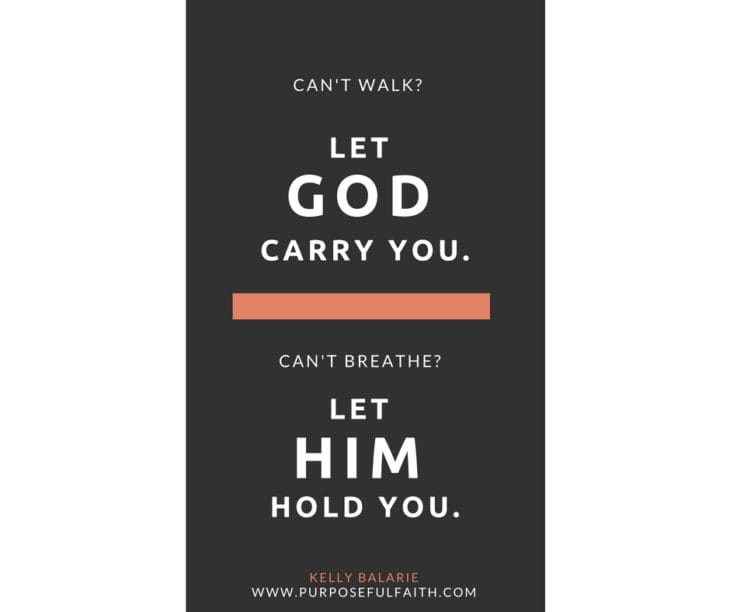 I remember. She was small, innocent, her skin was so white. It hadn't been touched by the sun. The pink of her newly formed organs nearly showed. She was precious.
God is merciful.
Just.
Holy.
Ever present.
All-powerful.
Unchanging.
Infinite.
Wise.
All-knowing.
Sovereign.
I held her gently. I knew she didn't have the muscle to support her neck. I supported her where she was weak. I carried her, the one unable to do more than move her little limbs.
God is refuge.
Hope.
Peace.
Mediator.
Living Water.
The Door.
Helper.
I pulled her close. I sang to her. Not just any songs, but the most special songs I had in reserve. I sang songs of her future, of her beauty and of her worth. I sang songs that tried to imply, "Mommy is here and I will never leave you." I fed her the milk that would continue to offer her life. I wanted her to drink it all in. I stroked her cheek. I carried her close, like the greatest treasure ever.  I wanted her near.
God is tender.
We have a lot of names for God, we think of who he is in many capacities, but rarely do we consider him tender.
When we can't walk, God carries us.
When we have no life, he feeds us.
Wherever we are, he sings over us.
Not just any song, but a song of complete love, a song of our own story - with him.
Where are weak, he presses nourishment into our heart.

Where we want more, he feeds us his best.

Where we are broken, he pulls us close.

His touch is all we need, to need nothing more - to be content.
But we were gentle among you,
like a nursing mother taking care of her own children. 1Thess. 2:17
If man should have the capacity to be tender like a mother,
how much more does God hold that same capacity?
God is tender. Have you ever opened your heart to let him love you this way?
Have you ever looked to see how the "God of all comfort" (2 Cor. 1:3) wants to reach out to the helplessness of you - to bless you?
Perhaps, today, you need to fall back into the arms of the Savior. Perhaps you need to know he is a God who holds you, who gently touches you, who sings over you with the most precious words of passion. Perhaps you need to know that he is not a God that will drop you. He is not a God who will hide out in the room with the TV on. He is not a God that should forget to clothe and feed you. He is not a God that should let you get ill and not care for you.
He is at your bedside, he is at your table, he is in your heart. He will not stand to do anything less than to hold you in his arms. He doesn't hold you at an arms distance, he pulls you close.
Have you envisioned this? Have you let it sink in that God, the God of every miraculous and all-powerful quality, loves you like this?
Like a shepherd, he cares for his flock, gathering the lambs in his arms,
Hugging them as he carries them, leading the nursing ewes to good pasture. Is. 40:11
The God of passion and compassion is pursuing and adoring your heart.
Get all Purposeful Faith blog posts by email - click here.
Join Kelly on her blog, Purposeful Faith, on Twitter and on Facebook.
Related Reading:
When Those Who Wander Get Lost
Going with God instead of Going in Fear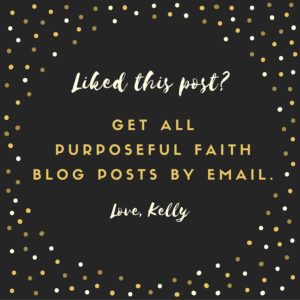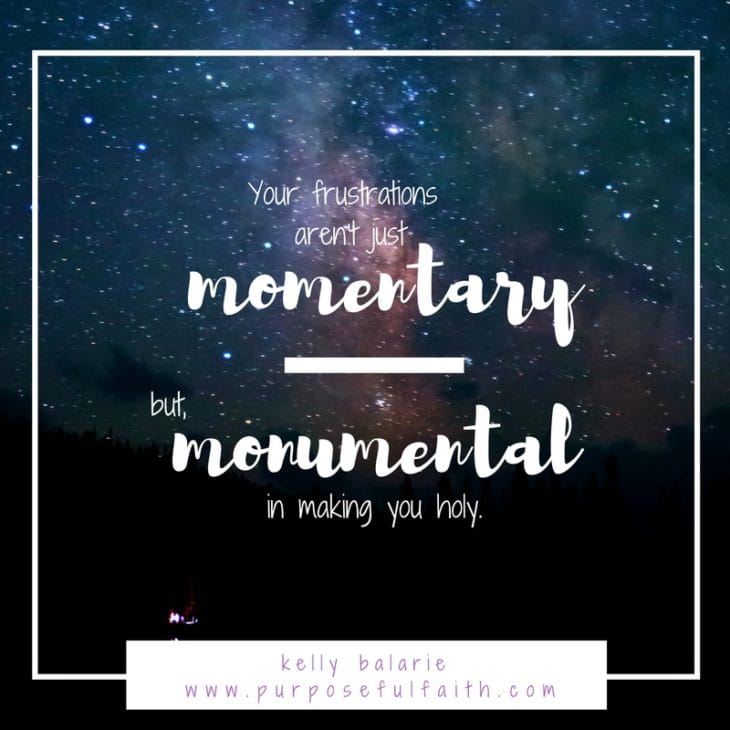 Daily life is living a grind. You wait at a light, people pass. The light turns green, you go. You hit a red light, you stop. Then, you go. So does everyone else - every minute of the day, that make up hours, that make up days, that make up weeks, that make up lives. You get the picture. But, do you?
 
We stop and we go, we pause and we laugh, we cry and we try again, we fear and we fret, and before we know it - that was our life.
Breathe deep.
What if you acknowledged every moment as holy?
The dog rushing out the red door? You chasing after him in 10-year old pajamas. Holy.
The disagreement with that family member?  Holy.
The homework hour with the kid who doesn't get it? Holy.
The carpool line that makes you feel less than? Holy.
The project at work that never ends? Holy.
The preparations for another dinner? Holy.
My son screaming in agony because his stomach hurts? Me, holding the bag around his neck as the yuck came out? A night of no sleep? Sitting here, with the face of baggy eyes and an oozy head - and a day of lost work ahead - it becomes a little harder to throw this blessed word to the wind and to watch it fly. Everything is always harder when it is personal.
If God, Father of all...
is over all and through all and in all (Eph. 4:6),
then he fills all ordinary moments with holy.
If we look for God's holiness,
we will find it.
Between grabbing the trash bag and putting it around his neck, I laid my bruised hip on the ground with a grunt (I fell down the stairs the day before).  And in the middle of one of my super-wide I-really-hope-this-is-all-said-and-done yawns - it came. The holy, the special, the heaven unzipping moment we all search for: "Mommy, thank you for loving me. Thank you for taking care of me."  
He saw love in action.
I saw raw thanks.
It inspired me.
Holy.
What have you written off as worthless? Dead? Not important?
What you consider worthless, God considers priceless, holy valuable.
Holy valuable means that the fleeing dog
is a reminder of how God pursues you when you're lost.

Holy valuable means your disagreement is
a humility bootcamp preparing you for big missions.

Holy valuable means homework with the frustrated kid
is your chance to illustrate grace.

Holy valuable means the carpool line is a meeting point
to find God's unconditional love over man's tempermental approval.

Holy valuable means you learn God is in control of the project.
You surrender; He helps you.

Holy valuable means you remember, as you prepare dinner,
Jesus prepares a room for those who serve him.

Holy valuable means 8-hours of no sleep highlights the meaning of sacrificial, deep and authentic love - and how it works.
Breathe deep.
God is not only in your big "I-need-huge-faith moments", but he is in your little moments. The faith garnered there, is faith that launches you to bigger there's.
Noah did what God commanded him (Gen. 6:22). He saved nations.
Daniel prayed 3 times a day (Dan. 6:10 ). He saw miracles.
Elijah followed through in what God called him to do (>2 Kings 1:15). He spoke the very prophecies of God.
David got reliant on God. He conquered not only lions and bears but giants (Sam. 13:34-37)
How might God use you for big things, 
if you sought after his heart, presence and promptings in the little?
Whoever can be trusted with very little can also be trusted with much, and whoever is dishonest with very little will also be dishonest with much. Lu. 16:10
Little trials are big doors that walk us right into God's epic story, his unparalleled vision for this world. You count it momentary, he counts it monumental. You count it nothing, he counts it everything. You count it unseen to others, and he says, "Yes, that's the point."
Breathe deep and recognize - your ordinary moments are holy valuable.
Get all Purposeful Faith blog posts by email - click here.
Join Kelly on her blog, Purposeful Faith, on Twitter and on Facebook.