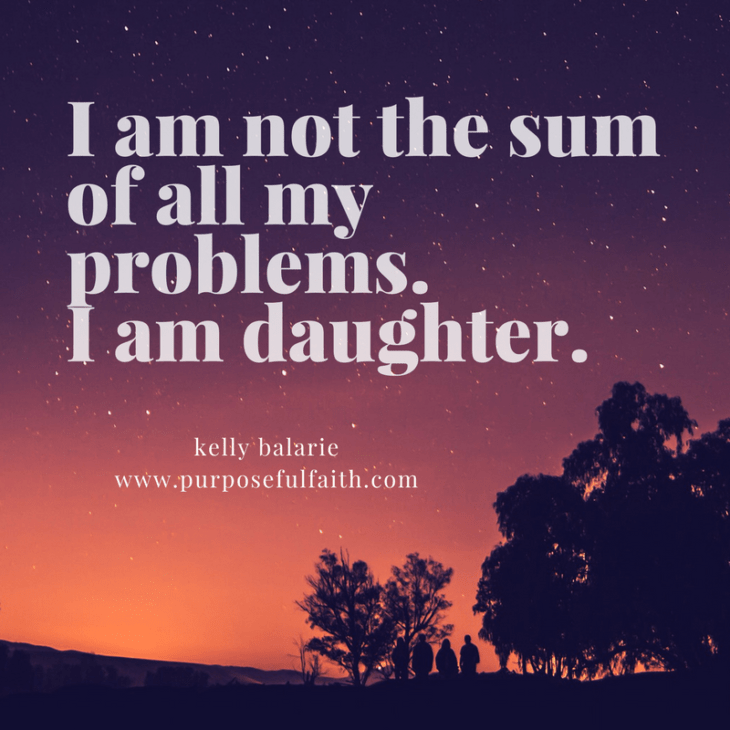 The lady was confident. That was my first issue with her.
If she was just beautiful and - not confident, she might not have bothered me. But, she was SO sure of herself. She knew she was made of.  No one in the world could tell her otherwise! No one could stop her! She brought her brilliance with her wherever she went!
She sat like the statue of liberty. I was a small seagull whose job was to soak in her glory.
It didn't help she had a great job and wouldn't shut up about it. That really irked me, because at this time, I had a horrible job and I loved to whine about it. I have too much work! I can't do it! I need a new job!
This lady spoke to my husband differently: My job is a dream! My boss is inspirational. My life is fantastic!
Puh-lease….someone pass me the salt shaker – so I can pour it on her head.
I could almost see it, me – the small one, salt-shaker in hand - wrecking her moment. Her, the large-and-in-charge one melting like the Wicked Witch of the West.
But, she is not wicked. I am. Ever asked yourself…Why am I thinking this way?
I sat back in my chair, tuned out her conversation and considered -  why am I thinking so – meanly?
Her strength is depleting mine.
Her success is ruining my moment.
Her great attitude defines me as less than.
Her belief in herself is stealing my joy.
Why does one woman have such a great impact – on me? Can 1 lady take away all of God's promises with 1 sparkly super-white smile?
Is this what God intended? For me to hate girls who are happy, successful and beautiful?
Somehow, in this moment, I know my heart has followed a rabbit trail – straight away from God's glory. I've gone got myself stuck in a pit now.
Have you found yourself in a pit lately? Perhaps someone shines better than you? Always has a perfect answer? Has the job of all jobs? Is PTA mom extraordinaire? Is driving your dream car? Has perfect kids? Constantly shows off Facebook vacations?
God says, our pits are escapable, with his help. "He lifted me out of the slimy pit…he set my feet on a rock & gave me a firm place to stand."
God has the strength to lift me up from the yuck I put myself in.
When I set my eyes on God, not her, he, like a medivac, pulls me to safety.
Choose to stand upon the solid rock – the ground that is not sinking. , that is not wavering and that will not quake under the pressure of earthly measures.
Here, I see: I am not less than, I am just right in God's eyes.
I am not struggling, but victorious, because I am chosen as daughter.
I am not without a plan, because God has created good works for me in advance. I am not alone, for God sees the desires of my heart.
I am not dependent on others, but fully dependent on God – and who he says I am.
I pull out of my thoughts and find myself at that restaurant table. Her voice emerges, except it no longer sounds like nails on a chalkboard, but another girl, who's excited to be who she is created to be. I mention how blessed she is to have a good job. She smiles. We talk – and have fun.
Order Kelly's powerful book, Fear Fighting: Awakening Courage to Overcome Your Fears, today!
Discover how to flee from fear and fly in faith through 4 Days to Fearless Challenge.
Get all Purposeful Faith blog posts by email - click here.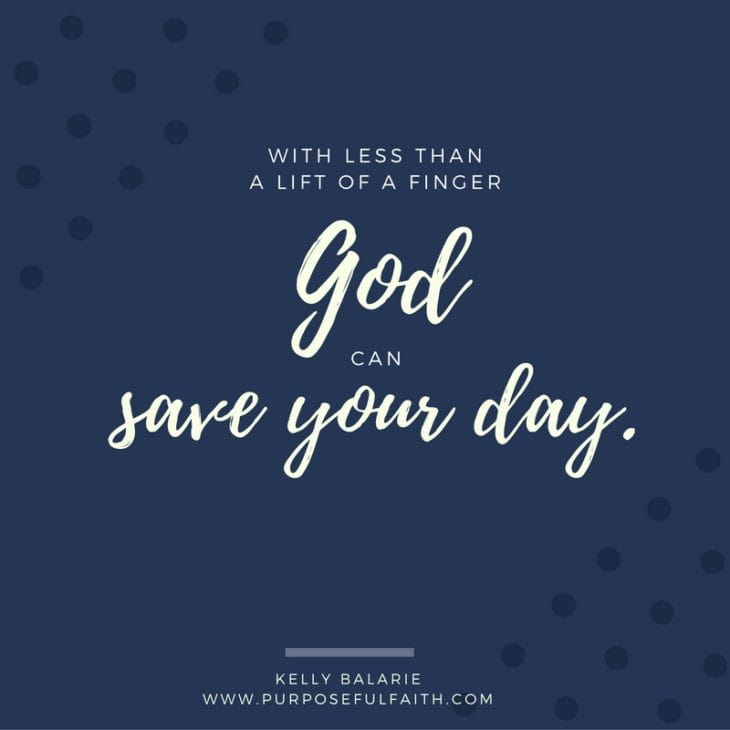 Just yesterday, I met up with a friend. She's stuck in a foreign prison. She can't find her way out. Jesus saved her for heaven, but on earth, she nearly lives daily in hell. Depression, despair and dejection have claimed her.
When I got home, she was all I could think about. The way her tears broke down her face, the way her heart was spread out on the table and the way it seemed there was no way out.
I wish I had been there for her more.
We live is in a world of hurt; there is no denying that. And, where I sit is in a chair,  angry, I can't fix things. I can't rework their lives. I can't restructure the story or rewind the tape. Oh, how badly I want to get up like a super-genie with blonde hair, an explosive attitude, with a good sprinkle of Jesus, and just swipe away the pain, as if I'm sending them back to those smiling pictures of old.  I want them to go - back there.
But, I can't swipe it all away. I can't swear it away.  I can't superwoman it away either.
Here pain stands.
And so do I.
What will I do this time?
What will you?
Because the pain of the world isn't going anywhere. And neither are needy people. Here we all are. Look left, you'll see her - in the wheelchair. Look right, you'll remember, yes, that person, who lost their spunky 30-year old spouse. Look across the street, you'll see him, the dad with tired eyes and a drug addict child.
See what you try not to see, today.
They walk everywhere. I guess the real question is, what will we do? Will we continue on with our day or will we step into a new way?
10 Ways to Be There For Someone Going through a Hard Time
Realize you are just as needy. Think you don't have problems? Think again. Meet your neediness first.
Soften your heart. Let your covering of to-do's fall to the ground. Let judgments go. See afresh.
Smile. Smile at yourself because today, you are choosing to go a new way. Who you abandoned in the past, is forgiven by Christ Jesus.
Ask God for His eyes to see.
Recognize. What you think needs fixing, God may think is downright astonishing when seen from the angle of his great plan.
Don't be a Mrs. or Mr. Fix it or Madam Know-it-all. Refuse to allow pride to break the stride of God's perfect love and timing.
Be. Be in the moment with your own feelings and emotions. Listen from this place and love in that space.
Pray with all your heart, then act as the Holy Spirit leads.
Expect the Lord to be faithful through your prayers. Even more, expect him to grow you along the way.
Enjoy. Enjoy what the Lord is doing, even if it looks nothing like you thought.
A weird thing happens as you love, you find out God is loving you. He gives back what you are giving and he gives out what the other person's soul most quenches. All of a sudden, what happens is you - and them - are unified. It is not about pity, judgment or charity, it is about two souls in need, hungering and seeking for more. Drawing strength, building hope and seeking rescue. It is a beautiful thing. It is God in action. It is - lives - coming alive. And - it is never too late to find.
Order Kelly's powerful book, Fear Fighting: Awakening Courage to Overcome Your Fears, today!
Discover how to flee from fear and fly in faith through 4 Days to Fearless Challenge.
Get all Purposeful Faith blog posts by email - click here.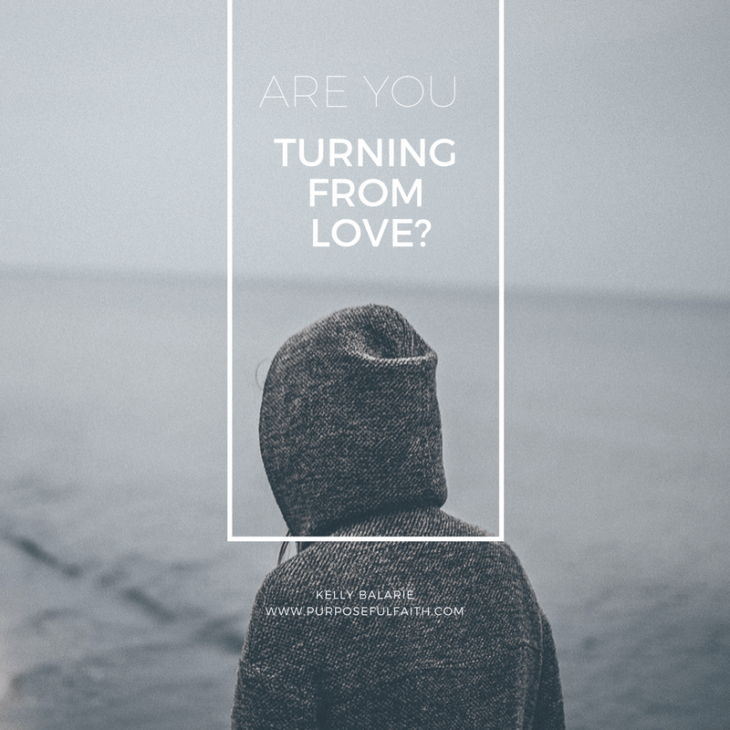 My son lives like a son. Meaning, he takes all momma wants to give him. If I walk in with a plate of cookies, he dives into them. If I offer him a hug, he runs up to get it in full. If I sit down with him, he delights in showing me things. If he gets injured, he runs to me and asks how I might help. He takes what I give, eagerly and willingly.
Somehow he knows where he is –is safe. And, what I am giving – is good.
Christians aren't always good children. It's not because we aren't loved, adored and chosen, we completely are, but it's mostly because we grew up.
I've been meeting a lot of children of God in need lately, but when he tries to use me to love them, they shut it down.
Here's how it tends to go:
I say, "Need prayer?" They say, "Nope. But, I know someone who does."
I say, "Are you struggling with anything?" They say, "Nope. Not at all."
I say, "I'd like offer you a gift – God has put you on my heart." They say, "Nope. I never take gifts from others."
I say, "You are courageous." They say, "I don't want to talk about me. Let's talk about you."
Rather than living as a needy children, we living as arrogant adults. To turn away the love of Christ is to turn down the greatest gift moving on earth. We do it often.
Why?
Maybe, because we don't want to owe people things. Maybe, because we feel guilty or embarrassed. Maybe because we feel undeserving.
The maybe's don't matter.
What matters is, like children, we open our arms up to hold the gifts God is outpouring through others. What's important is that we see all the ways he is trying to love us. What is important is that we let this love in, so we can let this very love out.
God wants us to sit at his feet and feel his love. He wants us to grow in community. He wants us to receive the glorious inheritance of his riches, which often walks into our life through the other body parts of Christ. He wants us to stand in need, so we see that he can stop what is making us bleed.
10 Questions to ask yourself: Are you not receiving God's love?
Do you let his love in?
Do you embrace what God is offering you?
Do you make time to sit next to God?
Do you listen?
Do you remember God's goodness?
Do you notice God through your day?
Do you seek spiritual eyes to see?
Do you trust by faith?
Do you push off distraction?
Do you renew your mind when it gets off track?
Order Kelly's powerful book, Fear Fighting: Awakening Courage to Overcome Your Fears, today!
Discover how to flee from fear and fly in faith through 4 Days to Fearless Challenge.
Get all Purposeful Faith blog posts by email - click here.
Join Kelly on her blog, Purposeful Faith, on Twitter and on Facebook.