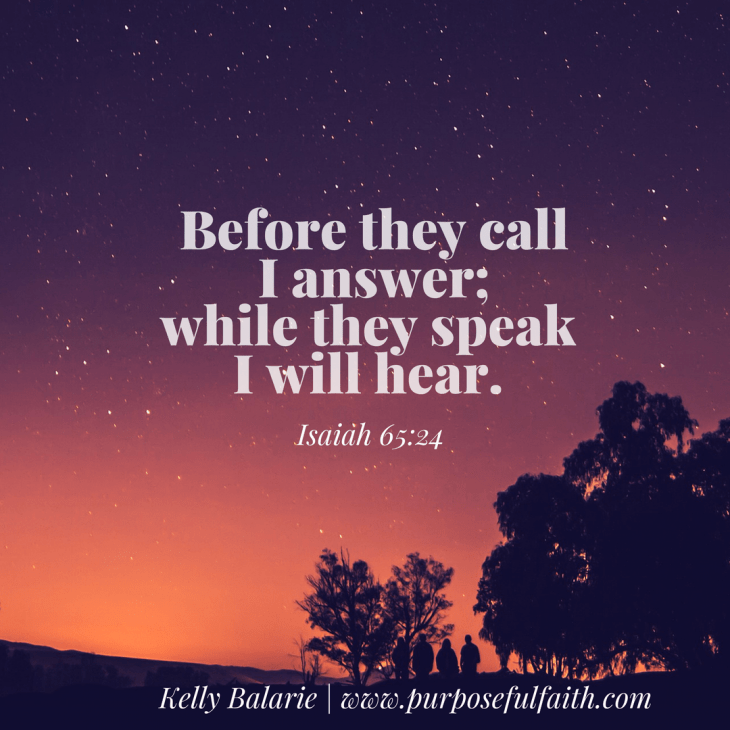 Imagine if every time you hit a hard time, you had a friend a step ahead of you. Your car broke down? They were already waiting on-location with the jack. Your mom was in the hospital? Upon your arrival, they stood at the hospital room door with soup. Your landlord just kicked you out of your house? They beat his call by 5 minutes to invite you to stay with them.
You may think one of three things:
This person is the rock-star of all friends.
You can't live without them.
Only God could do this sort of thing.
On all three counts, you'd be right.
Sadly, there is no person like this. But there's a God just this way:
Before they call I will answer; while they are still speaking I will hear. Is. 65:24
God isn't just in step with our needs, he's one step ahead.
We call, he's already answering.
We speak, he's already working.
What we can't voice, he's addressing.
What we've been afraid to ask for, he's hearing.
In the same way, the Spirit helps us in our weakness.
We do not know what we ought to pray for,
but the Spirit himself intercedes for us through wordless groans. Ro. 8:26
God doesn't just hear our prayers, he preemptively steps in front of them. Like a good basketball player, he anticipates where we're headed and beats us there. The only difference is, rather than blocking us, he gets there to lift us up. He gets there to help us score our goal. God improves our shot.
Have you been negating the love of God, the power of prayer or the worth of praise?
Often, we don't say thank you for what we can't see. We don't say thank you for the disastrous saves never knew. We don't say thank you for the trials God averted. We don't say thank you for the small blessings we thought were our work.
Maybe today is the day we do.
Thank you, God, for all you do. You do more than meets the eye. You are working for us, helping us, and freeing us. Thank you that you are leaning into our problems and calling out on behalf of our weakness. Thank you that your all-consuming power is behind us and pushing for our best outcome. Amen.
Order Kelly's powerful book, Fear Fighting: Awakening Courage to Overcome Your Fears, today!
Discover how to flee from fear and fly in faith through 4 Days to Fearless Challenge.
Get all the Purposeful Faith blog posts by email – click here.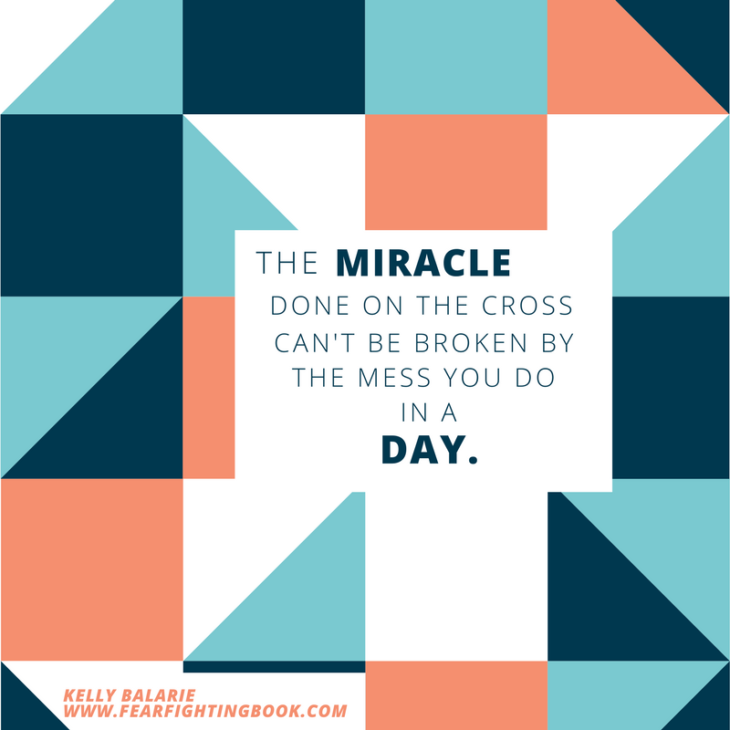 Have you ever gotten permanent marker on your hands? Maybe you did a project or just got a little wild on paper. Either way, when you get marker on you, it is a bear to get off. You can scrub, and scrub and scrub and sometimes – it can take days and days to get off. It sticks.
Press hard. It still sticks.
Add more soap. Even more it sticks.
The same is for Jesus' blood. It sticks. Jesus' blood is not washed off by I-should-have-done-that moments. It not removed by an off thought. It is not erased in accordance with our doubts.
Where have you felt that the full atoning sacrifice of Jesus is not enough? Maybe you feel like you're a bad wife? Your past marks you a bad child in the mind of God? Your failings disqualify you from God's goodness? Your shame will never go away?
I make repeated mistakes. I think this is what most aggravates me. I go back to the well of I-am-sorry 100% in a week. Then, I start to think, "God, if I'm always having to say, 'I am sorry', what good am I?'" I start to think, "Daughters of a good daddy don't shun him away." I follow the lie that says, "I will never improve."
Jesus' blood seemingly washes off of me – in my mind, but in truth, Jesus blood will always cover my heart – through my life.
Do you believe you are covered by God? Jesus' blood shed for you is as permanent as the blood that is in you. If you are his, he is yours.
If you are in Christ, his protective armor of grace – his blood shed on the cross – is always over you. It is like a force field that cannot be broken. It is a rainbow that always reminds you of his faithfulness. It is an umbrella that protects you from your worst errors.
What miracle Jesus did on the cross, cannot be broken by the mess we do in a day.
And by that will, we have been made holy through the sacrifice of the body of Jesus Christ once for all. Heb. 10:10
In this, as I reflect on my story, the story that plays in my mind at night – the one that plays on repeat…me, not being so nice, so instructive and so godly with my kids, I am struck by this: Jesus Christ's blood, his forgiveness of my sin, sets me off on a fresh course of freedom the next morning.
Will you let Jesus sacrifice sit permanently, like a mark of his great love for you, on your heart, mistakes, and inadequacies?
Buy my book, Fear Fighting: Awakening Courage to Overcome Your Fears!
Take part in the 4 Days to Fearless Challenge.
Get all Purposeful Faith blog posts by email - click here.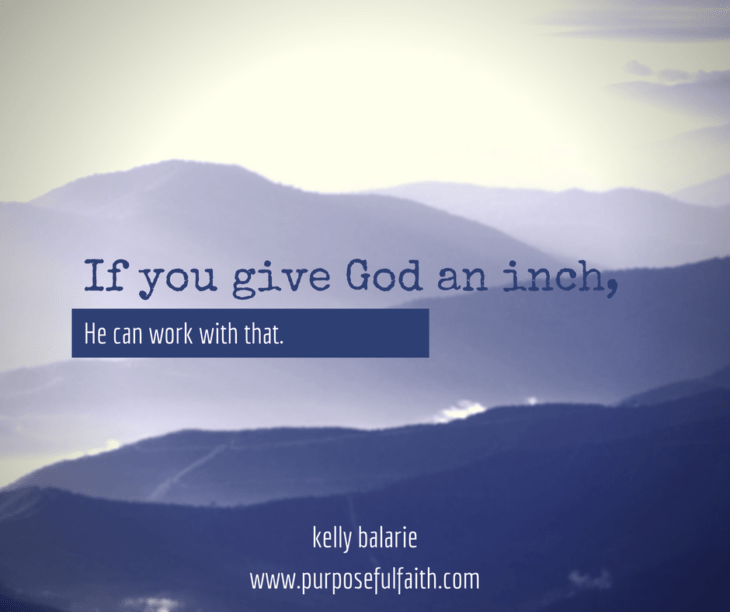 This time of year is full of angst. At least it is for me. It is mostly this feeling that I need to do something bigger, better and bolder than last year, but the problem is – I have this sinking feeling – I won't.
Add this to the swirling questions:
What if something catastrophic happens in 2017?
My children get hurt?
I find out I have cancer?
My husband and I lose our great relationship?
What if I accomplish nothing of importance?
I let God down?
Terrorism hits close?
This list goes on and on and the fears grow bigger and bigger the more I recite them. Before I know it, the bump on my face will surely become cancer and heartburn is, no doubt, a heart murmur.
Me + Fear = An atomic combination
It blows up my life, because I walk around with the destructive air of anxiety. This bad air, then makes others glow with frustration at my bad attitude.
Fear clouds my view of God. While once I could see and admire him, front-and-center – my constant trepidation quickly makes me lose heartfelt dedication... Worry covers wonder, action plans cover the idea - God-has-the-best plan, and prayer gets lost under despair.
Breathe deep.
Sometimes this is the best first step, I think. Any separation from the trepidation falling on you, is always good. If you give God an inch, He can work with that.
And, as I do, as I step back from the angst of 2017 in full motion, 3 calming words and 3 consoling verses come to mind:
Know: "Be still, and know that I am God…" (Ps. 46:10)
Grow: But seek first his kingdom and his righteousness, and all these things will be given to you as well. (Mt. 6:33)
Go: So do not fear, for I am with you; do not be dismayed, for I am your God. I will strengthen you and help you; I will uphold you with my righteous right hand (Is. 46:10)
These 3 words help me see, I've complicated things. I've worried about the future, yet, God is in the present. Have you missed God too?
Perhaps, we don't need to know the future, but we simply need to know that God is God. Perhaps, we don't have to fear growth, progress or accomplishments, but simply seek first his righteousness, knowing we'll grow as he adds everything to us Perhaps, we don't need to get paralyzed by what ifs and hypotheses, but simply Go! in God's strength and protection.
We move as he moves and trust him; he is trustable.
This idea awakens my heart, because when we fear, it is hard to be in God's plan. Yet, when we know God is near, we lose fear.
This 2017, these 3 words will be my Fear Fight. A rather unconventional fight – one where I remember Jesus has already fought the fight – and won. In this, I'll stand in his victory. Will you?
Want to leave behind your tremblings to walk into unbelievable calling? Order my book, Fear Fighting, today!
Sign up for the 4 Days to Fearless Challenge!
Or, get all her blog posts by email. Get all Purposeful Faith blog posts by email – click here.