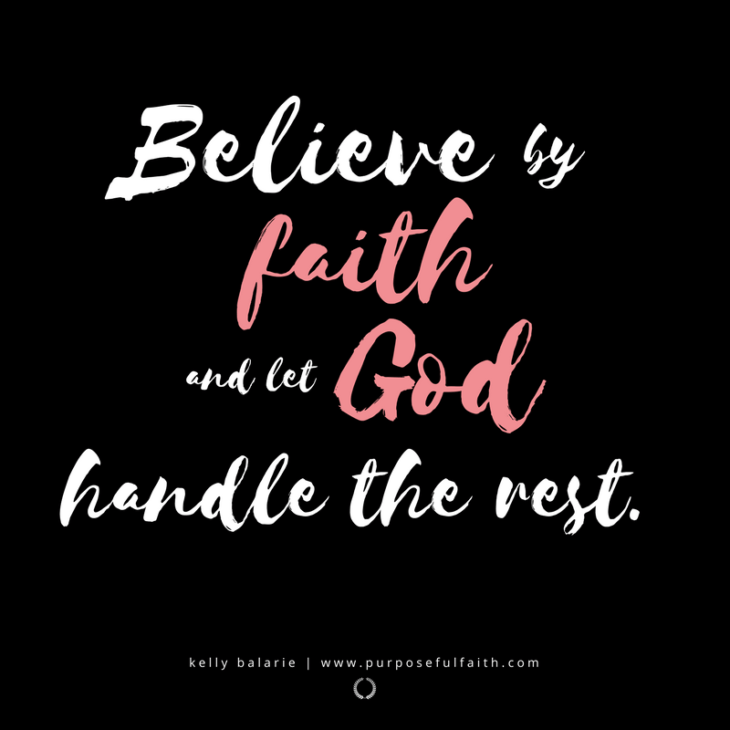 I approached him, "Get your backpack. We need to get in that car."
He marched right past me holding the shovel like a sword, swinging it as if he just won a war. He wasn't going anywhere, this I knew. My words floated over him like the wind. His eyes were dead set on the game he was playing.
I was annoyed, for what stood between me and peace - was a 5-year old, a pretend game and a wrestling match of words that was about to explode.
What is standing in between you and peace?  Between you and God?
For me it is distractions. Consider this: Just 5 minutes before my son's victory march I was praying to God, asking him to be with me and wanting to walk forward in his love.  So, what happened?
(Deep breath.) 3 distractions bubbled up - ones that so often pull me off track:
I let the demands of this world, steal my delight in the Creator.
I allow urgency to replace intimacy - between me and God.
I let destination take precedence over God's invitation to let loose.
(Another deep breath.) When I am worried about time, (I don't have enough of it, I am stressed out by it, I am going to be late, I am missing out, I am too old, I am too young, I should be somewhere already, I don't want to wait, I must think about my future, rather than be present) I work myself into a tizzy. And, here, in all my trembling - I can't see God.
...But all too quickly the message is crowded out by the worries of this life...so no fruit is produced. (Mark 4:19)
I want you to do whatever will help you serve the Lord the best, with as few distractions as possible.  (1 Cor. 7:35)
If I am distracted I can't as easily be engaged with God. If I am worried about many things, I can't be enthralled by the One thing. If I am trying to press through a tight knit schedule, I can't as easily press peace into this world.
I want more. Do you?  I want to take God through my day with me. Not just in the morning time, but all the time. Not just when I think of him, but as I do everything. I want to invite in his love so I can spread his love.
No longer do I want to fear the rush, the clock and the game - that calls me to sprint ahead, but I want to stop and sit and savor and sip up God's goodness. Maybe you do too...
For we serve a God who is limitless and unbound by time. The truth is, he can work within any barrier that lays before us. He just outstretches his hand and it expands in a way where we can do what we once thought we couldn't.
We believe by faith. And God handles the rest.
Order Kelly's powerful book, Fear Fighting: Awakening Courage to Overcome Your Fears, today!
Discover how to flee from fear and fly in faith through 4 Days to Fearless Challenge.
Get all Purposeful Faith blog posts by email - click here.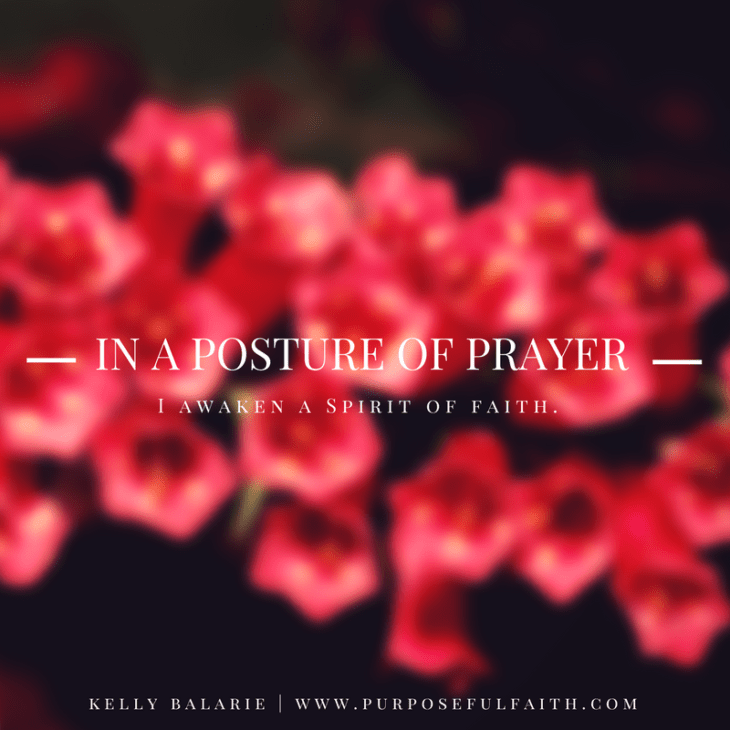 In my own mind, I am weak.
Especially this week, with husband out of town and toddler girl waking nightly seeing "bad things", repeatedly, nearly every hour - I am tired. It didn't help she came down with pink eye, the mysterious condition that makes your eyes seep out goo that should only be reserved for icky monsters on kid cartoons. Needless to say, the goo spoke saying, "Get her to urgent care ASAP."
Which was almost impossible because it was nearly blizzarding and pelting ice like hockey pucks. But, not entirely impossible, so we pulled on winter gear, slushed through the mush and made it, unscathed, to 3 urgent care locations. Closed. Each and every one of them. Closed. Closed. Closed.
I considered laying my head on the horn, making a SUV tribal sound, indicating to the world, "Rescue me." I didn't. I knew no one would come.
Upward and onward!!! Moms don't give up. We got her meds.
Then, I got pink eye. Then, Madison got a mysterious fever only showing up during the hours of school. She got banned for 24 hours from returning. I got frustrated because every single mission I am trying to work on is getting thwarted. Every moment of time I have to do great things, is getting stolen. Every dream I am pursuing is becoming ruined by sickness and no sleep and storms and people and...the whole world is buckling, it is falling down on the sides. The box is breaking and I can't hold it up. It isn't listening!!!
Did I mention, I feel weak?
Jesus says, "Our flesh is weak."  (Mt. 26:41)
He knows how it goes.
He also says our "spirit is willing." (Mt. 26:41)
"Spirit" in this case is the Greek word pneuma, our own soul or mind.
In translation, this means: Our flesh is weak and our mind is willing. Or better said, our flesh is weak and our mind tries...
Our mind tries, just like the disciples' minds probably tried. They tried to stay awake, I'm sure, but, they didn't. They fell asleep in  Jesus' hour of need. Jesus returned to find them, not praying and watching, but asleep - again.
I think if Jesus returned to find me, he'd find me, not praying, but weak to his power in my life.
That thought scares me.
But, what wakes my true Spirit up in me, not the try-hard, die-hard, spirit in me, is this: "I pray that out of his glorious riches he may strengthen you with power through his Spirit in your inner being, so that Christ may dwell in your hearts through faith." (Eph. 3:16-17)
When I get in the posture of prayer, I can awaken my Spirit of Faith. God wants to pour out revival in my own soul. He wants to replenish what is depleted. He wants to overpower my spirit with His. And this, returns me to power. It awakens me to purpose. It reminds me: My flesh is weak, my spirit is willing, but His Spirit is alive, moving and activating things that need tending to in my life.
Will you let God in?
Perhaps you join me today and pray this simple prayer:

God, I pray out of your riches, you strengthen me with power through your Spirit in my inner being. Father, I want Christ to dwell in my heart through faith. You are the only answer when everything seems impossible. You are the only answer when I feel I can't. You are the answer when everything goes wrong. My spirit is willing. My flesh is weak. Increase the power of your Spirit within me and by decrease my spirit response, so that I might live full of faith and full of you as I go through my day. In Jesus' Name, Amen
Kelly's new book, Fear Fighting: Awakening Courage to Overcome Your Fears has been called "A must read," "Breathtakingly honest" and a "Great Toolbox to Overcome Fear." Read it today.
Discover how to flee from fear and fly in faith through 4 Days to Fearless Challenge.
Image Credit: Thinkstock.com

Get all Purposeful Faith blog posts by email - click here.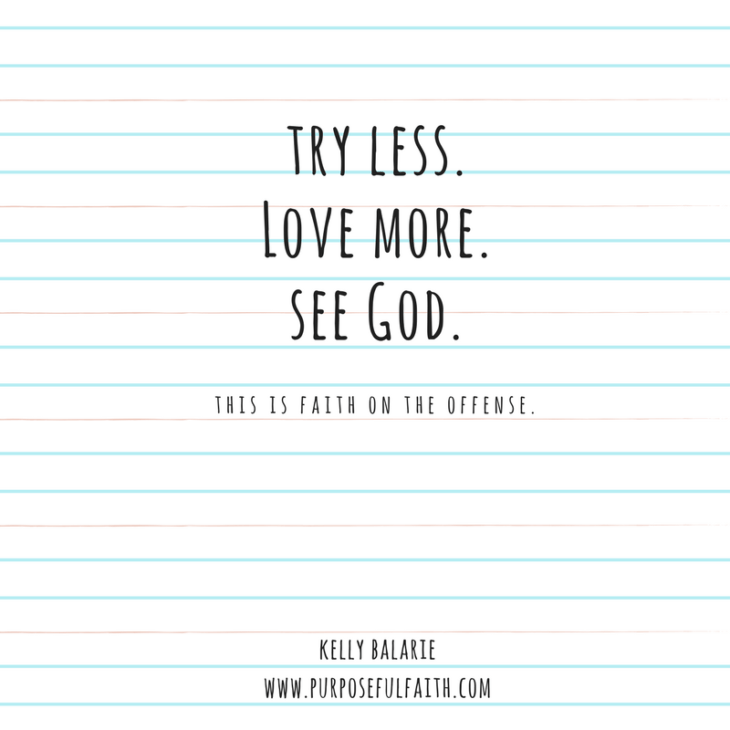 Life, no doubt, lives like war. Daily, we wake, and don't know what attack might come our way. We don't know if we might get that phone call, if our small health issue may turn into a big problem or if we may hit a relational snag that leaves us knot-tied for weeks.
We wake up. Usually, we blindly head into it.
I don't know about you, but a lot of days, I feel like I wake vulnerable, open for attack and easily knocked down. The battles move so fast, some days, it is hard to get ahead of them. It is hard be one step faster or to create a battle plan, especially when you don't know what is coming.
But, lately, I've been thinking much about moving from defensive faith to offensive faith. I think the stance makes all the difference.
A defensive faith stance is:
- Waking and going through the motions
- Reading God's Word in the morning then going into the day
- Praying when troubles hit
- Asking people to help you when you are in a serious ditch
- Acknowledging God when something really great happens in your life
An offensive faith stance is:
- Waking and proclaiming God's truths over your life (God is with me, for me, above me, before me...)
- Moving God's word from your head to your heart by dwelling on it throughout the day
- Praying perpetually, in the car, in your house, in your free time.
- Having a team of people to support your faith walk. Knowing they will check in on you.
- Praising God as you see his glory through your day.
- Thanking God continually for all you have.
A Christian on offense moves into the battlefield not only able to withstand war, but ready to win. They see not only what is coming against them, but they are prepared with a tactical plan to love, when usually they'd be prone to fear. It changes their eyesight. Rather than being a pawn they are now a son or daughter of the King, one loved, provided for and helped along the way. They are an active force of good on the spiritual game board of good and evil. God knows they are ready, I believe. He sees their faith and willingness to prepare. He rewards them for seeking him diligently.
This person understands, it is not their own willpower that wins, it is not their mindset that overcomes, but it is the blood of Jesus that won for them. In humility, they stand under God so that he can move over their lives and into the lives of others.
This kind of person proclaims: Blessed be the Lord my Rock, who trains my hands for war, and my fingers for battle – my lovingkindness and my fortress, my high tower and my deliverer, my shield and the One in whom I take refuge, who subdues my people under me." (Psalm 144:1)
Kelly's new book, Fear Fighting: Awakening Courage to Overcome Your Fears has been called "A must read," "Breathtakingly honest" and a "Great Toolbox to Overcome Fear." Read it today.
Discover how to flee from fear and fly in faith through 4 Days to Fearless Challenge.

Get all Purposeful Faith blog posts by email - click here.