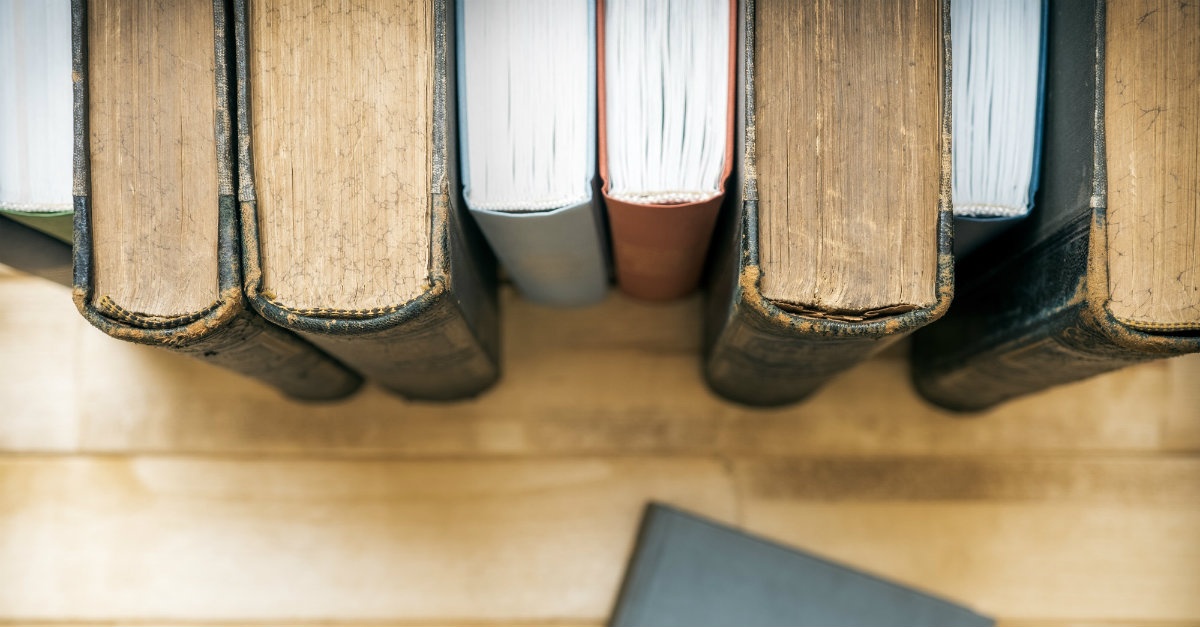 The title is a bit of a misnomer, since I am not claiming that these are necessarily the best books of 2016. They are, rather, books that were particularly meaningful to me in this past year. One of the things that I noticed was that this was a bad year, in my view, for fiction and poetry. I read a lot of both, but they were from old books I was returning to once again. The new fiction I read this year was mostly dreadful, including Jonathan Safran Foer's Here I Am, which I didn't finish.
These are in no particular order.
Richard Hays, Echoes of Scripture in the Gospels
What a magnificent book. My wife knows that one of the quickest ways to draw out my curmudgeonly side is to hear a preacher refer to Matthew's gospel as the one that deals with the Old Testament. All four gospels—including and maybe especially my favorite, Luke—are shot through with OT allusions from start to finish. Hays demonstrates this, and he demonstrates why it is hard for many to see this. "Alas, many Christian communities have lost touch with the sort of deep primary knowledge of Scripture—especially Israel's Scriptures—that would enable them even to perceive the message conveyed by the Evangelists' biblical allusions and echoes, let alone to employ Scripture with comparable facility in their own preaching and renarration of the gospel story."
Hays is completely right that an interpretation of the Bible necessitates a "poetic sensibility" that is able to recognize allusions and echoes as well as types and shadows. This book will help Christians grow in affection and understanding not only for Jesus in the Gospels but also, through them, for Jesus in the Old Testament as well.
Richard J. Mouw, Adventures in Evangelical Civility: A Lifelong Quest for Common Ground
I don't know how long it's been since I've enjoyed reading a book this much. Mouw, a friend I've respected all my adult life, notes at the beginning of this work that he had no interest in penning the typical academic's memoir, which is mostly devoted to settling old scores with other academics. Instead, he chose to settle scores with himself. This book is often hilarious—with Mouw recounting self-deprecating stories of a life that has intersected with almost every aspect of contemporary religious life, from the civil rights movement to the Graham crusades and beyond. But, more than that, there is profound theological insight here—from a discussion of the role of law in Calvinism to how an understanding of the mystery of human psychology ought to make us more forgiving. I will never forget the metaphor Mouw uses of the various Protestant denominations as analogous to monastic orders in the Catholic Church. This was one of those books that, at the end, I wished were longer.
George Marsden, C.S. Lewis's Mere Christianity: A Biography
I've written elsewhere about the great debt I owe personally to Lewis, and to Mere Christianity. I was overjoyed to see one of my favorite historians pen the volume on Lewis's apologetic classic in this delightful series of biographies of books. The book did not disappoint. Not only does Marsden trace the influence of the book on various constituencies—including American evangelicalism—but also he also succinctly describes the foundations of Lewis's thought, such as his pre-modern view of the universe itself and his understanding of reason in the context of imagination and experience.
Henri J.M. Nouwen, Love, Henri: Letters on the Spiritual Life
It perhaps goes without saying that I have some significant theological differences with Nouwen, but his little book on the return of the prodigal was immensely influential for me in grasping forgiveness and reconciliation. Perhaps that is why I was drawn to this collection of letters from Nouwen throughout his life and ministry. The best are those written to suffering people. At one point, he writes: "I am deeply convinced that in times of inner pain God always sends us people who hold us faithful and reveal to us in a new way the mystery of God's love." That's true. This book shows how this writer was one of those people, to many hurting souls. The letters challenge me to aspire to mercy and compassion
Larry Hurtado, Destroyer of the Gods: Early Christian Distinctiveness in the Roman World
Those who know me well know that, for many years, I've beaten the drumbeat that we should "keep Christianity strange," that is, that we should maintain Christian distinctiveness in a secularizing age. Hurtado shows in this book how Christians did just that in the Roman empire. He argues that Christianity thrived because it was neither incomprehensible to unbelievers, nor was it just another religion. The gospel flourished because it spoke with a clear, different voice,
Larry Tye, Bobby Kennedy: The Making of a Liberal Icon
This book narrates RFK's life from McCarthy aide and Cold Warrior through the Kennedy Administration and then onward to the assassination at the Ambassador Hotel in Los Angeles. This biography spends a great deal of time on how RFK changed, not just on Vietnam but on the meaning of his own life. The author quotes RFK aide Frank Mankiewicz on how Kennedy saw virtue, not vice, in changing his mind. "That's why so many hated him—and why so many of us loved him," he said. The book is a good insight into how this individual grappled with suffering and uncertainty, while also showing how this tumultuous life previewed the cultural and political struggles we still face today.
Yuval Levin, The Fractured Republic: Renewing America's Social Contract in the Age of Individualism
This might be one of the most important books of the decade. Levin shows how both conservatives and progressives are often given over to competing nostalgias, both seeking to "get back" to some mythical golden era—just different golden eras. He analyzes why the divides are so deep, and offers some helpful ways to think about moving forward. Read this with Jonathan Haidt's The Righteous Mind and you'll be well equipped to see why in this country politics has become a religion, and why politics makes Americans hate each other.
John Piper, A Peculiar Glory: How the Christian Scriptures Reveal Their Complete Truthfulness
This is the book we've needed on the truthfulness of Scripture. The Bible testifies to its own truth because, in its words, we see the self-authenticating glory of Jesus Christ.
Kevin Vanhoozer, Biblical Authority After Babel: Retrieving the Solas in the Spirit of Mere Protestant Christianity
This book, like Piper's, argues that the Bible is a holy ground where God meets us. In this volume, Vanhoozer moves through the "alones" of the Reformation (faith alone, Scripture alone, Christ alone, the glory of God alone) and dispels caricatures about each. The book not only defends these truths but prompts worshipful reflection on each.
Wendell Berry, A Small Porch
This collection is Berry's Sabbath poems from 2014 and 2015, along with an essay of his on the place of nature. This is not Berry's best work, but it is Berry, so "not his best work" still means brilliant and evocative.
Photo courtesy: Thinkstockphotos.com
Publication date: December 7, 2016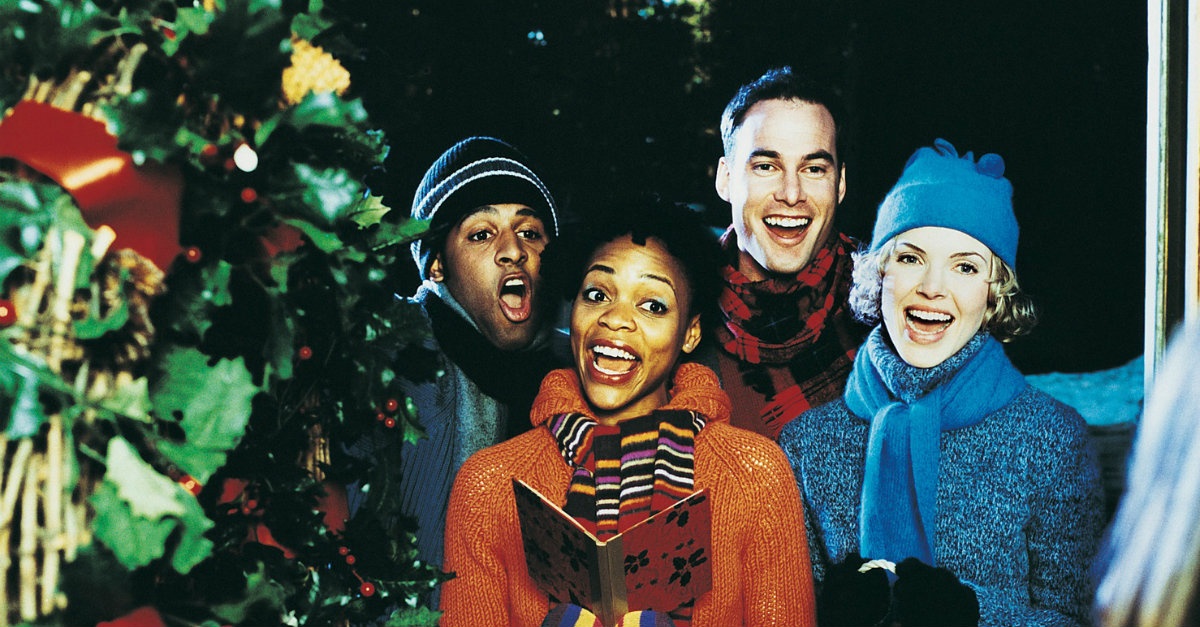 Sometimes I learn a lot from conversations I was never intended to hear.
This happened once as I was stopping by my local community bookstore. It's a small, quiet store, so it was impossible not to eavesdrop as I heard a young man tell his friend how much he hated Christmas. To be honest, the more he talked, the more I understood his point. This man wasn't talking about the hustle and bustle of the holidays, or about the stresses of family meals or all the things people tend to complain about. What he hated was the music.
This guy started by lampooning one pop singer's Christmas album, and I found myself smiling in agreement on how awful it is. But then he went on to say that he hated Christmas music across the board. That's when I started to feel as though I might be in the presence of the Grinch. But then this man explained why he found the music so bad. It wasn't just that it was cloying. It's that it was boring.
"Christmas is boring because there's no narrative tension," he said. "It's like reading a book with no conflict."
Now he had my attention.
I'm sure this man had thought this for a long time, but maybe he felt freer to say it because we were only hours out from hearing the horrifying news of a massacre of innocent children in Connecticut. For him, the tranquil lyrics of our Christmas songs couldn't encompass such terror. I think he has a point.
Some of the blame is on our sentimentalized Christmas of the American civil religion. Simeon the prophet never wished anyone a "holly-jolly Christmas" or envisioned anything about chestnuts roasting on an open fire. But what about our songs, the songs of the church? We ought to make sure that what we sing measures up with the, as this fellow would put it, "narrative tension" of the Christmas story.
The first Christmas carol, after all, was a war hymn. Mary of Nazareth sings of God's defeat of his enemies, about how in Christ he had demonstrated his power and "has brought down the mighty from their thrones and exalted those of humble estate" (Luke 1:52). There are some villains in mind there. Simeon's song, likewise, speaks of the "fall and rising of many in Israel" and of a sword that would pierce the heart of Mary herself. Even the "light of the Gentiles" he speaks about is in the context of warfare. After all, the light, the Bible tells us, overcomes the darkness (John 1:5), and frees us from the grip of the devil (2 Corinthians 4).
Far too often, though, our corporate worship ignores this spiritual warfare. Our worship songs are typically celebrative, in both lyrical content and musical expression. In the last generation, a mournful song about crucifixion was pepped up with a jingly-sounding chorus, "It was there by faith I received my sight, and now I am happy all the day!" Even those ubiquitous contemporary worship songs that come straight out of the Psalms tend to focus on psalms of ascent or psalms of joyful exuberance, not psalms of lament (and certainly not imprecatory psalms!).
We can easily sing with the prophet Jeremiah, "great is thy faithfulness" (Lamentations 3:23). But who can imagine singing, in church, with Jeremiah: "You have wrapped yourself with a cloud so that no prayer can pass through. You have made us scum and garbage among all the peoples" (Lamentations 3:43-45). This sense of forced cheeriness is seen in the ad hoc "liturgy" of most evangelical churches in the greeting and the dismissal. As the service begins a grinning pastor or worship leader chirps, "It's great to see you today!" or "We're glad you're here!" As the service closes the same toothy visage says, "See you next Sunday! Have a great week!"
Of course we do. What else could we do? We're joyful in the Lord, aren't we? We want to encourage people, don't we? And yet, what we're trying to do isn't working, even on the terms we've set for ourselves. I suspect many people in our pews look around them and think the others have the kind of happiness we keep promising—especially around Christmas– and wonder why it's passed them by.
By not speaking, where the Bible speaks, to the full range of human emotion—including loneliness, guilt, desolation, anger, fear, desperation—we only leave our people there, wondering why they just can't be "Christian" enough to smile or why they, like Charlie Brown, still feel unhappy when they stand to sing "Joy to the World."
The gospel speaks a different word though. Jesus says, "Blessed are those who mourn, for they shall be comforted" (Matthew 5:4). In the kingdom, we receive comfort in a very different way than we're taught to in American culture. We receive comfort not from faking cheerfulness or trying to drown out the throbbing of our souls with holly jolly sentimentality. We are comforted when we see our sin, our brokenness, our desperate circumstances, and we grieve and cry out for deliverance.
In a time when we seem to learn of a new tragedy each day, the unbearable lightness of Christmas seems absurd to the watching world. But, even in the best of times, we all know that we live in a groaning universe, a world of divorce courts and cancer cells and concentration camps. Just as we sing with joy about the coming of the Promised One, we ought also to sing with groaning that he is not back yet (Romans 8:23), sometimes with groanings too deep for lyrics.
We have a rich and complicated and often appropriately dark Christmas hymnody. We can sing of blessings flowing "far as the curse is found," of the one who came to "free us all from Satan's power." Let's sing that, every now and then, where we can be overheard.
Photo courtesy: Thinkstockphotos.com
Publication date: November 30, 2016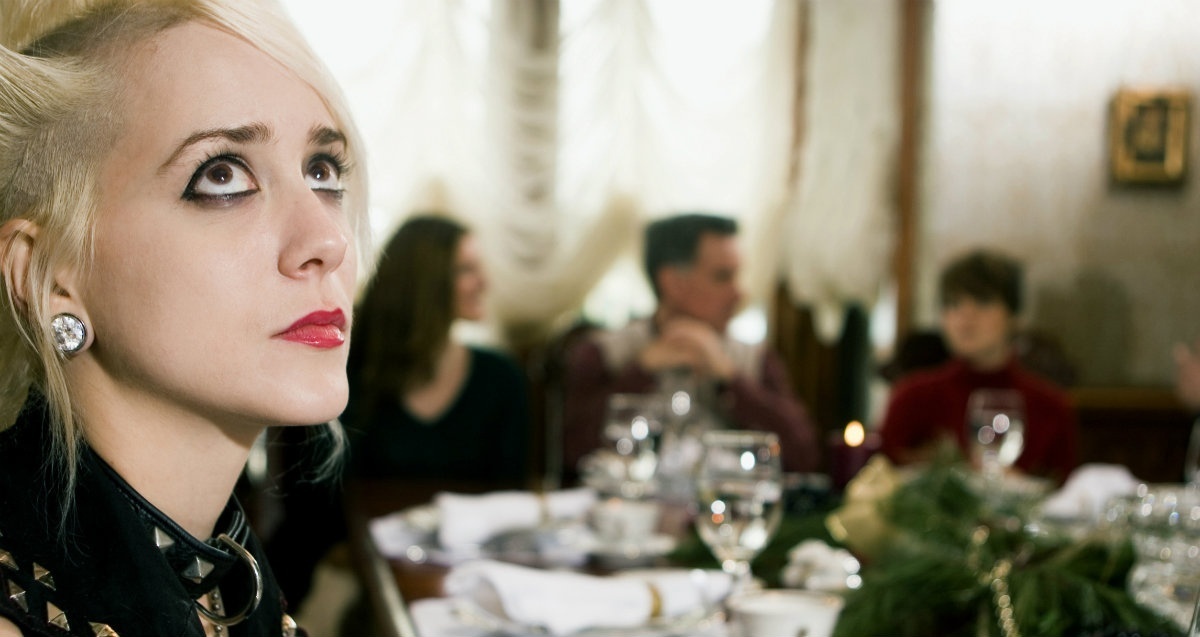 We tend to idealize holidays, but human depravity doesn't go into hibernation between Thanksgiving and New Year's. One thing that will hit most Christians, sooner or later, are tensions within extended families at holiday time. Some of you will be visiting family members who are contemptuous of the Christian faith and downright hostile to the whole thing.
Others are empty nest couples who now have sons- or daughters-in-law to get adjusted to, maybe even grandchildren who are being reared, well, not exactly the way the grandparents would do it. Still others are young couples who are figuring out how to keep from offending family members who are watching the calendar, to see which side of the family gets more time on the ledger. And others are new parents, trying to figure out how to parent their child when it's Mammonpalooza at Aunt Judie's house this year.
And, of course, there's just always the kind of thing that happens when sinful people come into contact with one another. Somebody asks "When is the baby due?" to an unpregnant woman or somebody blasts your favorite political figure or… well, you know.
Here are a few quick thoughts on what followers of Jesus ought to remember, especially if you've got a difficult extended family situation.
1. Peace
Yes, Jesus tells us that his gospel brings a sword of division, and that sometimes this splits up families (Matt. 10:34-37). But there's a difference between gospel division and carnal division (see 1 Cor. 1, e.g.). The Spirit brings peace (Gal. 5:22), and the sons of God are peacemakers (Matt. 5:9). Since that's so, we ought to "strive for peace with everyone" (Heb. 12:14).
Often, the divisiveness that happens at extended family dinner tables is not because an unbelieving family member decides to persecute a Christian. It's instead because a Christian decides to go ahead and sort the wheat from the weeds right now, rather than waiting for Judgment Day (Matt. 13:29-30). Yes, the gospel exposes sin, but the gospel does so strategically, in order to point to Christ. Antagonizing unbelievers at a family dinner table because they think or feel like unbelievers isn't the way of Christ.
Some Christians think their belligerence is actually a sign of holiness. They leave the Christmas table saying, "See, if you're not being opposed, then you're not with Christ!" Sometimes, of course, divisions must come. But think of the qualifications Jesus gives for his church's pastors. They must not be "quarrelsome" and they must be "well thought of by outsiders" (1 Tim. 3:3,7). That's in the same list as not being a heretic or a drunk.
Your presence should be one of peace and tranquility. The gospel you believe ought to be what disrupts. There's a big difference.
2. Honor
The Scripture tells us to fear God, to obey the king, and to honor (notice this) everyone (1 Pet. 2:17). If your parents are high-priests in the Church of Satan, they are still your parents. If cousin Betty V. does Jello shots in her car, just to take the edge off the cocaine, well, she still bears the imprint of the God you adore.
You cannot do the will of God by opposing the will of God. That is, you can't evangelize by dishonoring father and mother, or by disrespecting the image-bearers of God. Pray for God to show you the ways those in your life are worthy of honor, and teach your children to follow you in showing respect and gratitude.
3. Humility
Part of the reason some Christians have such difficulty with unbelieving or nominally believing extended family members is right at this point. They see differences over Jesus as being of the same kind (just of a different degree) as our differences over, say, the war in Afghanistan or the future of Sarah Palin or the Saints' winning streak this year.
Often the frustration comes not because of how much Christians love their family members as much as how much these Christians want to be right. The professional Left and Right cable-TV and talk-radio pontificators may value the last word, but we can't.
Jesus never, not once, seeks to prove he is right, and he was accused of being everything from a wino to a demoniac. He rejects Satan's temptation to force a visible vindication, waiting instead for God to vindicate him at the empty tomb.
Often Christians veer toward Satanism at holiday time because we, deep down, pride ourselves on knowing the truth of the gospel. The rage you feel when Uncle Happy says why "many roads lead to God" might be more about the fact that you want to be right than that you want him to be resurrected.
Plus, we often forget just how it is that we came to be in Christ in the first place. This wasn't some act of brilliance, like being accepted into Harvard or some exertion of the will, like learning to put a Rubik's cube together in 20 seconds. "What do you have that you did not receive," the Apostle Paul asks us, "And if you received it, then why do you boast as though you didn't receive it?" (1 Cor. 4:6-7)
Satan wants to destroy you through his primal flaw, pride (1 Pet. 5:7-9; 1 Tim. 3:6). He doesn't care if that pride comes through looking around the family table and figuring out how much more money you make than your second cousin-in-law or whether it comes by your looking around the table and saying, "Thank you Lord that I am not like these publicans." The end result is the same (Prov. 29:23).
Unless you're in an exceptionally sanctified family, you're going to see failing marriages, parenting crises, and a thousand other shards of the curse. If your response is to puff up as you look at your own situation, there's a Satanist at your family gathering, and you're it.
4. Maturity
The Scripture tells us that if we follow Jesus we'll follow the path he took: that's through temptation, to suffering, and ultimately to glory. Often we think these testings are big, monumental things, but they rarely are.
God will allow you to be tested. He'll refine you, bring you to the fullness of maturity in Christ. He probably won't do it by your fighting lions before the emperor or standing with a John 3:16 sign before a tank in the streets of Beijing. More likely, it will be through those seemingly little places of temptation—like whether you'll love the belching brother-in-law at the other end of the table who wants to talk about how the Cubans killed JFK and how to make $100,000 a year selling herbal laxatives on the Internet.
Some of the tensions Christians face at holiday time have nothing to do with outside oppression as much as internal immaturity on the part of the Christians themselves.
I've had young men who tell me they feel treated like children when they go home to see their extended families. Their parents or parents-in-law are dictating to them where to go, when, and for how much time. Their parents or parent-in-law are hijacking the rearing of their children ("Oh, come on! He can watch Die Harder! Don't be so strict!"). Some of these men just give in, and then seethe in frustration.
Sometimes that's because the extended family is particularly obstinate. But sometimes the extended family treats the young man like a child because that's how he acts the rest of the year. Don't live financially and emotionally dependent on your parents or in-laws, passively dithering in your decisions about your family's future, and then expect them to see you as the head of your house.
Be a man (if you are one). Make decisions (including decisions about where, and for how long, you'll spend the holidays). Teach and discipline your children.Your extended family might not like it at first, but they'll come to respect the fact that you're leaving and cleaving, taking responsibility for that which has been entrusted to you.
5. Perspective
Remember that you'll give an account at the resurrection for every idle (that means seemingly tiny, insignificant, unmemorable) thought, word, and deed. At the Judgment Seat of the Lord Christ, you'll be responsible for living out the gospel in every arena to which the Spirit has led you… including Aunt Flossie's dining room table.
Photo courtesy: Thinkstockphotos.com
Publication date: November 23, 2016