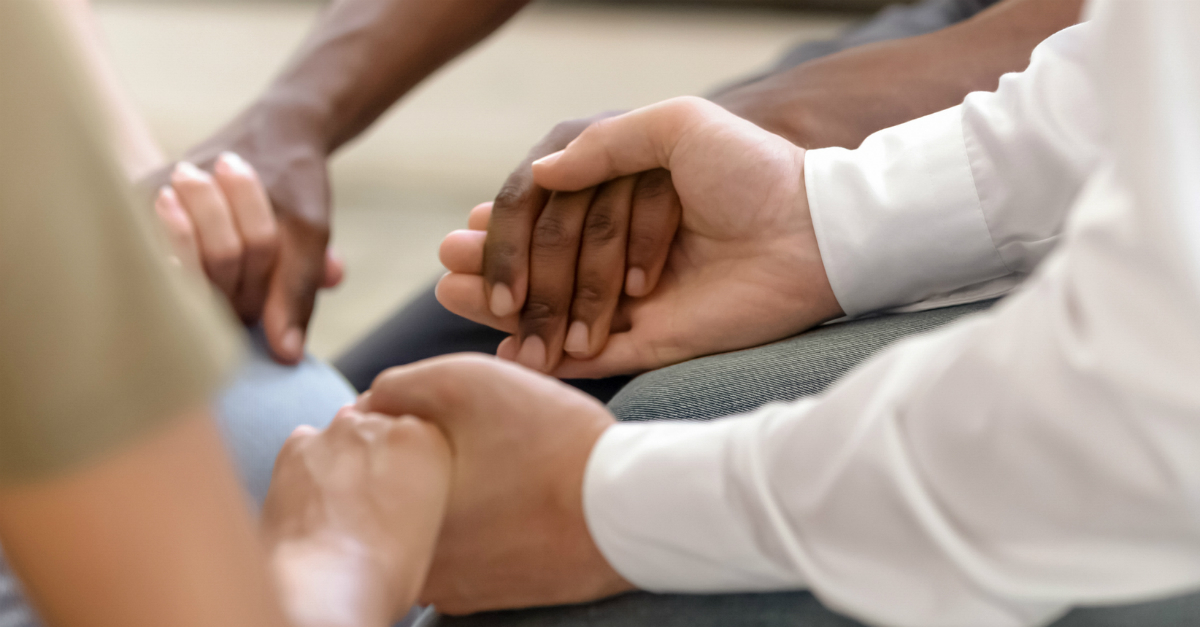 Photo Credit: ©GettyImages/Fizkes
Here we are again. After the country, just weeks ago, saw a shocking video of Ahmaud Arbery shot to death in Georgia, now a video has emerged showing us George Floyd dying with a policeman's knee on his neck, protesting "I can't breathe."
The officers involved have been fired, and protests are underway, while a nation asks, "How can this keep happening?"
As with every other issue here, the problems underlying all of this will need to be addressed both to consciences and to institutions.
Biblical Responsibility
The powers-that-be have a biblical responsibility to be just in how they wield the rightful use of the law. That is why John the Baptist said to the soldiers and tax collectors after they had repented of sin and been baptized, "Collect no more than you are authorized to do" and "Do not extort money from anyone by threats or by false accusation" (Luke 3:13-14).
Why was this addressed to the tax collectors and soldiers and not to the general population of those at the Jordan River? It was because they were the ones responsible for making such decisions. Decisions that could exploit vulnerable people unjustly.
In our system of government, that responsibility rests, ultimately, with all citizens.
Does that mean that we will know, in every case, how to see to it that racial injustices do not happen? No. The Samaritan probably did not have a comprehensive understanding of how to nurse the man beaten on the Jericho Road back to health. That does not mean he could, like the priest and Levite, avert his eyes.
Recognize the Wrong
The first step toward doing right is to recognize that something is wrong.
This also means that white Christians must join our black and brown brothers and sisters in Christ in recognizing that racism and impartiality in justice—wherever and however this occurs—is a problem. Not just for our lives as citizens in a free country but also as ambassadors of a kingdom of those who are united together under the headship of Christ by the Holy Spirit.
As I have written before repeatedly, the obstacles here are not new. Whether in 1820 or 1920 or 2020 there will always be those who will say that issues of racism and injustice are "distractions" from the gospel.
As some did with slavery and others with lynching and others with the Jim Crow regime, there will be those who will say that anyone who says "Jesus does not like this" will be called a "Communist" or a "Social Gospel" advocate or some sort of postmodern critical theorist, when, in reality, what is behind such is not any of that but instead a commitment to the inerrancy of Scripture.
Respond Based on the Truth of Scripture
The Scripture is what tells us:
- that the idolization of the flesh is sin (Gal. 5:16-24),
- that hatred of those made in the image of God is sin (1 Jn. 3:11-15),
- that mistreating people with the justice system is sin (Prov. 17:15; Prov. 23:10),
- that ignoring the cries of those being mistreated is sin (Deut. 23:14-15; Jas. 5:4).
And the Scripture tells us that that sin, without repentance, brings the judgment of God (Rom. 6:23).
That is true not only for those who personally rebel against God's holiness and justice but also those who "give approval to those who practice them" (Rom. 1:32). That is a dreadful reality, to which those of us in Christ are called to serve as ambassadors pleading, as though Christ were pleading through us, "be reconciled to God" (2 Cor. 5:20).
Often those charging "liberalism" of Bible-believing people who lament the ongoing problem of racial injustice are revealing that there is indeed a problem with "liberalism," and it is theirs.
All Scripture is breathed out by God, and is therefore profitable. And the Scripture speaks—from Moses to the prophets to Jesus to the apostles to the early church of Acts and beyond—to such matters. To avoid such Scriptures or to ignore them is just as "liberal" as those who do the reverse—and emphasize the so-called "social morality" texts while downplaying those that call for personal repentance and faith or those that call for so-called "personal morality."
Sin Is Not Blotted Out By Ignoring It
It's the kind of "liberalism" that believes sin can be blotted out by ignoring it, or by sanctifying it, or by trusting the blind forces of history to move beyond it. The unbelieving world can see this for what it is. Those growing up in the church can see it, too. And, the truth is, so can the consciences of those involved.
But the greater obstacle for the vast majority of Christians, white or black or otherwise, is exhaustion. Again, some ask in lament and others in weariness, "How many times is this going to happen?" For some, the result is numbness, and for others it is despair. Both of those options lead to the same place. As Christians under the lordship of Jesus, though, we can have neither of those.
God, Give Us Wisdom
That doesn't mean that we will know every step that we should take. Do we with anything? We will need wisdom.
And that doesn't mean that we can resolve all of the issues? Can we with anything? "There will never cease to be poor in the land," God revealed to us through Moses.
Does that mean we should then give up on seeing them? God (quite literally) forbid. God says, "Therefore I command you, 'You shall open wide your hand to your brother, to the needy and to the poor, in your land'" (Deut. 15:11).
The initial reports about the George Floyd case—as with so many of the others—are bewildering. But we know this. A man is dead, and for that we should weep.
We also know this. These awful scenarios keep happening. We know about such things these days because of video recordings, but God has known about such things all along.
Some of the tasks before us—both in forming our consciences and in reforming some of our institutions—may be complicated. We might not always know how to proceed. But the questions before us are real. The questions before us are long-lasting. And the questions before us are not distractions.
In fact, the distraction is to say that we shouldn't be asking such questions at all.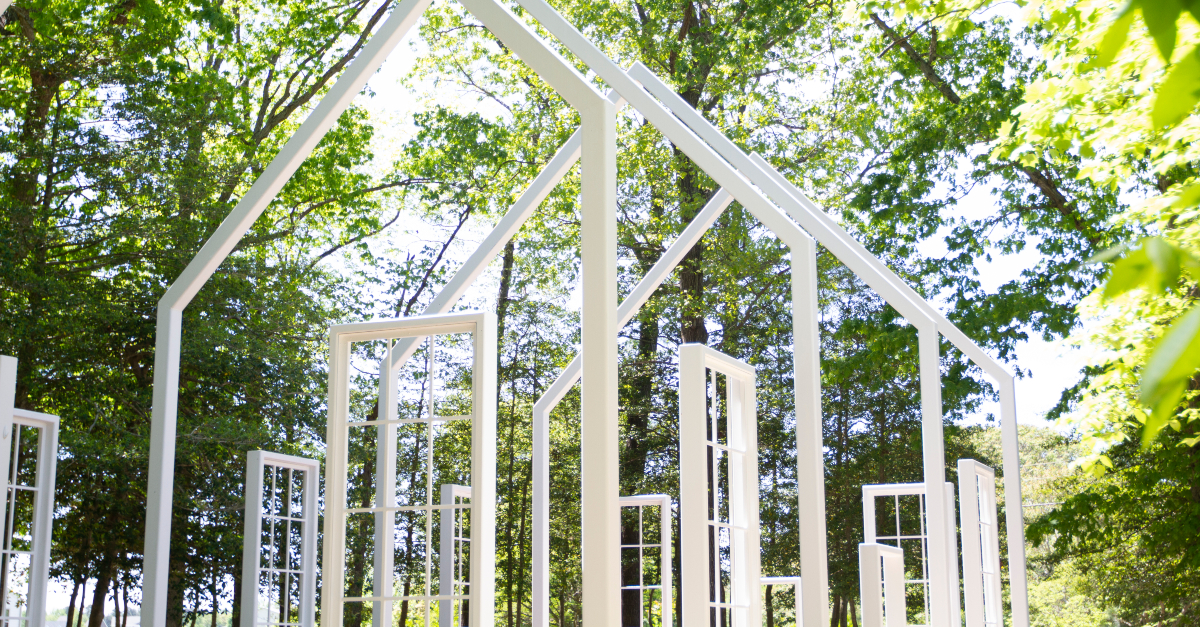 Photo Credit: ©Sparrowstock
As I type this, my teenage sons are in the next room, and I can hear them laughing and talking. They are on Zoom calls with their youth group from our church. In the midst of this Coronavirus pandemic, they are finding a way to connect, to hear the Word of God, to be discipled together.
I am wiping away tears from my eyes, but I don't quite know why. Partly it's because this reality is unbelievably sad. And partly it's because the despite-it-all nature of the church is unbelievably beautiful.
Watching thousands die every week, and thousands more lose their jobs, is a horrifying reality in this time of plague.
Behind that is the malaise all around the world of the necessary social distancing and the disconnection that comes with it. For those of us who follow Jesus, the worst of these necessities has been the loss of the ability to gather together for worship. Many are thus asking, "How long will this go on? How long until we get back to normal?"
The truth is that we don't know, nobody knows, exactly what is next in this awful time. But we do know one thing:
There will not be a specific Sunday when, suddenly, everything is back to normal.
Now, it's true we will be "back to normal" if by that one means the ability to gather once again. Yes, we will do that. We will be able to sing together again. We will be able to hug each other again. We will be able to take communion together again.
But this will not happen in one Sunday, for which we can mark our calendars and count down toward, as though it were Advent moving toward Christmas.
Eventually, most places will have the requisite flattening of curves of infection, the needed testing and tracing capabilities in place, to loosen up on the restrictions most have faced. But, as we have seen, simply declaring businesses "re-opened" does not mean an immediate return to the status quo.
The Same Will Be True of the Church
Despite the caricatures, the vast majority of American Christians have not only complied with health and civic recommendations but have been out in front of such recommendations.
Have some Christians interviewed on television suggested that the blood of Christ would keep them from being infected? Yes. Have some declared they could blow the virus away? Yes. Have some shared bizarre conspiracy theories on Facebook? Of course. But that's a tiny sliver of American Christian life.
The real story is how churches and Christians have not only served their neighbors by ceasing gathering for a time, but the way they have shown remarkable creativity in doing so. Some churches that never even recorded their sermons were able, in no time, to:
- livestream their services,
- provide ways to do youth group Bible studies via Zoom, and
- maintain prayer chains through texting and social media.
Churches without even a website address found ways to enable their people to give their offerings online. Some churches had to find a way to vote on calling a new pastor with online voting or drive-through affirmations.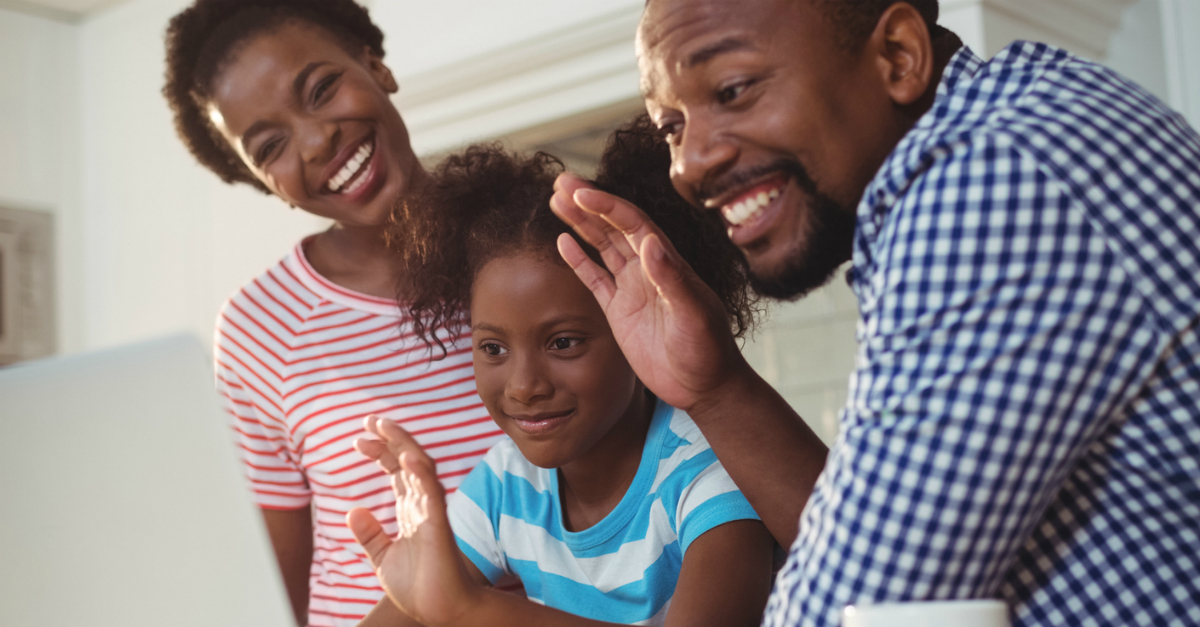 Photo Credit: ©GettyImages/Wavebreakmedia
Creativity Will Not End
The fact is that though many, if not most, churches can plan for a "re-opening" sometime in the foreseeable future, in almost every case, this will not mean dropping live-streaming and other forms of connection but adding in-person gatherings to what we are doing now.
The first week that a church is open, there will be lots of people eager and ready to get back. But, even so, until there is a vaccine for this virus, churches will be spacing congregants out in their sanctuaries. This will mean some churches that have only had one service may now opt to have multiple services.
Some churches will perhaps even need to have persons or families "sign up" for what service they will attend (the way some churches do now on especially crowded days such as Easter).
And there will be lots of people who, even after churches are back to gathering, will be unable to attend. Those who are elderly or who have complicating conditions will be unable to resume attendance immediately. For them, there will still need to be ways of maintaining connectedness.
What Will Continue and What Will Be Different
The live-streaming may well continue for a long time, even if it is streamed from a building with people in it.
Online giving will continue to be a necessity for most churches, along with perhaps a centralized slot for people to drop their tithes or offerings, instead of the passing of the plate.
Additionally, for a long time to come there will be aspects of church life that will be different. Churches that never thought about a category of "ushers" will now have people assigned to make sure that doors do not have to be touched as people enter and exit.
Bathroom facilities will need to be restricted to very small groups to keep distancing requirements.
The spacing of seating in auditoriums will require much more planning than just who normally sits where.
And I can't imagine anytime soon that the practice of "turn around and greet your neighbor" times in churches will resume if it ever does (some of you will miss it; some of us won't).
Some people will want to re-gather immediately and will think their churches are "giving in to fear" if they take longer to re-open than the businesses around them. Some will think that the church is insane for re-opening whenever it does, and will be tempted to say that their leaders don't care about public health.
In almost every case I have seen, though, pastors and leaders in this emergency are exercising wisdom and prudence. They are seeking to do the best they can, to make the best decisions they can.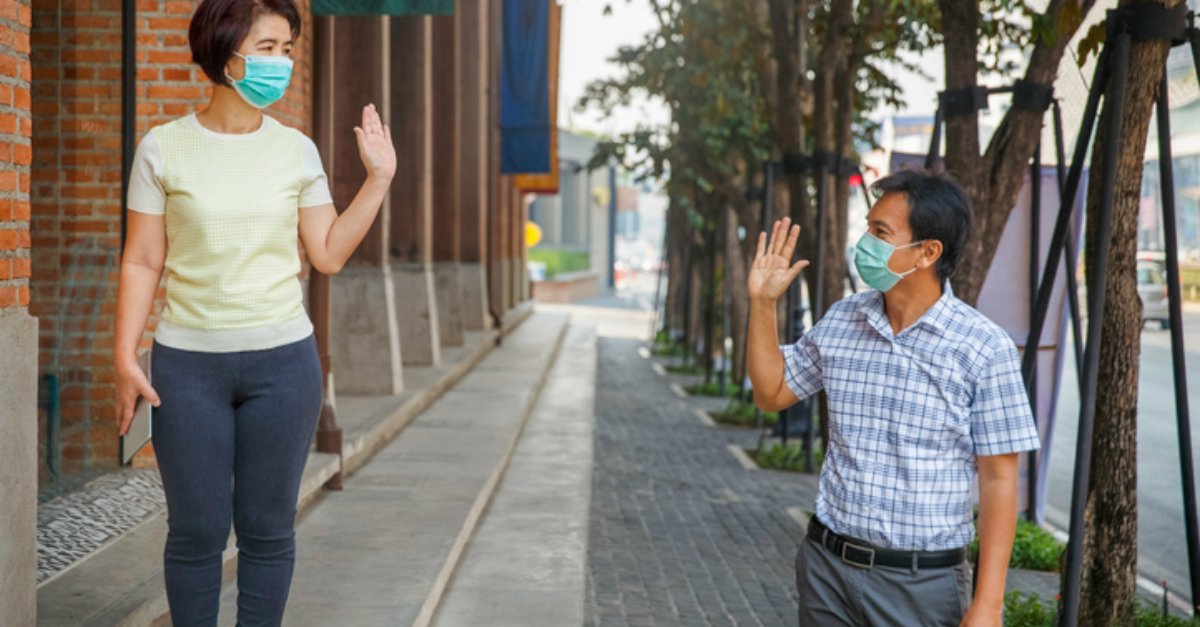 Photo Credit: ©GettyImages/Toa55
Let's All Make Good Decisions
Let's pray for one another, and impute the best of motives to one another.
If your pastors or leaders make a decision you think is overly naïve or overly cautious, in almost every case, what they need from you is an "I love you, and I'm praying for you, and I know you are having to make really tough decisions."
Make the best decisions you can in terms of your health and that of your family, but let's all recognize that we will, all of us, make some mistakes in this process. We will find things we missed the first time. We will reconsider decisions we made. We have never been here before, and let's pray our children or grandchildren in the church never are again.
So let's, as much as possible, maintain peace and unity along with safety.
Some of us need to be reminded that quarantine is not permanent, so that we don't lose hope. And some of us need to be reminded that prudence and love of neighbor is not cowardice. In some sense, we are in the place that C.S. Lewis referenced in his famous "Learning in Wartime" lecture during the height of World War II. Lewis noted how fearful the time was, and how frustrating. And yet, he said, there was something to be gained in all the loss.
"All the animal life in us, all schemes of happiness that centered in this world, were always doomed to a final frustration," he said. "In ordinary times only a wise man can realize it. Now the stupidest of us knows. We see unmistakably the sort of universe in which we have all along been living, and we must come to terms with it."
If we give in to the frustration, Lewis said, we will surrender to despair and be unfaithful. But a certain degree of disillusionment, he argued, is in order. He said:
"If we had foolish un-Christian hopes about human culture, they are now shattered. If we thought we were building up a heaven on earth, if we looked for something that would turn the present world from a place of pilgrimage into a permanent city satisfying the soul of man, we are disillusioned, and not a moment too soon."
Even When We Re-Gather, We Will Be Changed
We will know what it is to be kept apart.
We will know that we are children of dust, and feeble as well as frail.
We will know that we are so feeble and frail, in fact, that something microscopic could, in an instant, take away from us our life, our livelihoods, our loved ones, even our church services.
But maybe that means that we will hug each other longer, knowing how fragile all this is.
Maybe we will hear the Word of God, in person, and with our own ears—with a special realization that we need the Bread of Life. And that apart from it we perish.
We will gather again, maybe sooner than we think. But we will not be back to normal. And, of all the sadness around us, that may be Good News.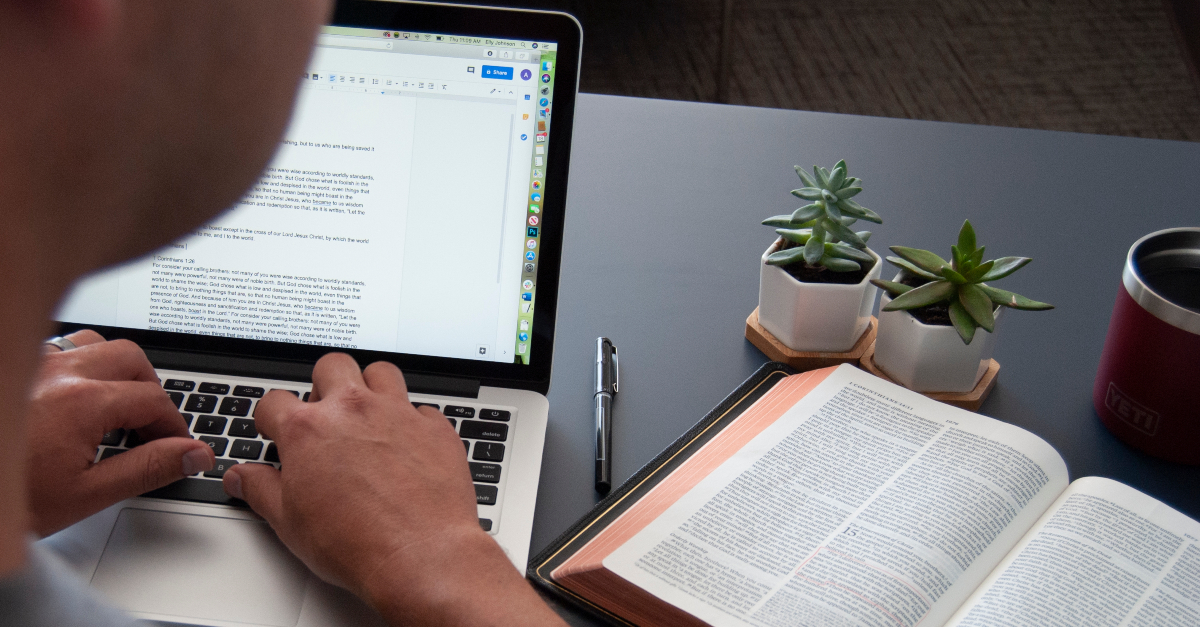 Photo Credit: ©Sparrowstock
A few weeks ago, I started a new project that I've wanted to do for a long time—a periodic newsletter where I would write not to the general public but to whoever decided to sign up to have that conversation.
And then I was surprised by something that happened.
Even In Quarantine We Commune
After writing out my second newsletter (you can read today's here), I added a few sentences to the top of the third edition about a text I had received that day from a friend, about all of this coronavirus sickness and death. About the uncertainties and tensions of quarantines. About the economic collapse all around.
He said, "I have to say I am mentally and physically exhausted." I just noted that I am too. Now, keep in mind, I am an Enneagram Four/Myers-Briggs INFP/whatever you want to call this personality type, so I actually am loving working here in the Shire from my Hobbit Hole, surrounded by my family and my books, without catching a plane to yet another meeting.
So I can only imagine how exhausted my extraverted friends—the type who thinks no meeting is complete without an after-meting and a "late night" after-after-meeting (you know who you are).
But, even with all that, I am exhausted, not by what's happening in here but by knowing what's out there, in this groaning world right now. I wrote that it was starting to get to me, and so we should resolve not to give in to despair or to meanness but to pray for one another and pray for one another.
Here's What Surprised Me
I heard immediately from people from all over who were saying, "I'm exhausted too" or "I'm scared" or, not a few of them, "I am freaking out." And I realized then—this is kind of why I started writing this newsletter in the first place.
The newsletter is not, for me, an equivalent of a social media feed or what used to be blogs.
Instead, I realized that I think best by expressing "out loud" what I'm thinking or feeling or praying my way through. And that meant is was worth it to me to wrestle through whatever was working its way through my psyche by writing it down, posing questions to people out there like me, even if no one read the letter.
News 'Letter' as an Ongoing Conversation
For those reasons, this really isn't a newsletter. I won't be delivering news to you. I won't be giving you my views on the news. This isn't a press release or a statement on the "right Christian perspective on…" whatever's being debated on Facebook right now.
Instead, the newsletter is meant to invite some folks in to talk to me when I'm still halfway or 2/3 of the way through the thinking process. It's less "Here's my position on fill in the blank" as much as it is "Here's what I keep thinking about" or "Here's how I feel about what I just read," followed by "What do you think?"
And that means that this won't be a project or a task for me. I will only write about what interests me at the moment. I've got sort of a weird assortment of interests. I might write about the already/not yet nature of the kingdom of God in Jeremiah at one point, and the relative merits of Tom T. Hall and Kris Kristofferson the next.
So far in the first three letters, I realize that I've written about such varied topics as these:
- "lesser of two evils" moral thinking
- Stephen King's interactions with the Book of Job
- my sons' graduation from high school
- how to read T.S. Eliot's Four Quartets
- Vladimir Putin's control of a Russian Orthodox Cathedral
- David Foster Wallace's views of postmodern irony
- my favorite bookstores
- white supremacy and Cain & Abel
- the implications of coronavirus-canceled funerals
- The Office (U.S.) vs. The Office (U.K.)
- Parks and Recreation vs. Arrested Development
- why people love the new Animal Crossing game
So, Does It Also Seem To You?
Nobody will be interested in going with me through all the places I want to go, but, I am realizing, there are lots of my fellow misfits out there. And to you I want to say, "Am I crazy or does it seem like…?").
If you're the kind of person who enjoys reading dueling Twitter feeds or YouTube comments "owning" some group or other, this won't be for you. And that's okay. I'm supposed to love everybody, but that doesn't mean I want to spend my evening doing that with you.
If that's what you like, have at it. But that's not what I do. I won't be selling vitamin supplements or (God forbid) endorsing politicians or whatever.
So, if you're interested in stuff like that, subscribe and tell folks that are also like us. Some people who read aren't Christians (don't be offended if I say "yet!"), and, of course, lots of us are.
An Invitation to Respond
And, as we go, I'd like to hear from you. There are a lot of signposts out there, pointing us in laughter and lament, joy and melancholy (and the joy of melancholy; you know me). Let's help each other see them, and walk onward.
You can sign up here, and you can sample some past newsletters (Week 1, Week 2, Week 3). And, you can let me know what you'd like to converse about—questions or observations or inklings of things—by emailing me here.