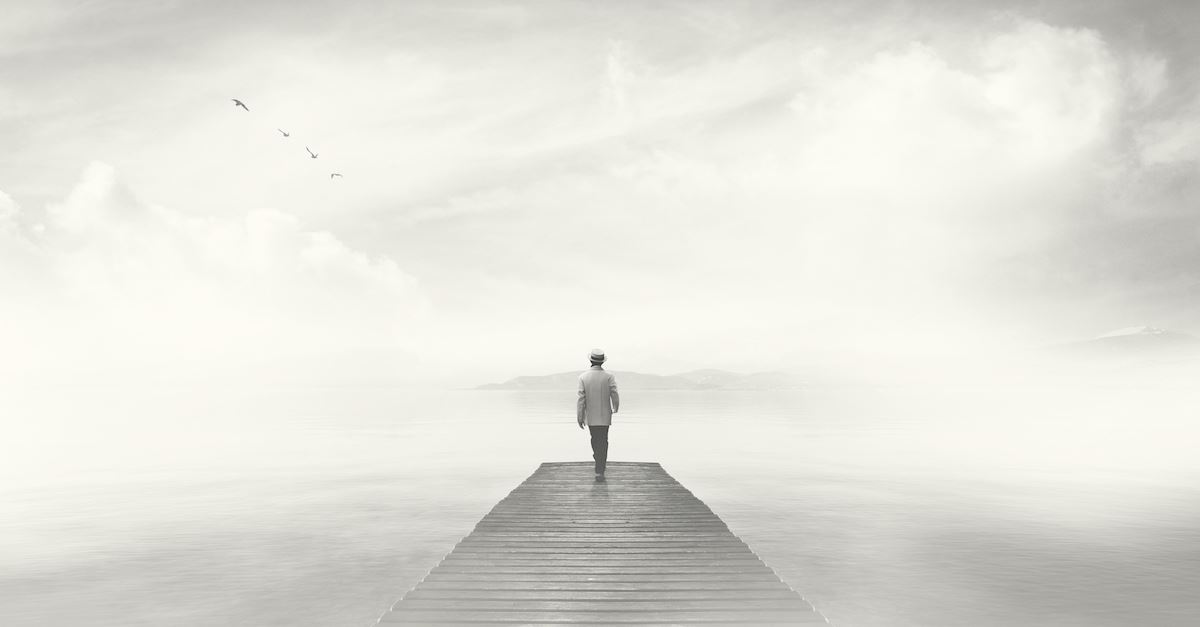 We're lonelier than ever, some say. We're not lonely enough, say others. They're both right.
A few weeks ago U.S. Sen. Ben Sasse (R-Neb.) and I participated in a forum together at the National Press Club on the subject of loneliness. At issue in both Ben's address and mine was the examination of his recent book, Them, on how the loneliness epidemic is driving people into politically-obsessed "anti-tribes." In recent weeks, the topic has been addressed by columnists David Brooks and Arthur C. Brooks, among others. And, as the letters to the editor page at the New York Times demonstrates, not everyone is buying it.
The Problems of Loneliness and Community 
University of California, Berkeley, sociologist Claude S. Fischer writes that the loneliness epidemic is a "false story." Yes, loneliness is a problem, he contends, but we have no evidence that such has accelerated in recent years. And yet, I wonder, how else does one explain, among many other factors, statistics showing a dramatic increase in suicides over the past twenty years? Professor Fischer further contends that those warning of a loneliness crisis are wrong to suggest that "lonely people are tearing America apart." He writes, "While 'loners' are occasional shooters, they often become so after getting connected to a movement."
But that's exactly the point.
Few are arguing that the loneliness we see most often across our country results in mass shootings. Instead, the argument is that loneliness manifests itself in, among other things, the sort of rancid pseudo-political debate we see on social media, a sort of angry trolling that has now turned itself into the political process itself. The fact that the occasional "lonely shooter" becomes connected to a movement before turning violent is exactly that about which many are warning.
Where there are not real communities, where people are genuinely connected via neighborhoods or churches or unions or civic organizations, people craving connection will seek to find substitutes, often through the hive-mind of social media or through the debased artificiality of pornography or, sometimes, even through violent, radical movements.
I was drawn even more to a letter from a woman in Chicago, who referenced Sasse's "hometown gym on a Friday night" feeling that comes from intact communities offering authentic connection. The correspondent, Susan E. Anderson of Chicago, writes that she has had that feeling and that it's "oppressive" and "depressing." In her hometown, she writes, those Friday nights were for boys' basketball games, where the only place for the girls was to cheer for the boys. Since moving to the big city, she notes, she has found genuine friendships over a range of interests. "Loneliness hurts," she concludes "But most of all, it hurts when we're not connected to ourselves or when our real selves are not valued by our communities."
She has a point.
Many communities are, in fact, smothering, seeking to absorb the individual in the collective. That's why, in the last century, Robert Nisbet asserted that genuine connectedness allows the flourishing of both the individual and the community, and that the alternative to this sort of community is, ultimately, statism. He was, and is, right.
A lack of genuine intimacy (physical or emotional or spiritual) is what leads to the temptation toward pornography. And a lack of genuine community leads to the herd. That's why more and more on the Right are drawn toward blood-and-soil ethno-nationalist populism and more and more on the Left are drawn toward populist socialism. And it's why "dissenters" are so harshly excommunicated, even if those dissenters are simply those who still hold to what their ideological movements have always said they believe.
The Christian Community
That's why a Christian vision of humanity is necessary. The pattern of the Christian life is, of course, Jesus himself (Romans 8:29). Jesus forms a community, the church, to which he is organically connected (John 15:5; Ephesians 5:32), and he is the lonely man of faith, often walking away from the community alone and bidding his followers to do likewise. Abraham was called to leave his father's land; the apostles were called away from their father's nets.
Too much aloneness, "I am and there is no other" (Isaiah 47:10), is the way of the devil. But too much community, "Who is like the beast, and who can fight against it?" (Revelation 13:4), is too. The gospel reaches us personally and individually, one sheep at a time (Matthew 18:12), but then places us in a flock (John 10:16). Like a body, the church functions together, serving one another and worshipping the same Lord (1 Corinthians 12:12-31). And yet, for the sake of future community, lonely prophetic voices must often stand alone, calling the people away from the herd and toward the narrow way (Galatians 1:10, 2:5).
The fact that the most "Christianized" places in this country are also among the loneliest should be alarming to us of just how far we have drifted from seeing the biblical picture of the gospel, which balances for us the personal and the communal, the one and the many, the individual and the community.
In Christ alone, we are in Christ, together. And in Christ alone, we are in Christ, alone.
Photo courtesy: ©Thinkstock/Francescoch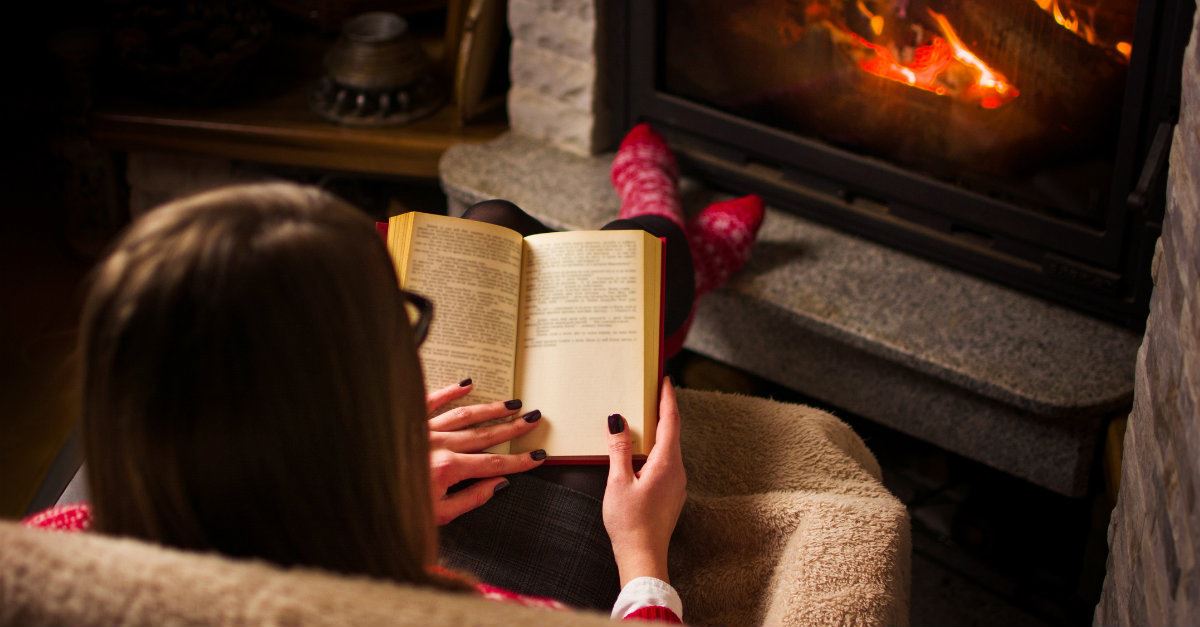 It's the most wonderful time of the year. And, as such, we will hear an annual airing-of-grievances around the annual Festivus Pole of social media, much of it about Christmas music. When is it too early to play it? Which is worse, "Santa Baby" or "Christmas Shoes"? Is "Baby It's Cold Outside" really creepy once one pays attention to the lyrics? And, somewhere in all of that, someone will inevitably bring up the line: "There'll be parties for hosting/Marshmallows for toasting; And caroling out in the snow/There'll be scary ghost stories/And tales of the glories of Christmases long, long ago." At this point, the typical question is, "Who in the world tells scary ghost stories at Christmas?"
Good question.
At first, I thought it was just a matter of a songwriter wondering what rhymes with "glories," just as, when I was a child, I always suspected that a line in a hymn we sang about "who heals all our soul's diseases" was really just there because there aren't a lot of words that rhyme with "Jesus." I didn't think much about it until a few weeks ago when I was reading a new book on the Scottish writer George MacDonald by Wheaton College historian Timothy Larsen.
In his work George MacDonald in the Age of Miracles: Incarnation, Doubt, and Re-Enchantment, Larsen, briefly diverts for a moment to address the "scary ghost stories" of the classic song. Larsen writes that this popular culture artifact is actually a "trace of a memory" of some older, now lost, Christmas customs.
"If the medieval Christmas was more akin to New Year's Eve, so the Victorian Christmas had affinities with our Halloween," Larsen writes. "In particular, the Christmas season was a traditional time to tell ghost stories."
Lest we forget, Larsen reminds us, one of the most famous Christmas stories of the era, Charles Dickens' A Christmas Carol is itself a ghost story. And this work we all know well was just one of many ghost stories Dickens wrote for Christmas, including one called "The Haunted House."
Now, this may seem strange and incongruous to us with our cultural snow-globe of Christmas expectations, but think of how future generations will try to make sense of "The Elf on the Shelf." I can't make sense of it now.
For Christians, though, the scary tales shouldn't really seem all that crazy in light of the Gospels' accounts of the Incarnation. After all, the narrative of the birth of Jesus in Bethlehem is not a Hallmark Channel-style feel-good affair. Yes, a baby is born, and wrapped in swaddling clothes. But this happens over and against an enraged king enacting a serial killing of other babies in order to get to him (Matt. 2:1-18).
The wise men from the East are hardly the matter-of-factly stoic "We Three Kings of Orient Are" but are themselves accidentally pulled into the king's murder conspiracy, and end up on the run too (Matt. 2:7-12).
Yes, "Angels We Have Heard on High" but their voices were hardly "sweetly singing o'er the plain." When these mysterious beings manifest themselves to the shepherds, the Bible tells us, in the uncontested superiority of the King James Version at this point, "the glory of the Lord shone 'round about them, and they were sore afraid" (Lk. 2:9). The first words from these beings' mouths was what it virtually always is: "Fear not" (Lk. 2:10). Such does not need to be said by cuddly winged babies. When these sheep herders told the tale of that night in the years to come, it must have sounded like a scary ghost story, one that started in terror and ended in the shock-and-awe of an expanse filled with glory.
That's completely congruent with what Christmas is all about. John told us that "The Light shines in the darkness, and the darkness has not overcome it" (Jn. 1:5). Even in his coming into the world, Jesus did not sidestep the darkness, the terror, of a world that is occupied by sin and death and the demonic. He walked right into that terror, and, with his own life and blood, upended it all. That's good news.
One of the songs that will often be derided this time of year is "Mary, Did You Know?" Someone each season will remark, "Yes, she did know; Gabriel told her." I will not weigh in on that one, except to say that we could just as easily sing "Herod, Did You Know?" If the question is whether "This baby boy would one day rule the nations?" then the answer is, "Yes, yes he did." And that's why "he was troubled, and all Jerusalem with him" (Matt. 2:3). And, behind Herod, we can then sing, "Devil, Did You Know?" Oh yes. And that's why he has "come down to you in great wrath, because he knows that his time is short" (Rev. 12:12).
Christmas is scary. Scarier than a ghost story. But Jesus is risen, and seated at the right hand of the Father.
So it's the most wonderful time of the year. And the glories of Christmases long, long ago have nothing on the glories of the Easters awaiting us in the age to come.
Photo courtesy: ©Thinkstock/Creative-Family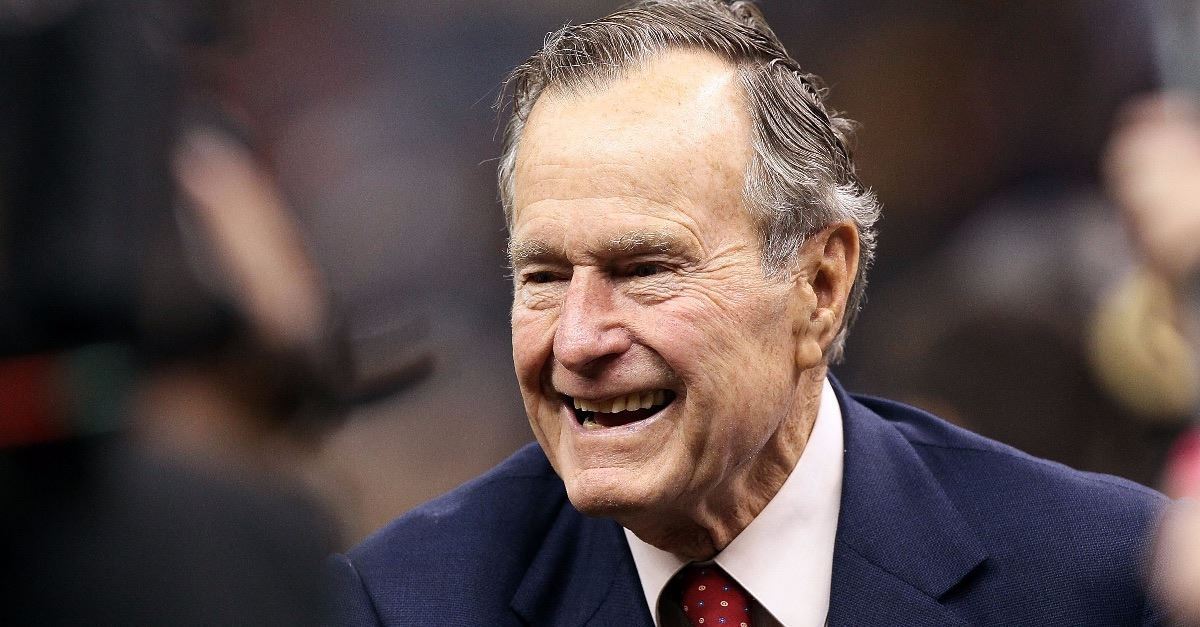 The funeral for George H.W. Bush took place yesterday in a city filled with monuments. I could step outside of my Capitol Hill office and, within less than a second, find myself in view of impressive monuments and memorials to American presidents and politicians. Some of them are immediately impressive—the Washington Monument towering in the sky or the Lincoln Memorial with its almost temple-like feel. Others are less so—the Hubert Humphrey name on the Department of Health and Human Services, but, even those a reminder of the legacy of important figures in our country's story. My favorite of all of these monuments, as important as they are, is the George Herbert Walker Bush Memorial, because it changed the course of my entire life.
I am not referring to the late President Bush's vice-presidential bust in the senate chambers, nor to his (very impressive) presidential library on the campus of Texas A&M University. No, I am referring to a monument of flesh and blood, seated at my breakfast table this morning. My sons, Benjamin and Timothy. They are, for me, the best memorial to the life and work of President Bush that I will ever see.
My oldest sons were born sick and without family in the former Soviet Union, both with significant health concerns, one severely premature in his birth. They spent their first year in a Russian orphanage in the Rostov region of the Russian Federation. We adopted them and, as soon as we touched down on American soil in New York City, they were American citizens. More importantly, they were our family. They had a mother and a father, and a church, and a community, and a future.
I could never have predicted such. When I was a child, the word "Russians" was a term of alarm. We practiced hiding under our desks, just in case the Russians bombed us with nuclear weapons. In the schoolyard, we speculated about whether we would be a target for attack in case of war, in our little tract of the beach along the Mississippi Gulf Coast (Yes, the consensus went, because of nearby Keesler Air Force Base). We watched television movies about American kids, like us, turning back a Russian invasion. The Soviet Empire seemed permanent, almost eternal. I never would have believed that two Russians would one day be not only in friendly relations with me, but would be my sons. For that as a father, along with countless things as a citizen, I can thank George Herbert Walker Bush.
The Cold War was won thanks to more than just one leader. From Harry Truman on through Bush, American presidents held forth an American vision of freedom behind the Iron Curtain, and worked for such through military buildups, international diplomacy, foreign aid, intelligence networks, and so forth. President Bush was of monumental importance because he served in office when the Soviet bloc started to shed its inevitability and crack apart. When the Berlin Wall was torn down in 1989, and when former Soviet satellite states started to claim independence and freedom, some wanted George Bush to act like a "winner," to go to Berlin and pump his fist, or to crow with vindication every time another Warsaw Pact nation fell away. This didn't happen. Maybe part of that was his upbringing from his mother, who was constantly warning him not to boast about himself. But much more of it was because of his wisdom and skill. When it came to movements that might help him politically, but could bolster Soviet resolve to stay and fight for their honor, Bush did exactly what Saturday Night Live at the time would make fun of: "Not going to do it; wouldn't be prudent."
Prudence is exactly what it was.
When the Soviet flag came down off the Kremlin on Christmas Day 1991, the Cold War was won, by military strength, yes, by international diplomacy, yes, by economic superiority and economic generosity in building alliances with other countries. But the war was also won by prudence—by the wisdom to know when to apply pressure with bombast and when to work quietly behind the scenes. With a weak president, the rumblings of the Soviet Union nearing its end could have provoked World War III. The same thing could have happened with a bellicose president who lacked the insight to see what was happening in the world.
With President Bush, we had a committed Cold Warrior who knew who he was. He had a personal core, a vision of the world, and the virtue of a steely, brilliant prudence.
If not for that, many would be languishing behind the ugly cage of global Communism right now. My two sons would be among them.
When I was sixteen years old, I watched on television in 1988 as George Bush gave what is universally considered his best speech, accepting the nomination of his party for president. Bush spoke memorably, in words written by Peggy Noonan, of his approach to the Cold War: "The tremors — The tremors in the Soviet world continue. The hard earth there has not yet settled. Perhaps what is happening will change our world forever; and perhaps not. A prudent skepticism is in order. And so is hope. But either way, we're in an unprecedented position to change the nature of our relationship. Not by preemptive concession — but by keeping our strength. Not by yielding up defense systems with nothing won in return – but by hard cool engagement in the tug and pull of diplomacy."
And so he did. He also spoke though of what it means to be Americans, of those who serve others and a cause higher than ourselves. He said he saw "a brilliant diversity spread like stars, like a thousand points of light in a broad and peaceful sky."
I can't see a thousand points of light from where I sit as I write this. But if I look up and gaze around the hallway to a couple of thoroughly American teenagers preparing for school, I can surely see two.
Thank you President Bush.
Photo courtesy: Getty Images/Jed Jacobsohn/Staff