A Covenant of Grace Will Help You Serve Well
Whitney Hopler, Live It Editor
Monday, November 14, 2005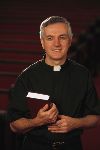 Leading a church is a huge privilege. And behind that privilege lurks the danger of getting swept up in popularity, prestige and power.
As a pastor, you're as vulnerable to sin as any other human being. But God has bestowed a wonderful calling on you. If you look beyond your own limited abilities to God's unlimited power, He will give you all the grace you need to carry out your responsibilities well.
Here's how you can make a covenant of grace to help you serve well as a pastor:
Genuine accountability:

Don't settle for spiritual shallowness. Constantly pursue a deeper faith. Ask God to use your everyday experiences on the job to grow your own personal faith even while you try to encourage others. Follow a regimen for spiritual fitness, applying to yourself the same suggestions you give others (such as regular prayer, Bible reading, devotional reading, and fasting). Seek fresh encounters with God on a regular basis, asking Him to empower your ministry through His Spirit. Beware of the hazards of ministry, such as pride, secret sins, dealing with distracted or dysfunctional people, encountering a consumer mentality, sexual temptation and infidelity, loneliness, leadership crises, relying on yourself instead of God, and superficial piety. Ask God to help you confront and overcome these hazards.

Find a trustworthy accountability partner who knows you well and is willing to listen to your struggles, affirm your strengths, and demand your authenticity. Meet with your accountability partner regularly and have him ask you questions like: "Do you really know Christ?," "Do you really believe that God will use you?," "Do you delight in your ministry?," "Have you been with a woman anywhere this past week that might be seen as compromising?," "Have any of your financial dealings lacked integrity?," "Have you exposed yourself to any sexually explicit material?," "Have you spent adequate time in Bible study and prayer?," "Have you given priority time to your family?," "Have you fulfilled the mandates of your calling?" and "Have you just lied to me?".
Right relationships:

Love your church and realize that it's meant to be a family of friends, a community that helps people heal and grow into who God wants them to be, and a society of love where people affirm, encourage, and support each other in practical ways. Deal with difficult people in your congregation by loving them because God does, trying to understand where they're coming from, being honest with them and helping them change rather than enabling a continuing pattern of dysfunction, setting limits on how much they suck joy out of the church, and trusting God to deal with them. Define your ministry by the positive, not the negative.

Since so much of a church's effectiveness depends on healthy relationships between you and your congregation, let members know how much you love them and thank them for loving you. Strive for excellence in your ministry and live with integrity so you'll be worthy of honor. Teach your congregation that love for one another grows naturally out of God's love. Ask God to help you understand yourself well enough to know how best to depend on His unlimited strength rather than your own limited power. Don't neglect your family because you're too busy at church; make your family a higher priority than your work at the church. Talk with your wife so you each can clearly understand what each of you needs and wants for a healthy marriage. Invest significant time and energy into your relationships with your wife and each of your children. Count the blessings in your personal life and regularly thank God for them. Try to model to your congregation what a healthy family looks like.
Recently on Pastors / Leadership
Have something to say about this article? Leave your comment via Facebook below!
advertise with us
Example: "Gen 1:1" "John 3" "Moses" "trust"
Advanced Search
Listen to Your Favorite Pastors