A Covenant of Grace Will Help You Serve Well
Whitney Hopler, Live It Editor
Monday, November 14, 2005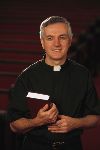 A Servant-Shepherd's Heart:

Ask God to help you be humble, give you selfless courage and patient love, and motivate you to serve Him and others. Strive to provide the best pastoral care you can. Regularly contact members of your congregation via phone, e-mail, and handwritten notes. Make an effort to speak to as many people as you can personally before and after worship services. Cultivate your unique talents and spiritual gifts so you can use them well in God's service. Don't give any less than your best when serving. Acknowledge your weaknesses and depend on the Spirit's strength to fulfill your calling. Keep stretching yourself to take risks in your ministry as God leads you.

As you preach and teach spiritual lessons to others, be sure to learn them yourself. As you care for others, let your firsthand experience of God at work strengthen your own faith. Focus on Jesus above all else. Seek to learn leadership lessons from people you encounter from all walks of life. Empower your church's laypeople to serve, by reminding them at everyone has a place in the life of the church, everyone has a gift to use, and everyone has a God-given dream that can come true.
Constant safeguards:

Flee from temptations such as sexual immorality; materialism; activities that turn into idols because they threaten to replace God as your top priority; and poisonous attitudes like bitterness, rage, anger, criticism, and jealousy. Run away from temptations as soon as fast as possible, and turn to God in prayer. Build your credibility and character by allowing Scripture to shape you, making ministry a way of life, viewing Christian service as a gift from God, regularly asking God to remind you what He wants you to accomplish in your assignments, trying to live above reproach, and recognizing your true sources of strength (prayer, the Bible, intimacy with God, a coach or mentor, and a healthy marriage and family).

Guard your heart by living by a code of integrity; being careful about the company you keep; monitor what media you read, watch, and listen to; asking God for self-control; and balancing your time in healthy ways to avoid burnout. Establish relationships with godly people who will be prepared to help you through difficult times.
Embrace God intimately:

Pursue God with a passion. Invite Him to transform you into the person He wants you to be. View yourself as a spiritual change agent in the world. Focus every aspect of your life on Jesus. Depend on Scripture's guidance in your daily life. Become aware of how near God is to you, as your constant companion. Believe that God will help you overcome any obstacle before you. Ask God to renew your energy so you can do your ministry work well. Look beyond the spectacular to find God at work just as powerfully in the midst of the ordinary. Try to live a life that advertises your faith well.

Ask God to help you develop contentment no matter what your circumstances. Resist distractions and schedule intentional periods of silence to listen carefully for God's voice speaking to you. Ask Jesus to help you see your life from His perspective and to respond to situations as He would. Share your hopes and dreams with a trusted, spiritually mature friend. Saturate every facet of your ministry with God's influence. Regularly seek to experience new adventures with Him. Intentionally look for Jesus in the people you serve. Expect God to help you make the ordinary significant.
---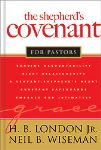 Adapted from The Shepherd's Covenant for Pastors, copyright 2005 by H.B. London and Neil B. Wiseman. Published by Regal Books, from Gospel Light, Ventura, Ca., 1-800-4-GOSPEL or www.regalbooks.com.

H.B. London, Jr. is vice president of ministry outreach/pastoral ministries for Focus on the Family in Colorado Springs, Co. A fourth generation minister, he was a pastor for 31 years before joining Focus on the Family.
Neil B. Wiseman serves churches as a consultant and preacher. He was a professor of pastoral development at Nazarene Bible College in Colorado Springs, Co., for 15 years. He also served 20 years in the pastorate.
Recently on Pastors / Leadership
Have something to say about this article? Leave your comment via Facebook below!
advertise with us
Example: "Gen 1:1" "John 3" "Moses" "trust"
Advanced Search
Listen to Your Favorite Pastors