Become a Next-Level Leader
Whitney Hopler, Live It Editor
Wednesday, August 17, 2005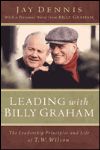 T.W. Wilson never became famous, like the man he served as executive assistant from 1962 to 2000 - Billy Graham. But, as a servant of Christ, his impact on the world has still been powerful.
Just like Wilson, you don't have to be in the spotlight to have God use you in powerful ways. You can follow his model of influencing all the people you meet to consider God in their lives and grow to the next level in their faith. That's next-level leadership.
Here's how you can become a next-level leader:
Look back at spiritual mile markers. Notice how God has directed your steps, orchestrated your schedule, and allowed you to experience certain things to make you more usable and influential. Understand that your only assignment is to be in God's will at all times. Make it the passion of your life to stay in the center of God's will. Be constantly available to God. Trust God's timing, realizing that it creates the environment for real influence to happen. Remember that God often chooses to use improbable people; you don't have to have be particularly smart, strong, rich, or beautiful in the world's eyes in order for God to use you. Know that God looks for faith, purity, holiness, and obedience. Seek to develop those qualities. Realize that you never know what one encouraging word or kind action done in Jesus' name will do in someone's life. Know that even small, simple things can have great power to positively influence a person. Build relationships by investing time and energy into people, even when it's inconvenient. Know that doing so is vital to your effectiveness in God's kingdom. Surround yourself with the very best people, listen to them, learn from them, and make them a part of the process of your work for God. Thank God for how He has worked in your own life in the past, and ask Him to use you to accomplish good things in other people's lives.
Seize divine appointments. Realize that next-level influence occurs most often in the everyday, ordinary, routine days of your life. Expect God to bring you plenty of opportunities to affect other people's lives. Always be yourself. When God presents an opportunity, take it or it will be lost. Don't make the mistake of thinking that prominent people aren't interested in spiritual things; realize that they often have great interest in learning more about God. Pray daily for those in prominent positions, where they exercise significant influence on others (such as political leaders and celebrities). Realize that when you influence people of influence, you are multiplying the power of your own positive influence. Don't be afraid to talk with people about the Bible, no matter what the time or place.
Encourage people. Try to be a little kinder than is necessary in every situation. Treat people the way you want them to treat you. Ask God to give you genuine care and concern for people. Commit to "being there" for people in need and expressing God's love to them. Learn how to say no with sensitivity to people's feelings, so you don't offend them. Refuse to be negative; strive to embrace a positive attitude in all you do. Remember that no problem is beyond God's power to solve. Ask God to help you discern the appropriate way to encourage people in every situation you encounter.
Recently on Pastors / Leadership
Have something to say about this article? Leave your comment via Facebook below!
advertise with us
Example: "Gen 1:1" "John 3" "Moses" "trust"
Advanced Search
Listen to Your Favorite Pastors