Create a Worship Gathering for Emerging Generations
Whitney Hopler, Live It Editor
Tuesday, January 11, 2005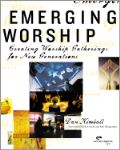 The 18- to 35-year-old generation is missing from many churches today - even from popular megachurches that offer contemporary music and plenty of programs geared toward young adults. 

As the new millennium unfolds, churches need to be creative to connect with members of emerging generations.  What worked 10 or even five years ago may not work today.

If you and others at your church have the courage to pioneer new forms of worship that resonate with today's emerging generations, you'll have a powerful impact on the future.

Here's how you can create a worship gathering for emerging generations:

Be open-minded. Understand that you'll need to completely re-think the ways you worship to successfully engage young adults. Remember that forms of worship have changed throughout biblical and church history, and acknowledge that change can be healthy. Ask God to give you a passion for emerging generations that motivates you to do whatever it takes to reach them. Know that Scripture, which is living and active, should guide your decisions - not just denominational traditions. Be willing to take risks and make sacrifices so God can breathe new life into your worship.

Break free from a consumer mentality.  Realize that a worship service is not about God's service to people, but about people's service to God.  Know that it's not a spiritual gas station for your congregation to go for a fill-up to fuel them for the coming week. Instead, it should be a time when each person present offers his or her love to God and other people.  It's meant to be the weekly celebration of a continuous lifestyle of worship that focuses on growing and serving. Let your congregation know that you want them to be more than just observers. Encourage them to fully participate in and contribute to worship gatherings. Remind yourself of your church's basic mission - to make disciples of Jesus - and keep that mission paramount in all you do.  Build a strong network of small groups that meet during the week to help your congregation grow beyond just "doing church" on Sundays. Let people know that your church is a family of people, not a building.

Be humble.  Don't let struggles for power and control derail God's plans for fresh worship at your church. Pray for humility for yourself and all the leaders in your church. Rather than trying to prove something about yourself or your church, seek simply to serve God however He leads you.

Get to know unchurched people from emerging generations in your area.  Conduct a city- or county-wide survey to learn the demographics of local young adults who don't currently attend church. Seek to understand the group you're trying to reach.

Plan well.  Make prayer and developing a prayer team your two top priorities. Evaluate your local mission field and context. Select a vision-based team that will serve in their areas of giftedness (consider including your youth pastor). Determine which of your values are different from those of the rest of the church. 

Ask 10 critical questions before you start a new type of worship gathering in your existing church: "What is the holistic plan for this new worship gathering as it relates to the whole church?", "What happens in terms of spiritual formation and evangelism beyond the worship gathering?", "What is the role of the senior pastor and elders or board?", "What will be the specific points of integration between the new worship gathering and the rest of the church?," "How will intergenerational relationships be encouraged and developed?", "How will exiting children, youth, college, and singles ministries in the existing church be impacted?", "How will you keep healthy lines of communication between the senior pastor and the rest of the church leadership?", "What is the strategy and timing for research, team building, and launching?", "If this is a mission designed to reach non-Christians, how do you keep it from simply becoming a 'happening thing' for those who are already Christians in your area?," and "How do you measure success?".

Recently on Pastors / Leadership
Have something to say about this article? Leave your comment via Facebook below!
advertise with us
Example: "Gen 1:1" "John 3" "Moses" "trust"
Advanced Search
Listen to Your Favorite Pastors