Lead a Youth Ministry that Changes Students' Lives
Whitney Hopler, Live It Editor
Thursday, July 28, 2005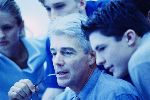 Successful youth ministries - efforts that transform students' lives for the better - also impact the future in powerful ways. Your work leading a student ministry is a vital investment in the future of the church and the world.
Here's how you can develop the skills to lead a ministry that will transform members of the next generation:
Cast a vision. Ask God to give you a picture of the future that will produce passion in you and the students you lead. Understand that your ministry is much more than just a string of activities like meetings and retreats - it's a means to a positive outcome in the future. Imagine yourself going forward in time, and think about what you'd like your students to experience then. Ask God to reveal His dreams for your ministry's future. Be patient as you listen for God to speak, and expect Him to answer in His timing. Get in touch with the unique needs in your community and local schools, and take that information into account when developing your vision.

Once you have established a clear vision, communicate it to others, answering three questions: "Where are we going?," "Why?," and "How will we get there?." Make your vision compelling by making sure it's vivid, inspiring, and succinct.
Shepherd your students. Don't let other responsibilities distract you from your primary job of pastoral care. Pray for God to break your heart for your students and give you deep compassion for them. Make the time to genuinely listen to each one of your students. Get to know the details of their personal lives, and figure out specific ways you can encourage them to grow closer to Christ. Comfort them when they need it; challenge them when they need it. Pray for them regularly.
Raise disciples. Develop a passionate relationship with Christ yourself so you can be a good role model for them as you urge them to discover their own passion for Christ. Don't worry about arbitrarily coming up with activities to spend time with your students; instead, join them in activities that are naturally part of their lives and enter their worlds with sincere interest. Understand that no discipleship path will look exactly the same because each person begins his or her spiritual journey in a different place. Pray for wisdom in how to lead each individual toward maturity in Christ. Use your God-given talents and employ your unique style in the disciple-making process; don't just try to copy what someone else is doing. As they grow, encourage your students to become teachers by discipling others.
Lead biblical worship. Study the Scriptures as you develop values to guide your worship. Make sure the focus of your services is on God - not the worship team or the congregation. Select readings, songs, images, etc. that honor God and encourage students to seek Him. Make sure that every element of your services accurately represents biblical truth. Plan and prepare well. Be sensitive to the current youth culture so you can make the services relevant to your students' lives. Keep in mind that they value sincerity, passion, variety, and opportunities to participate in the services themselves (such as through reading Scripture passages).

Develop a discipling worship ministry by modeling Christlike character and passion for Christ, communicating frequently with the worship team as you plan each service around a theme together, finding a place on the team for anyone who's interested, calling for servant-leadership, teaching your values in worship, preparing students to move from small acts of service to ones that require more responsibility, and transferring skills effectively to them.
Recently on Pastors / Leadership
Have something to say about this article? Leave your comment via Facebook below!
advertise with us
Example: "Gen 1:1" "John 3" "Moses" "trust"
Advanced Search
Listen to Your Favorite Pastors