Take 12 Steps Towards Racially-Diverse Sundays
Whitney Hopler, Crosswalk.com Contributing Writer
Monday, June 20, 2011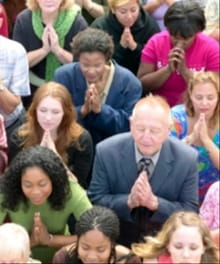 Editor's Note: This article summarizes the practical applications of Scott Williams' recent book, Church Diversity: Sunday the Most Segregated Day of the Week (New Leaf Publishing, 2011).
Decades ago, Rev. Martin Luther King, Jr. called the 11 a.m. hour on Sunday morning "the most segregated hour in America." Statistics show that it still is. A vast majority of American churches have congregations that are primarily made up of one racial group rather than the diverse ethnicity of the general population. People still worship in white churches, black churches, Asian churches, and Latino churches.
But the Bible reveals that in heaven, people of all races will worship God together. Since heavenly worship will be diverse, shouldn't earthly worship be, too?
You can make your church's congregation more racially diverse (and pleasing to God, who created all people in His image) if you're intentional about doing so. Here's how to get started:
Acknowledge the problem. If your church is one of the many that's not racially diverse (more than 80 percent of your congregation is a single race), acknowledge the problem and start talking about it openly with the people in your church. Be willing to engage in tough conversations. The more you confront racial issues, the less awkward they'll become to discuss.
Assess the personal histories and current attitudes of your church's leaders toward diversity. Hold meetings in which your church's staff and volunteers can honestly discuss how their past experiences have shaped their current beliefs about diversity. What prejudices might they have developed that are preventing them from pursuing diversity? What ideas do they have about changing your church to become more diverse? Ask your church's leaders to commit to making church diversity a top priority and goal.
Pray for God's help. Ask God to motivate your church's leaders to pursue diversity, to attract people of diverse races from your local community to visit your church, and to make them feel welcome enough to join your church. Pray for God to help everyone in your church see others as God sees them, recognizing that the Holy Spirit lives inside the souls of Christians of all races and wants to unite them.
Focus on the universal Gospel more than a certain kind of culture. Ask yourselves a tough question: "Is your church primarily focused on preserving the culture of some people or presenting the Gospel to all people?" Realize that the practice of segregating people denies the unity that all Christians have in Christ. For your church to be true to the Gospel's message, it must welcome all people with equal love and enthusiasm. It's not right to talk about taking the Gospel on the other side of the world if your church won't worship with people who live on the other side of your town. When your church is true to the Gospel, there will be unity among diverse people in your congregation.
Drive innovation in your church by inviting people of many different races to serve on staff and as volunteers. A racially diverse group of church leaders brings a wealth of different experiences and perspectives to your church, which will naturally lead to innovative ideas for your church's ministry work.
Show diversity in your church's communications materials. Your church's website and printed materials should include photos of people of different races to reflect your commitment to racial diversity. Doing so will help make all people feel welcome to visit and participate in your church.
Recently on Pastors / Leadership
Have something to say about this article? Leave your comment via Facebook below!
advertise with us
Example: "Gen 1:1" "John 3" "Moses" "trust"
Advanced Search
Listen to Your Favorite Pastors