A Bride So Fair
Carol Cox, Author
Saturday, March 01, 2008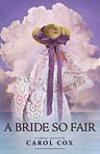 His captor looked at Emily with a glint of humor shining in his eyes. "It doesn't look to me like it takes all that much in the way of size to get you under control." His grin faded, and he gave the boy a shake. "Now where are the Cracker Jacks you stole?"
The boy shrugged again." I'm telling you, you've got the wrong person."
Emily broke into the exchange. "Then what was that I saw you throw away?"
The youth paled, and the vendor turned his attention back to Emily. "You saw him throw something?"
"Behind that potted palm over there." Emily walked briskly toward the plant and reached behind it, retrieving a paper package that rattled when she shook it. She returned to the waiting pair and held out the parcel. "Is this what you're looking for?"
The man took it with a grateful smile. "Thank you, miss. I'll be obliged if you'll stay around until I summon one of the Columbian Guards so you can tell him what you saw."
Emily shook her head. "I'm sorry. I work at the Children's Building here on the fairgrounds, and my lunch break is nearly over." From deep within the massive Manufactures Building, she heard the clock in its alabaster tower chime the three-quarter hour. If she wanted to keep her job, she'd better get back to work and look sharp about it.
The man's face fell. "If you don't, it will be my word against his. I left my nephew watching my stand so I could catch this young rascal, and who knows what kind of mess he'll have made of things by the time I get back? The least you can do is help me out."
Emily wavered. Her supervisor took a decidedly dim view of tardiness, but the smug expression on the boy's face decided her. "All right, but only for a moment."
It took far longer than that for the guard to finish taking her statement. With the thanks of the vendor ringing in her ears, she set off once more toward the Children's Building. In the distance, she heard a clock chiming the hour.
"Oh no." She glanced from side to side, taking note of the throngs of people dotting the broad walkways. None of them seemed to be paying a bit of attention to her. Taking heart from this, Emily hiked up the hem of her skirt, planted her hand on top of her hat to keep it from blowing off, and sprinted headlong across the plaza, paying scant attention to the gleaming white buildings as she raced over the bridges spanning the lagoon to the Wooded Island and then to the far shore. From there, a quick dash put her at the front of the Children's Building.
She slumped against the outer door with one palm pressed against her heaving chest. When she managed to catch her breath, she pushed the arched door open and stepped inside. If she could assume her seat behind the reception desk before—
"Your lunch hour ended precisely three minutes ago."
Emily skidded to a halt and turned to face the gaunt woman standing against the opposite wall. "I'm sorry, Miss Strickland. I—"
"If you plan to continue working here, Miss Ralston, I would suggest you make it a point to be punctual." Her supervisor's cold stare left no doubt about her disapproval.
"Of course, ma'am." Emily ordered her knees to quit shaking and tried her best to appear composed as she hung her straw boater on the hat rack and walked toward her desk. Lucy Welch, her blue eyes shining with sympathy, rose from the heavy wooden chair to let Emily take her seat.
Emily cast a grateful look at her friend; then she turned to bestow a wobbly smile upon the woman and boy who stood waiting in front of her desk. "How may I help you?"
"Could we finish here, please? "The young matron tapped her foot and looked daggers at Emily. "I would much rather be outside viewing the fair instead of waiting for you all to sort yourselves out. I'm not certain I want to leave Alexander here if this is any indication of the competency of your staff."
Have something to say about this article? Leave your comment via Facebook below!
advertise with us
Example: "Gen 1:1" "John 3" "Moses" "trust"
Advanced Search
Listen to Your Favorite Pastors