A Bride So Fair
Carol Cox, Author
Saturday, March 01, 2008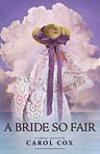 "Why don't we take off your coat?" she suggested. "It's lovely weather today, and I think you'll feel much better without it. I'll make sure we keep it safe so you don't lose it, all right?"
Adam hesitated then allowed her to pull the heavy coat off. Emily bit her lip at the sight of the sailor suit he wore, with its middy blouse and knee pants. This child was just too precious for words!
While she tried to make Adam more comfortable, the guard left to go search for the child's parents. A moment later, Lucy hurried back into the reception area. "What was it you couldn't tell me before?"
"You'll have to wait a little longer," Emily told her. "Adam, this is Miss Lucy. She'll take you to those toys I told you about."
The little boy studied Lucy then reached out to take the hand she extended and toddled off beside her.
Free of responsibility for the moment, Emily propped her elbow on the desk and rested her cheek on her palm. She stared at the front door, lost in thought.
"He is a handsome fellow, isn't he?" Lucy's voice came from right behind her.
Startled out of her reverie, Emily jerked upright and banged her elbow on the edge of the desk. She yelped and glared at Lucy.
"Sorry." Lucy's unrepentant grin belied the sincerity of her apology. "I didn't mean to make you jump. . .that much, at least." Her grin faded. "And I truly am sorry about what happened with Miss Strickland. I tried to cover for you when I saw you were late, but she came in and caught me at it." She wrinkled her nose. "I should have known it wouldn't work."
Emily sighed. "It's all right. It was my fault for not being back on time. I knew Miss Strickland wouldn't be happy about it, but she positively glared at me!" She rubbed her sore elbow and winced. "I hope she doesn't fire me. I don't want to lose the first job I ever had."
"First paying job, you mean. You've been a hard worker ever since I've known you. And don't worry about Miss Strickland. Did you know she has already gone through six receptionists in the four months the fair has been going on? I got that from Ruthie Lawson in the Day Nursery." She looked over her shoulder and lowered her voice. "And they weren't all fired by Miss Strickland, either. Some of them got so fed up with her demanding ways that they up and left. People just don't do that on a whim, as hard as jobs are to find these days."
"But that's my point. People are hungry for jobs right now. She knows she doesn't have to keep me here."
Lucy snorted. "Listen to me. While you're sitting here checking children in and out of the building all day, I have a chance to talk to the other employees. You are the best receptionist they've had yet. Everyone says so."
Emily hoped her friend was right. The thought of losing her job was always an underlying fear. With the silver crash, masses of people were unemployed, making it harder than ever to find work. But even if jobs were as plentiful as the sand on the shores of Lake Michigan, she would hate to leave the Children's Building. Providing a safe, nurturing place for children to play and learn while their parents saw the fair was a task she could embrace with her whole being, and taking part in such a worthwhile endeavor filled her with immense satisfaction.
She had to admit that Lucy was usually right in her assessment of any gossip she managed to overhear. Maybe she could relax … just a little, anyway.
Something pulled on her sleeve, and she realized Lucy was shaking her arm.
Emily blinked. "Did you say something?"
"Back in dreamland again?" Her friend sighed then took on the air of a patient teacher. "I said you never answered my question about the guard. Don't you think he's handsome?"
Have something to say about this article? Leave your comment via Facebook below!
advertise with us
Example: "Gen 1:1" "John 3" "Moses" "trust"
Advanced Search
Listen to Your Favorite Pastors