Look to the East
Maureen Lang, Author
Wednesday, July 06, 2011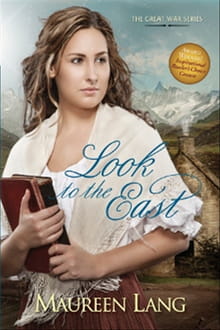 A moment later both men looked up, and she might have thought their surprised faces funny had she planned the episode and still been young enough to get away with such a prank.
"I thank You for the answered prayer of the wind, Lord," she whispered in annoyed submission, "but not for the result, as You well know."
"You there." M. Mantoux's voice was as commanding as ever, and it set her heart to fear-filled pounding. "Come down at once."
Giving up any hope of dignity, Julitte shook away the cramp in one leg, then shinnied along the thick branch until reaching the trunk that was somewhat wider than the span of her arms and legs. Her foot found the knot she knew so well, and in a moment she stood on the ground, pulling at her skirt to cover pantaloons and the single petticoat she owned, a hand-me-down from her adoptive mother. From the corner of her eye she saw the towering blond man bending to retrieve her tin, a look of curiosity on his handsome face.
M. Mantoux stepped in front of Julitte. "What were you doing up there, girl? Who—"
Enlightenment reached his eyes before his voice faded away. Of course he knew who she was; everyone in and around her village knew she was the étrangère, the outsider. Not only because at least half of the village wouldn't have welcomed an adopted child of Narcisse Toussaint, but because she had been born far away on the Island of Lepers, off the coast of Greece. Though Julitte had lived among the French villagers for nearly seventeen years, some still whispered of her heritage to this day, to passersby or children too young to already know.
"Come here, Julitte Toussaint." He pointed to a spot a few feet away. "Stand there, not too close."
M. Mantoux had an angry look about him, but she knew he always seemed that way from the curve of his nostrils to the arch in his brow. Even when he laughed—and she had seen him do that once—his face held the edge of ire whether with intent or not.
Intent was there now.
She obeyed his order and stopped where he'd told her, at the same time reaching for her property. The man holding the tin started to extend the item but took a moment to study it before completing the motion. His thumb traced the amateurishly tooled design, fashioned by her adoptive brother. Then he shook it and the items inside rattled. But he did not open it, for which she was silently grateful.
Both had to bend forward to pass the tin between them. He placed it, about the size of one of his hands, into both of hers.
"What were you doing on my property, and what have you there?" M. Mantoux's intimidating manner was the same he'd used when her cousin had lost one of his pigs and found it burrowing holes in the château garden. But behind his intimidation today was a tone familiarly aimed her way—distaste mixed with a hint of the fear common to those who knew only her background and not her. "And why did you accost my guest?"
Julitte wanted to raise her gaze to M. Mantoux, to stare him down as she stared down her brother when he teased her the way brothers could. But M. Mantoux was not her brother. And standing in the handsome stranger's shadow had stolen her courage.
Lowering her gaze, she mustered a respectful tone. "I was in the tree to retrieve the tin and decided to stay there until you passed by so to escape notice. The breeze whipped the box from my hold." A quick glance at the blond cavalier revealed that his eyes stayed on her. Perhaps he was not so gallant, after all. What sort of man stared so boldly? Despite such thoughts, she knew what she must do. Keeping her eyes downcast, she turned to the handsome man she'd unwittingly troubled. "I offer you all my excuses, monsieur."
"Accepted."
Recently on First Chapters
Have something to say about this article? Leave your comment via Facebook below!
advertise with us
Example: "Gen 1:1" "John 3" "Moses" "trust"
Advanced Search
Listen to Your Favorite Pastors