Look to the East
Maureen Lang, Author
Wednesday, July 06, 2011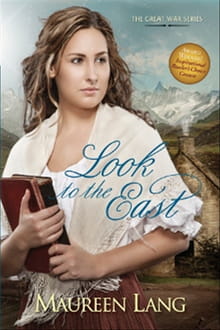 The single word was issued softly and with a smile. Julitte let her gaze linger, welcoming his ready forgiveness. Her rapidly beating heart took a new direction.
"My friend is more magnanimous than he need be," M. Mantoux said. "You are aware, Julitte, that this tree is on my property? If you fell and hurt yourself, what should I have done?"
"I expect it would have been entirely my own fault, monsieur, and I would blame neither you nor the tree."
"In any case, you're far too old to be climbing like a waif. Narcisse shall hear of this."
"I'm afraid he sent me on my mission before he left once again for the sea, Monsieur Mantoux." She held up the tin. "This is my brother's, you see, and I was told to fetch it and tell him to find another favorite spot to whittle. Closer to home." She didn't mention she had been the one to introduce her brother to this particularly dense and knotty tree.
The stranger—Charles—patted M. Mantoux's shoulder. "There, you see, Anton, it's all perfectly understandable. Why berate the girl?"
Girl. But then, what else should he have called someone dallying about in a tree? Suddenly a vision of having met him under other circumstances filled her head, of her offering a brief and graceful curtsy and extending her hand for him to kiss. They would be formally introduced and have an intelligent conversation about books and history and faraway places. Oh . . .
Instead M. Mantoux dismissed her as the peasant she was, unworthy to be presented to any guest of his noble household. And the two were already walking away.
#

Charles Lassone glanced back at the girl from the tree, unable to resist one last look. He could tell from her dress—clean despite her foray up to the branches—that she was a peasant from the village. For a moment, he wished circumstances were different. She was lovely, peasant or not. Her hair had shades of red and gold softened by strands of bronze . . . like a sunset. And her eyes were as dark as a black ocean reflecting the night sky. He'd caught himself staring but somehow couldn't right his manners, even when she'd noted the lapse.
Charles shook the reflection away, tagging such pointless thoughts as a premature product of war. He hadn't even signed up! Yet. Now was most definitely not the time to become entangled with a woman, peasant or otherwise.
He was leaving France, returning to Belgium and to the side of King Albert. Rumor had it the king was leading his troops to battle. Charles just hoped he wasn't too late.
#

Julitte walked the half mile to the village, growing thirsty in the heat. Soon the cobbled square in the center of town came into view. Beneath the shadow of the church's tall brick bell tower sat one of the two pubs in town. It ceased to be a stark contrast to the place of worship after the proprietor had at the behest of his wife stopped partaking in spirits—and consequently stopped serving them. He'd even rolled the piano out of his door and into the church, since so many of the songs sung in the pub no longer seemed the same without the local brew or some other liquor in hand.
Those in the de Colville family had protested the loudest, since it was one less place their spirits were served, the one area to which they did not have to smuggle their goods.
Julitte was surprised to see a cluster of women and children gathered in the square. There were limited huddles Julitte could join, even among women. She was restricted to those of the same Toussaint name or to those linked in some way. Even among Toussaints, she had to be careful.
Toussaint or de Colville . . . to be born in Briecourt was to be born into loyalty to one or the other. It was a simple fact no one questioned.
Recently on First Chapters
Have something to say about this article? Leave your comment via Facebook below!
advertise with us
Example: "Gen 1:1" "John 3" "Moses" "trust"
Advanced Search
Listen to Your Favorite Pastors