Is It Biblical to Be Funny?
Mark Driscoll, Author
Tuesday, July 14, 2009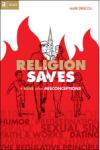 6) When all else fails, and the feces and fan have interfaced, all you can do is laugh it off. On this point, Proverbs 14:13 says, "Even in laughter the heart may ache, and the end of joy may be grief." Life in a sinfully crooked, fallen, jacked-up world is incredibly painful and filled with overwhelming heartache and pain, especially for pastors, who arguably deal with it more than anyone. Sometimes the only way to keep from putting a gun in your mouth while mumbling Lamentations is to find something funny in it all and laugh through your tears.
7) Nehemiah 8:10 says, "The joy of the Lord is your strength." Too many Christians are spiritually weak and sickly, but their souls would be built strong through regular, deep belly laughs just as much as an athlete sculpts his physical body by pumping iron at the gym. Furthermore, it is cheaper and more fun than antidepressants.
8) Cultivating your sense of humor heightens all your other emotions. The person who can laugh deeply is passionate enough to also weep deeply. Those who bottle up their emotions in a Spock-like existence display little if any of the characteristics of their passionate God, who both laughs and weeps, as Scripture says. Scripture also commands us to "rejoice with those who rejoice, weep with those who weep."22
9) Laughter is sometimes an act of faith, in that it enables us to rise above the pain of the present while we await the coming kingdom, where there are no tears.
10) Humor is a missiological ministry tool that is necessary for successful evangelism in our culture. In 1 Corinthians 9:22–23 Paul writes, "To the weak I became weak, that I might win the weak. I have become all things to all people, that by all means I might save some. I do it all for the sake of the gospel, that I may share with them in its blessings." The average person listens to talk radio comedic banter on the way to work, downloads funny YouTube videos during break, listens to more drive-time radio banter on the commute home, watches a sitcom after dinner, possibly tunes in to a stand-up comic on Comedy Central, and watches someone like Jay Leno, Jon Stewart, Stephen Colbert, or David Letterman before dozing off. To reach people, we need to speak their language, and their language obviously includes comedy.
Humor can be evangelistic. In fact, our church has been named one of the fastest growing in America. We started it in 1996, when it was roughly the same size as a Mormon family, and our little church has grown in one of America's least churched cities by reaching mainly young, hip, urban types from the various groups that I regularly make fun of. I cannot explain this phenomenon other than to say it's like punching a guy, who then goes to get two friends so that you can punch them too.
In conclusion, I will lay down some rules of engagement for aspiring sanctified comedians. With these rules I hope to keep at bay the wing nuts who see comedy in the Bible and assume that it endorses their cruel version.
TEN COMMANDMENTS FOR SANCTIFYING COMEDY
1) Don't mock God. God is great. God is not a sinner. God is not to be judged by us. God is God. Further, God has a long history of getting the last laugh. So don't mock God. However, one exception is to mock the false impressions of God that religious people have, showing that their god is not the God. So, for example, if you mock the false Jesus of Mormonism, who is a created being, polygamist, and the half-brother of Lucifer, you are mocking what Paul calls "another Jesus" and not the real Jesus.23
Have something to say about this article? Leave your comment via Facebook below!
advertise with us
Example: "Gen 1:1" "John 3" "Moses" "trust"
Advanced Search
Listen to Your Favorite Pastors