Is It Biblical to Be Funny?
Mark Driscoll, Author
Tuesday, July 14, 2009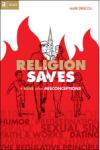 Proverbs also includes more than a few jabs at various kinds of bad women. Speaking of the nagging woman, Proverbs 27:15 says, "A continual dripping on a rainy day and a quarrelsome wife are alike," which is particularly funny if her nagging is about the dripping faucet or leaky gutter. If you ever see a guy camping on the roof, you can assume he is obeying James 1:22: "But be doers of the word, and not hearers only," after reading Proverbs 21:9 and 25:24, which both say it is better for a guy to live on the roof of his house than inside his house with a quarrelsome, nagging wife.
One of the funniest sayings in Proverbs is that a hot gal all dressed up is akin to a pig dolled up with jewelry: "Like a gold ring in a pig's snout is a beautiful woman without discretion."8 Like I tell the single guys in our church, you can't marry a woman just because she's hot, because so is hell, and if she's a pig you'll be living in hell.
Some nice, well-meaning Christians who drink only decaf and listen to music with a soothing acoustic guitar are often quick to quote verses such as Ephesians 4:29, which says, "Let no corrupting talk come out of your mouths, but only such as is good for building up, as fits the occasion, that it may give grace to those who hear," and also Ephesians 5:4, which says, "Let there be no filthiness nor foolish talk nor crude joking, which are out of place, but instead let there be thanksgiving."
However, they tend to be worldly in their definition of what qualifies for these categories. They rarely allow the Scriptures to define appropriate speech but rather import politically correct and/or Victorian worldly definitions of nicety. To do so they often quote verses such as Galatians 5:13–14, which says, "For you were called to freedom, brothers. Only do not use your freedom as an opportunity for the flesh, but through love serve one another. For the whole law is fulfilled in one word: 'You shall love your neighbor as yourself.'" What they conveniently overlook is that this is written by the same guy who said religion is like a steaming pile that the neighbor's dog leaves in your yard. Furthermore, his words that precede this amazing love statement are: "I wish those who unsettle you would emasculate themselves!"9
Indeed, we are to be "kind to one another,"10 which means that Christians should be kind to other Christians, but apparently if someone wants to say that we need Jesus plus something else for our justification (e.g., circumcision for the Judaizers in Galatia) then we should also mock them and ask them to cut their whole pickle off and attend Bobbitt Bible Church as a sign of true varsity religious devotion.
Paul's ability to connect his mocking invitation to self-emasculation with love may be what Peter meant when he said that some of Paul's writings are "hard to understand."11 Thus, our speech should be not only gracious but also salty, as Colossians 4:6 says: "Let your speech always be gracious, seasoned with salt, so that you may know how you ought to answer each person." We will examine just a few salty sections of the New Testament so we can spend more time studying stand-up Jesus.
In Acts 12:12–17 we read that Peter was locked out of a church prayer meeting. Likewise, Revelation 3:20 gives a funny picture of Jesus being locked out of a church potluck and pounding on the door, saying, "Behold, I stand at the door and knock. If anyone hears my voice and opens the door, I will come in to him and eat with him, and he with me."
Also, in Luke 24:18, after Jesus' resurrection, there is a hilarious discussion between Jesus and some guys as they walked together on the road. As if Jesus were stupid and did not watch the news, they asked him about himself, and a guy named Cleopas asked Jesus, "Are you the only visitor to Jerusalem who does not know the things that have happened there in these days?" The subtle irony is worth at least a smirk.
Have something to say about this article? Leave your comment via Facebook below!
advertise with us
Example: "Gen 1:1" "John 3" "Moses" "trust"
Advanced Search
Listen to Your Favorite Pastors