Red, White and Blue
Laura Hayden, Author
Friday, March 20, 2009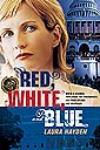 They rode up the elevator in silence. It wasn't until they reached the door to the suite, flanked by Secret Service agents, that Wes hesitated.
Kate fought the urge to say, "You're going in with me, aren't you?" She realized she needed to speak to Emily in private. If any of the campaign entourage still hung about, Kate would have to bide her time, smile, make nice with the natives, and wait for her chance after all the hoopla finally ended. It had been relatively easy to have the candidate's ear in private, but getting the attention of the next president would be more complicated.
She practiced her smile on the two agents, whose names she needed to learn. Then she stopped herself.
Or maybe after tonight it wouldn't matter.
"This is where I say good-bye." Wes leaned over and kissed her forehead. "And good luck. Let me know what happens."
"Thanks. I will," she whispered. Drawing in a deep breath, Kate reached for the doorknob, but the agent on the right beat her to it.
"Allow me, Ms. Rosen." He opened the door.
It was a testament to the construction of the hotel that she heard little in the way of sound from the suite until the door opened. Then a cacophony of laughter and voices met her, the celebration evidently still in full swing. The crowd had dwindled some, but an impressive number of folks still lingered, including several of Washington's biggest power players, senior members of the party, a large assortment of Benton family members, and some of the key campaign staffers.
Kate didn't see Emily at first but finally spotted her in a corner of the room, holding court. They made eye contact and Emily raised her hand as if saying, Over here and motioned Kate over. In response, Kate began to pick her way through the clusters of people. She was stopped every foot or so to be congratulated, hugged, and offered a drink.
She felt odd accepting the accolades, but she had no trouble waving off the libations. The last thing she needed was the muddle of alcohol. She could only hope that Emily had kept a clear head as well.
Before Kate could reach Emily's position, she bumped into a rather solid male form. Before she could recover her balance, a hand grasped her elbow and she was hit in the face with a cloud of whiskey breath.
"Katie-girl!" Emily's old family adviser Dozier Marsh pulled her into an awkward embrace. He might have looked like someone's sainted grandfather, but it was as far from what he really was as the North Pole from Antarctica. He was the ultimate political fixer—a devious, dangerous old power broker with a fondness for hard liquor and Emily, though not always in that order. And right now, he was acting like a lecherous uncle.
Great-uncle.
"Where you been, darlin'?" he wheezed. "Hard to have a party without Emily's right-hand gal!" He tried to swing her around. The move would have made them both fall over had the young aide standing next to him not reached up and steadied him.
"Sir, perhaps you'd rather sit," the aide said.
Dozier gave Kate a grin and leaned heavily against his aide. "I suspect you're right, Percy. The room is definitely leaning to one side." He dropped heavily into the nearest chair, managing to spill two drinks that were abandoned on the nearby end table. He stared blearily at the mess. "Would you be a dear, Kate, and get me a couple of cocktail napkins so I can clean up behind my sorry, drunken self? I'd ask Perry here, but he's playing a key role in supporting me."
"Now, Dozier . . ." Emily's voice knifed neatly through the chatter, instantly commanding the attention of the room. "You're not asking the future White House chief of staff to be your fetch-it girl, are you?"
Have something to say about this article? Leave your comment via Facebook below!
advertise with us
Example: "Gen 1:1" "John 3" "Moses" "trust"
Advanced Search
Listen to Your Favorite Pastors