The Great Christmas Bowl
Susan May Warren, Author
Friday, October 16, 2009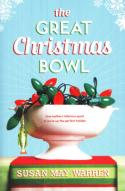 EDITOR'S NOTE: The following is an excerpt from The Great Christmas Bowl by Susan May Warren (Tyndale House).
Chapter 1
I've always been a football fan, the kind of woman who could easily find herself parked on the sofa any given Sunday afternoon, rooting for my favorite team. I've never been a gambler, never played fantasy football, never followed my team during the hot summer months. I'm a fall-season-until-Super-Bowl-only fan, but die-hard nonetheless. Something about investing my emotions for three hours in the fate of eleven men dressed in purple tights soothes my busy spirit.
Having given birth to three sons, I dreamed I'd have the makings of a starring offensive lineup. My oldest son, Neil, would play quarterback; Brett would be a running back; and my youngest, Kevin, would be a wide receiver. My daughters and I would lead cheers from the stands. My husband, Mike, who had played in our hometown high school and helped bring them to state in his senior year, would help coach. We'd be a football family, training with weights and running in the off-season. We'd plan our vacations around summer practices, and I'd join the booster club, maybe sell raffle tickets, even host the end-of-the-year potluck.
If girls could have played football in our tiny town, I know that Brianna and Amy would have joined the team. They became my cohorts, huddling under stadium blankets and clapping their mittens together as we cheered our high school team to victory.
Alas, Neil joined chess club, and Brett became a lead in the school plays.
The football gene seemed to have eluded even our youngest son. A boy who would rather sit on the sofa moving his thumbs in furious online game playing as his only form of exercise, Kevin didn't possess even a hint of interest in football. I knew he'd inherited some athleticism, as evidenced by the discarded sports equipment left in his wake over the years: hockey skates, pads, helmet, basketball shoes, a tennis racket, a baseball glove. All abandoned after one season of hopeful use.
The only sport that seemed to take had been soccer. For three years I entered into the world of soccer mom, investing in my own foldout chair and a cooler. Perhaps it was his boundless energy that allowed him to play nearly the entire game, but Kevin had a knack for getting the ball in the net. Too bad our community soccer program ended at sixth grade, because Big Lake might have had its very own star. I'd hoped his interest would transfer to football, the other fall sport, but the old pigskin seemed as interesting to Kevin as cleaning his room.
Meanwhile, Neil, Brett, Brianna, and Amy graduated and moved out of the house, bound for college—most obtaining scholarships, much to the relief of my overworked, underpaid EMT husband. By the time Kevin moved into Neil's basement teen hangout room, Neil was married and working as a CPA in Milwaukee, Brett was doing commercials in Chicago, Brianna had started graduate school for psychology, and Amy was studying abroad in London.
I worried for Kevin as he approached his senior year, envisioning him taking on a post-high school job at the local Dairy Queen while he honed his gaming skills, waiting for his future to somehow find him in the dark recesses of our basement amid his piled dirty clothing, his unmade bed, and the debris of pizza cartons. How I longed for him to grow up.
So the day he came home from school clutching a medical release form for football in his hand, I wondered if perhaps he had a high fever and needed immediate hospitalization.
Have something to say about this article? Leave your comment via Facebook below!
advertise with us
Example: "Gen 1:1" "John 3" "Moses" "trust"
Advanced Search
Listen to Your Favorite Pastors