The Moment Between
Nicole Baart, Author
Tuesday, June 02, 2009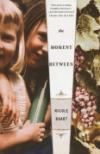 It was a nice scenario, but Abigail wasn't one to waste too much energy on regret, and she abandoned such nonsense the same way she set aside every other impossible dream: she placed it firmly out of her mind. A few years later when Blake and Colton approached her about being a partner, she was even able to congratulate herself that her business card would read Johnson, McNally & Bennett instead of Johnson, McNally & McNally. She convinced herself that it was much more satisfying this way.
For his part, after their less than romantic encounter in his office, Colton was nothing but a gentleman to Abigail. He treated her with the same respect, the same quiet yet somehow condescending pride of a father figure. Abigail was reduced from a possible lover to the discarded role of a dependable daughter. It was a character she was rather good at playing.
***
Lou Bennett was a father when he could have been a grandfather.
He met Melody Van Bemmel at Chevy's Café a week after he turned forty-five. It was nearly a blizzard outside, and she blew into the warm restaurant off-balance and trembling as if she were a leaf driven by the vicious wind. When the door slammed behind her, Melody gasped, stomped her booted feet, and flung the hood of her parka back. She smiled shyly, looking around as if her entrance had been staged, as if she were taking her place beneath the spotlight and now that she was front and center she had forgotten her lines.
Everyone in the café glanced up at her for the blink of an eye and then turned back to their coffees and specials of the day without a second thought. Everyone except Lou. He had fallen in love the moment Melody raised her hands to turn back her hood. They were little hands swimming in a pair of men's work gloves that were so big on her fingers they nearly slid off. Lou imagined they were his gloves. He wished they were.
And just as quickly as he longed for her, Lou hated himself for it. She was a child. Her eyes were too clear, her skin too bright for her to even look twice at a man whose own skin was as deeply lined as those etchings he had seen on display in the American National Bank. But when she caught his eye, when her lips pulled up slightly just for him, Lou knew there was nothing that could be done about it. He was hers, even if she never acknowledged his existence. Even if he loved her in secret until the day he died.
As it turned out, he didn't have to. Melody came to Lou in the most natural, ordinary way: she brushed against the edge of his life and found herself inexorably pulled in. He didn't even know he was drowning until he felt himself reach for her and cling for dear life.
They were married less than a year later, and though Melody was not as young as Lou had imagined, when she walked down the aisle in a confection of white, a little shiver crept up Lou's spine because she did not look twenty-five. Twenty years, he thought in the second before the preacher asked him if he would have her and hold her until "death do you part."
Lou said, "I do" without hesitation, but somewhere in the back of his mind he faltered. There was a nagging suspicion, an accusatory guilt that made him wonder if he had made her the happiest woman alive like she claimed or if he had involuntarily ruined her life.
It took Melody almost six years to get pregnant, though they tried to make a baby on their wedding night. She saw doctors and gynecologists and fertility specialists, but no one could tell her why her womb would not swell with a child. For a while, Lou entertained the possibility of joining her at one of her appointments, but those sorts of things made him unbearably uncomfortable. He avoided the conversation he knew Melody wanted to have the same way that he avoided the drawer where she kept her neat pile of lace-trimmed underwear.
Have something to say about this article? Leave your comment via Facebook below!
advertise with us
Example: "Gen 1:1" "John 3" "Moses" "trust"
Advanced Search
Listen to Your Favorite Pastors