Seeking a Social Network: The Oscars 2011
Greg Garrett, Patheos.com Contributor
Thursday, February 24, 2011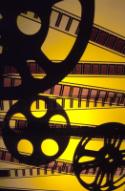 Is this what community looks like in the 21st century? Yes and no. The Social Network is a cautionary tale that we can easily lose sight of each other and what matters and be left alone with our machines. But it also reminds us that we build community through our actions to each other—and destroy it in the same way. An IGN review gets to the core of things: if you knew the film's versions of Zuckerberg and these other folks in real life, you'd probably block them on Facebook.
The same might be true of the misfits and misanthropes of True Grit, were Facebook an option in their case. The Coen Brothers' remake of the earlier film featuring John Wayne and adaptation of the William Portis novel is about grace—the possibility of it, the seeming scarcity of it, and how it is found ultimately only through the lives and love of others. When Mattie Ross's (Hailee Steinfeld) father is killed by Tom Chaney (Josh Brolin), she vows to see him brought to justice, and hires Rooster Cogburn (Jeff Bridges, in the John Wayne role) to bring him in—or kill him in the process. She and Texas Ranger LeBoeuf (Matt Damon) join Cogburn to see the quest done, and along the way they encounter blizzards, bad guys, snakes—lots of snakes!—and the challenge of human community even among those whose goals are in alignment.

Human beings are difficult to get along with under most circumstances, as those of us in a faith or wisdom community know, and at one point it looks as though all three members of our hunting party will go their separate ways. But when Mattie finds Tom and falls into the clutches of him and the gang of outlaws sheltering him, our heroes rise to their better natures, and grace comes into the picture. The wonderful scene where Rooster Cogburn turns around and rides into a hail of gunfire to rescue Mattie is no less important than LeBoeuf's return, and much less important than Rooster carrying the snake-bit Mattie through the night in his arms to get her to safety. Early in the movie he has belittled Mattie by calling her "Little Sister"; by movie's end, he has grown into the realization that she is his sister, and accepted that she requires his care. Moreover, this connection and community gives meaning in lives with too few connections; both characters remember these few days together to the end of their lives.
The King's Speech is a "based on actual events" film that comes with the usual low-grade controversies about factuality. I typically dismiss these in a good movie: no matter which parts of the movie are historically true, it's all emotionally true. King George VI (played here by Colin Firth) did have a serious speech impediment, he did work with Lionel Logue, an Australian speech therapist (played by Geoffrey Rush), and their interaction was essential not just for the king to become a better speaker, but to become a better king, and a better human being. The scenes where the two of them face off shimmer with energy, tension, and, ultimately, grace. In a very real sense, their interaction makes King George into the person the world needs him to be—and is a taste of love and beauty in Lionel's life as well.
A couple of weeks ago I heard a beautiful ordination sermon from Michael Curry, the Bishop of North Carolina, one of the great preachers in the Episcopal Church. He made reference to the essential role of the therapist in The King's Speech, and said it was a priestly role; he said that my friend being ordained (and all priests, pastors, and pastoral people) needed to become Australian speech therapists! By this, he meant that she (and they) needed to help people to find their voices, to speak out courageously, and to live into their responsibilities.
Recently on Movie Features
Have something to say about this article? Leave your comment via Facebook below!
advertise with us
Example: "Gen 1:1" "John 3" "Moses" "trust"
Advanced Search
Listen to Your Favorite Pastors