Epicenter DVD Elaborates on End-Times Theology
Annabelle Robertson, Entertainment Critic
Wednesday, July 18, 2007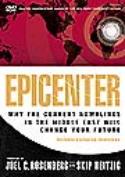 In 2001, Rosenberg left politics to write his first novel, which opened with a kamikaze terrorist flight attacking the U.S. Months later, 9/11 sent Rosenberg's book, The Last Jihad to the top of the New York Times Best Seller List. His second novel, The Last Days, portrayed the death of Yasser Arafat, 13 months before it occurred, prompting U.S. News and World Report to dub Rosenberg "a modern Nostradamus."
The author's DVD makes some very important points about the dangers of radical Muslim theology. The bonus footage includes exclusive interviews with people like Benjamin Netanyahu, former Israeli prime minister, and Natan Sharansky, former Israeli deputy prime minister. And if ever there was a doubt about the Islamic terrorist's commitment to destroy both the U.S. and Israel, Rosenberg makes a sound case. It also describes the exciting work that the Holy Spirit is doing in Iran, where at least a million people have become believers—up from just 500 in 1979.

Rosenberg's theology, however, leaves something to be desired. Instead of interviewing academic theologians, for example, he substitutes extensive footage of pastors and author LaHaye. Gary DeMar, who represents one strand of covenant theologians, is a radio host and author (End Times Fiction: A Biblical Consideration of the Left Behind Theology, 2001) who often debates Rosenberg about the biblical teaching that informs his books. DeMar calls it "newspaper exegesis," explaining that instead of using Scripture to interpret Scripture, which is a basic premise of sound exegesis, doomsday prophets like Rosenberg instead interpret the headlines of the day (especially the reigning world power) as the "Magog" of Ezekiel 38. It is not the first time that this has been done, says DeMar, who cites the following historical examples:

4th Century: Goths
5th Century: Goths and Moors
7th Century: Huns
8th Century: Islamic Empire
10th Century: Hungarians
11th Century: Turkish speaking tribes
14th Century: Tartans and Mongols
16th Century: Muhammadism
16th Century: 10 dispersed tribes of Israel
16th Century: Turks and Saracens
17th Century: Native Americans
17th Century: Pope and Spain
Is it therefore any wonder that people are once again interpreting Ezekiel in the light of current events? Rosenberg, who conceded DeMar's point during their radio debate, believes that this century is different, however. He sees the rebirth of Israel and the coming rebuilding of the temple as the true fulfillment of Ezekiel 36, which will precede the events of Ezekiel 38. DeMar and other mainstream evangelicals, however (especially those of the Reformed persuasion), believe that the events of Ezekiel 36 have already came to fruition after the Exile, when the Jews returned to Israel after an absence of 400 years to rebuild their temple.
This debate has been galvanizing Christians for decades, and it will no doubt continue. Whether Jesus returns now or in the future, and what form the apocalyptic battle described by Ezekiel will take, remains to be seen. God's Kingdom—and by extension, our faith—both have an "already not yet" nature which can be interpreted in a myriad of ways. And Jesus himself said that no one can know the day or the hour of his return—"not even the angels in heaven, nor the Son" (Mark 13:32).
So instead of obsessing about the future, which Matthew warns against, perhaps we can all just focus on walking with Jesus, day by day, and extending his Kingdom here on earth. Because that, as my grandmother used to say, is a full-time job.
AUDIENCE: Mature teens and adults
DVD Extras:
Interviews with:
Benjamin Netanyahu, former Israeli prime minister
Natan Sharansky, former Israeli deputy prime minister
Tim LaHaye, author of the Left Behind series
Chuck Smith, senior pastor, Calvary Chapel of Costa Mesa
Greg Laurie, senior pastor, Harvest Christian Fellowship
Joel C. Rosenberg, author and founder of the Joshua Fund
Leading Iranian dissidents"
CAUTIONS:
Drugs/Alcohol: None
Language/Profanity: None
Sexual Content/Nudity: None
Violence: Menacing music and ominous voiceover narrative throughout documentary about the threat of United States being annihilated by terrorists, war, world events, etc.; newsreel footage of radical Islamic rallies, flag burnings, tanks, men waving uzis, and street skirmishes in which soldiers fight one another.

Have something to say about this article? Leave your comment via Facebook below!
advertise with us
Example: "Gen 1:1" "John 3" "Moses" "trust"
Advanced Search
Listen to Your Favorite Pastors