Family, Honor and Heroism Extolled in "The Legend of Zorro"
Lisa Rice, Contributing Writer
Thursday, October 27, 2005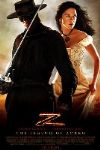 Release Date: October 28, 2005
Rating: PG (sequences of violence/peril and action, language and a couple of suggestive moments)
Genre: Action/Adventure
Run Time: 130 minutes
Director: Martin Campbell
Actors: Antonio Banderas, Giovanna Zacarias, Raul Mendez, Mary Crosby, Catherine Zeta-Jones, Rufus Sewell, Alexa Benedetti, and Adrian Alonso.
An action-packed, over-the-top-campy, swashbuckling movie, "The Legend of Zorro" extols family, honor and heroism. As in "The Greatest Game Ever Played," it's a ten-year-old who steals the show, but it's also fun to see the humorous, daring antics of the admittedly aging-but-dashing Antonio Banderas and his delightful chemistry with the strong and beautiful Catherine Zeta-Jones.
Like the superheroes in "The Incredibles," Banderas as the famous Zorro (Alejandro de la Vega) is trying to give up his secret identity and live a "normal" life. However, he and his wife Elena (Zeta-Jones), are forced back into action in the year 1850, as they find they are needed to ensure the future of the shaky, pre-Civil War United States. After fighting to help California become the 31st state of the Union, Zorro learns that the same forces which conspired to keep California from becoming part of the United States are plotting to unleash a threat that has been 500 years in the making. Of course, only he – and the family he is struggling to reunite – can stop it.
Alejandro and Elena have a ten-year-old boy, Joaquin (Adrian Alonso), who knows nothing of his father's secret life, though the boy shows many signs of latent heroism. When the evil tyrants' plan goes into full swing, Zorro is called upon to save the day against his new nemesis, Armand (Rufus Sewell). Elena dons a mask and joins in the clandestine mission and swashbuckling as well – not only to save the world, but also to protect her family from the knowledge of a powerful and dangerous secret. Not to be outdone, young Joaquin springs into action at just the right time, showing his colors as a true Zorro offspring and raising the stakes in this dangerous game of massive international significance.
But as the story unfolds, some crucial questions remain. Can the shaky relationship between Zorro and Elena withstand the pressure of the secrets and the plots at a time when unity and trust is so crucial? Is it too late to stop Armand's masterful plan?

"The Legend of Zorro" is clever, fast moving, and full of adventure. There are plenty of acrobatic lunges, flips, swordfights, leather whips, flapping capes and escapades on horseback. Certainly the movie calls for a "willing suspension of disbelief" (Joaquin really doesn't know it's his dad in that mask? The horse really smokes and drinks?). But that's okay. It's Zorro.

The movie shows how vigilantes wear masks to protect their loved ones as they join the crusade for justice. It also examines the dilemma of the avenger as he struggles to be there for the public in its hour of need and spend quality time with his family. Indeed, the biting, often tongue-in-cheek, on-screen banter between Banderas and Zeta-Jones portrays their marital strain in an entertaining way and makes for some great story tension. The Welsh-born Zeta-Jones is amazingly believable as a Spanish woman, and young Adrian Alonso is an adorable, show-stealing rising star as he masterfully handles both humor and action.

Despite the fact that Banderas shows his age – especially in the classic shot of Zorro, with sword drawn, riding on the soaring horse, Tornado – and despite the overdone, perhaps overused storyline, the movie should do well. Incidentally, at the screening there were two preteen boys next to me who roared with laughter and stayed glued to the screen during the entire movie.

As for worldview elements, there are some light obscenities (most of them rebuked) and marked action violence (including murders) pervades the film, though it has the same spirited feel as "The Pirates of the Caribbean."

Typical of some other Banderas movies ("Spy Kids"), "The Legend of Zorro" counteracts Hispanic stereotypes, extols the family – especially the important role of a loving father who knows how to draw children into life – and portrays Christians as strong, courageous, godly and real. In fact, the priest in the movie quotes scripture, masterfully swordfights the bad guys and at one point even reads the "love chapter."

Overall, "Zorro" is a movie with everything to offer during the fall family entertainment season: adventure, romance and heart.

AUDIENCE: Older children and adults

OBJECTIONABLE CONTENT:
Drugs/Alcohol: Pipe smoking and alcohol portrayed.
Language: Approximately 12 mild obscenities – many from a young boy, most of which are rebuked.
Sex: None, but Zeta-Jones' character wears very low-cut dresses, and there are a few suggestive moments in the kissing scenes.
Violence: Excessive, with fist fights, sword fights, hot wax thrown on a man, explosives thrown, men murdered, etc.
Have something to say about this article? Leave your comment via Facebook below!
advertise with us
Example: "Gen 1:1" "John 3" "Moses" "trust"
Advanced Search
Listen to Your Favorite Pastors