Imagination Soars to Infinity and Beyond in Toy Story 3
Christa Banister, Crosswalk.com Contributing Writer
Friday, June 18, 2010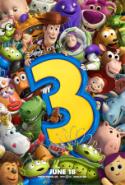 DVD Release Date: November 2, 2010
Theatrical Release Date: June 18, 2010
Rating: G
Genre: Family/Animated, Sequel
Run Time: 103 min.
Director: Lee Unkrich
Voices by: Tom Hanks, Tim Allen, Joan Cusack, Ned Beatty, Don Rickles, Michael Keaton, Wallace Shawn, John Ratzenberger, Estelle Harris, Jodi Benson, John Morris, Laurie Metcalf, Blake Clark, Teddy Newton, Beatrice Miller

Aside from The Lord of the Rings, of course, there are few recent film trilogies that have truly dazzled from beginning to end.

But now, with the release of Toy Story 3 almost 11 years after its predecessor (!!!), the franchise continues to soar to infinity and beyond, thanks to heartfelt storytelling, great celebrity voice talent and imaginative action sequences featuring Woody, Buzz and the rest of everyone's favorite toys.

Frankly, it's amazing just how much someone can actually care about what's essentially copious amounts of plastic—the true mark of exceptional character development on the part of Pixar, which has really become the gold standard in that department. Building upon the theme of abandonment that was developed in Toy Story 2, the latest installment begins with the realization that Andy (voiced by John Morris) has, for better or worse, outgrown his toys.

In fact, his little sister Molly (Beatrice Miller) is downright embarrassed that Andy would want to keep any of them when there are far more pressing matters to discuss (like when she's officially inheriting his room and stereo system now that he's heading off to college). But even with Molly's lack of affection for his friends of old, Andy is decidedly more sentimental and decides that Woody (Tom Hanks) will leave home with him.

Meanwhile, Buzz Lightyear (Tim Allen), the daring, always-speaks-her-mind cowgirl, Jessie (Joan Cusack), Mr. and Mrs. Potato Head (Don Rickles and Estelle Harris, respectively) and the rest of the crew have been boxed up and relegated to the attic, much to their obvious chagrin. Sadly, they have no idea that things are about to get a whole lot worse when a mix-up with the trash nearly lands them a spot in the local landfill.

Being the noble cowboy that he is, however, Woody sacrifices his shot at the cushy college life with Andy and saves the day. After rescuing them from the clutches of the local garbage truck, Woody and his friends are safely resting in a donation box and heading to Sunnyside, a local daycare center. Looking forward to being somewhere where they'll actually be played with all day long, something that hasn't happened much in Andy's teenage years, Woody doesn't exactly share his friends' enthusiastic feelings about their new lives, given his loyalty to Andy.

As it turns out, life at Sunnyside isn't quite all it's cracked up to be anyway, especially when the toys land in the room with all the rambunctious toddlers. After being spit on, thrown every which way and marked up with permanent marker, Buzz and the rest of his pals are determined to make their way to the next room over—a heavenly place where the kids play a lot nicer.

Once the self-proclaimed "King of Sunnyside," Lotso (Ned Beatty) gets wind of the newbies' plan, he makes it his personal mission to make their lives as uncomfortable as possible, even locking them up in makeshift prison cells and punishing them whenever they go against his wishes.

It should be noted that the slightly darker turn of affairs definitely makes Toy Story 3 a little less accessible for younger children, particularly those who scare easily. As someone who was deathly afraid of the flying monkeys in The Wizard of Oz can attest, the maniacal chimp that's on the prowl near the end is nothing short of frightening. A few of the main characters' brushes with death could also elicit a few nightmares.
Have something to say about this article? Leave your comment via Facebook below!
advertise with us
Example: "Gen 1:1" "John 3" "Moses" "trust"
Advanced Search
Listen to Your Favorite Pastors