20 Things You Probably Didn't Know About: Michael Tait
Sydney Alexander, Contributing Writer
Wednesday, September 10, 2003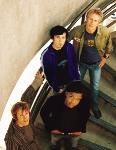 We already know what Michael Tait thinks if people label him a "Jesus Freak." But what unusual facts could we uncover about this soulful rock star from dc Talk and front man for his current outfit, Tait? Plenty! Read on and find out a few obscurities about the artist who's been spending his spare time holed up in the studio for the second Tait record and is also set to portray Jesus in the upcoming rock opera Hero.

20. Riding his Harley = stress relief.
Forget that bowl of Ben & Jerry's or lighting an aromatherapy candle if Michael Tait is having a stressful day. For him, stress relief is just a Harley ride away. "When you are on a Harley, you are as carefree as possible," he muses. "The stress rolls away as you thunder down the road. You're feeling all powerful just for the moment. I love the vintage look. It's a Cadillac version of a bike."

19. Why just ski when you can snowboard?
Although he's admitted in a few online interviews that his dad encouraged him to stay away from sports because "he was such a little guy growing up," snowboarding in the Alps is a hobby he can't get enough of.

18. Michael and Toby competed early on in a voice-off and …
Many years before dc Talk would become a household name in the Christian rock scene, Michael and Toby participated in the same state vocal competition where Toby sang in an octet, and Michael showed off his pipes in a solo endeavor. Final result? Toby's group placed third, and Michael won the competition.

17. Tales from the dating crypt
As the only bachelor in dc talk, Michael has apparently let the "right one" get away on several occasions. That's the word on the street, according to his sisters, anyway. "My worst dating experience was having five sisters critiquing each girl I dated, and then telling me I let the right one get away when we broke up."

16. Now about that balloon mortgage…
In need of a five-bedroom bungalow on the lake? Michael Tait could've helped you with that if he hadn't pursued music. Tait once dreamed of a possible career as a real estate salesman; and, believe it or not, he also considered doing voice-over work in Hollywood. Paging Nemo.

15. Passport, please?
Michael Tait loves to travel and has more stamps on his passport than most of us. It sure doesn't hurt to have a job like his when it comes to seeing the world. But in all his years of checking suitcases, he's yet to check out the culture of one particular locale: Russia.

14. And now a message for the fans…
Tait, Michael's band in the solo phase of his career, is known for having pretty enthusiastic admirers that send all kinds of goodies to the guys. And while he certainly appreciates all the tokens of affection, he has just one piece of advice: "We don't open mail quickly, and homemade food doesn't ship well."

13. Fly fishing, anyone?
If you live just outside of Nashville, you're quite likely to catch Michael and his Tait cohorts at the movies on a day off. But even with all the recent summer blockbusters hitting the big screen, Michael's all-time favorite movie is still the fly-fishing classic "A River Runs Through It."

12. Michael's putting the "quiet" back in quiet times.
While he's apt to crank up the decibels during a show, Michael says he enjoys a little quiet time when he's in his car. "Talking to God is very informal for me," he says.

11. More mangos, fewer cell phone calls.
In a story published on christianmusicplanet.com, Michael says his plan in the next 10 years is: "Living in Brazil with the wife and kids and eating mangos at my thatched beach hut. I want to live in a warm climate. Hopefully, I will still be rocking out and making less calls on the cell phone."

Have something to say about this article? Leave your comment via Facebook below!
advertise with us
Example: "Gen 1:1" "John 3" "Moses" "trust"
Advanced Search
Listen to Your Favorite Pastors