20 Things You Probably Didn't Know About: Carman
Michael Nolan, Contributing Writer
Friday, November 21, 2003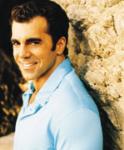 After a three-year hiatus from the studio, Carman is raising a holy ruckus with his just-released "House of Praise" (Cross Driven). Never one to be at a loss for words, we tried to shake loose some information that just might be news to you.
20. One-Two Punch
Carman fans know he's a fan of boxing, but what are his favorite flicks on the subject? "'Raging Bull' was a greater artistic achievement, but 'Rocky' was able to connect with more people. Everybody understood it and identified with a character who was up against the odds."
19. The Fat Lady Won't Be Singing
Although he's tackled a plethora of musical styles from hip-hop to country, count on him to eschew one genre: "Opera," he laughs, "because I can't hit the notes."
18. Obeying the Write of Way
When Carman is in a creative mood, he often hops in his SUV and takes a long drive. "There are no distractions. I develop most of my ideas when I'm driving," he observes. He frequently uses the voicemail on his cell phone as a tape recorder to capture a melody or lyric.
17. No Place Like Home
Although he's a master onstage, he's a mess at home. "I can't keep my house clean," he admits. "It comes from living in hotels so much of the time. I have to remind myself that no maid is going to come."
16. Self Awareness
"I never really consider myself anything more than a razzle-dazzle praise & worship leader."
15. Unsung Hero
"If I had to pick one person as my hero, it would be my brother, Mario, who died two years ago of a heart attack. At age 29, he became the youngest police chief in New Jersey and was honored many times for his service during his career. I've always emulated him," he reflects.
14. Say Uncle
The notion of "Uncle Carman" may be hard for his fans to picture, but he, in fact, has five nieces ranging in age from 9 to 33. "I'm the uncle they call when they need to talk things out," he confides. "They come to me and say, 'I'm in a mess. Can you fix this?'"
13. Carman's Mama Speaks
His best advice from his mother: "'Don't pay attention to what anybody else says. Do what you know you're supposed to do.' She was a child prodigy on the accordion, but she never got to fulfill her passion of going into the entertainment world. I have kind of carried on the torch and maybe overachieved," he chuckles.
12. World-Wide Carman
Along with all the features you'd expect to find at an artist's Web site, Carman writes a daily devotional for www.carman.org. "Writing 365 devotions — a lot of work," he notes wryly.
11. The Good Old Days
Although Carman has performed in many of the nation's largest arenas and stadiums, he has never lost his fondness for small venues. "I had the most fun when I was going to theatres with just a six-man crew. I'd walk onstage with just me, a guitar, background tracks and a Bible. After the concert, I would go out and sit down, sign autographs, shake hands and talk to people face to face."
10. Picture Perfect
To view Carman's favorite picture in his home, you'd need to head to his workout room. Displayed there is a shot of Sugar Ray Leonard and Roberto Duran from the 1980 boxing match dubbed "The Brawl in Montreal." The appeal is the story of the underestimated underdog from the streets of Panama who succeeded in defeating the unbeaten Leonard.
Have something to say about this article? Leave your comment via Facebook below!
advertise with us
Example: "Gen 1:1" "John 3" "Moses" "trust"
Advanced Search
Listen to Your Favorite Pastors