21 Things You Probably Didn't Know About: 4Him
Michael Nolan, Contributing Writer
Thursday, December 18, 2003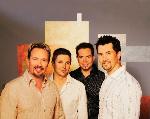 Recently, 4HIM released "Visible" (Word), its 10th studio album in the group's 13-year history. Characterized as a call to action delivered to the church, it's a real eye-opener filled with the four guys' signature full-force vocals. Although Andy Chrisman, Kirk Sullivan, Mark Harris and Marty Magehee have been known and loved by audiences for more than a decade, we set out to uncover a little of the unknown.

21. A Band by Any Other Name...
The group claims they also considered naming the group 4Runners, The Varsity (complete with letter jackets) and, with a special nod to its youngest member, Andy, Three Men and a Baby.

20. Timeless Tracks
Although 4HIM has 24 No. 1 songs to its credit, there are a few songs the guys say they'll never get tired of singing. Kirk's pick is "The Basics of Life." Marty and Mark lean toward "Where There Is Faith."

19. When Good Boys Go Grunge
Compare the tidy appearance of the group's early albums with its latest shirttails-out look. What's the deal? Mark: "It reflects what our concerts are like — very casual." Andy: "We want to look like Third Day. Who doesn't?"

18. Movie Madness
Marty describes Kirk's laughter in movie theaters as "harshly relentless. It hits you around 120 or 125 decibels. He tends to do it with his mouth full of popcorn, so there's 'shrapnel' going everywhere."

17. Phone Etiquette
And apparently Kirk has problems with volume control when on his cell phone. Mark: "You can't be around him." Marty: "He wears a headset, so he just screams into the air."

16. But Mark Is Also "Marked"
Andy claims that Mark's cell phone tone creates its own set of problems. "I love [the song by Tears for Fears] 'Everybody Wants to Rule the World' but not 38 times a day," he grouses. In defense, Mark reports that he has downloaded a new set of ring tones.

15. 5HIM, 6HIM, 7HIM, etc.
Over the years, the guys have inducted a number of close comrades as auxiliary members of the group, including producers Don Koch and Michael Omartian, former Benson A&R rep Andy Ivey and actor Jim Caviezel ("The Passion of the Christ", "The Count of Monte Cristo"), who is a friend of the guys.

14. Sharpies, Beware!
4HIM often signs autographs after concerts, but you might not want to
loan your Sharpie to Andy. "He mutilates every one he gets his hands on," notes Kirk.

13. What Left the Singers Shell-shocked?
"We were shocked to win our Dove Awards," acknowledges Marty. "To be honored in front of our peers meant a lot to us," adds Kirk. In fact, since winning "New Artist of the Year" in 1991, 4HIM has won "Group of the Year" four times.

12. A Case of the Butterflies
Even after hundreds of concerts, the men rarely get stage fright, although Andy admits he can get a little anxious when 4HIM performs before peers at Gospel Music Association or Christian Booksellers Association.

11. All Roads Lead to…
After years on the tour bus, the guys know where good grub can be found. They claim they would be willing to route a tour to visit Papasito's in Houston (for fajitas) and China Grill in New York City.

10. Known by Heart
Through repeated viewings aboard tour buses, the foursome claim they can practically recite the dialogue from the movies "Waiting for Guffman" and "Raising Arizona."

Have something to say about this article? Leave your comment via Facebook below!
advertise with us
Example: "Gen 1:1" "John 3" "Moses" "trust"
Advanced Search
Listen to Your Favorite Pastors