Caedmon's Call: Will This World Record Break You?
Jay Swartzendruber, CCM Magazine
Tuesday, January 18, 2005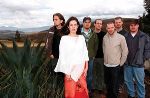 If you were to take a quick glance at Caedmon's Call's impressive track record since the group's inception 12 years ago, you might assume this talent-filled band had discovered some formula for success. After all, even before signing its first major label deal in 1997, the popular independent band had sales in excess of 40,000 albums. Then Caedmon's first label release sold more copies its first week out than any Christian market debut prior. And while going on to log 1.5 million albums in career sales, the band — which includes Cliff Young (vocals, guitar), Danielle Young (vocals), Andrew Osenga (vocals, acoustic/electric guitar), Josh Moore (keys, B3, accordion, harmonica), Jeff Miller (bass), Todd Bragg (drums) and Garett Buell (percussion) — has landed 14 top five Christian radio hits (half of which went No. 1) and taken home multiple Dove awards.
The group's secret? "Caedmon's is unique in that if there were ever any normal way to do things, Caedmon's always did it the other way. We did everything backward. That wasn't necessarily intentional; that was just the way we worked," says Bragg.
Take the band's songwriting history, for instance. Songs that have made the final cut and appeared on Caedmon's Call albums often started with relationships first and then passed creative muster. Most notably, founding member Aaron Tate quit performing with Caedmon's years before the group signed its first record deal, yet he remained one of the band's principal songwriters over the course of several releases. Even on Caedmon's new album, "Share the Well" (Essential), the group's 14th release, independent artist Randall Goodgame was welcomed as a writer or co-writer of seven songs, including the title track.
"We always put the songs on the albums that we felt were the strongest — whoever wrote them," says Bragg. "And so there was never a formula or a calculated quota that we had to meet.
"Randall's an incredible writer," he continues. "He's one of the only writers I know who can really take a song and write it for somebody else. And that's really hard to do with Caedmon's because it's its own monster. For him to do that — and it to work so well with what we do — has just been an amazing thing to stumble across. And he actually traveled with us to work on this album."
Traveled? Do we mean this Texan seven-piece band simply packed up and flew to Nashville for two or three months of studio time or set up shop in Los Angeles or New York to record?
Well, what do you know about "world music"?
World music is one of the only styles of music that's actually described literally by its given name. (Think about it: What do "rock," "pop," "country" and "classical" actually mean?) World music is, indeed, music that spans the globe — music with rhythms, instruments and vocal stylings that are distinctly native to a specific region of the world.
While Christian artists such as Andraé Crouch and Paul Q-Pek (of One Bad Pig fame) have occasionally tested the waters of world music, Caedmon's Call is the first Christian artist to take the whole-hearted plunge, recording "Share the Well" with Christian musicians in India, Ecuador, Brazil and Stateside on the band's home turf. The result? In addition to being the Christian community's first real world music album, "Share the Well," which released in October, may just be the most incredible Christian market release of 2004. Certainly, it's hands-down the most ambitious.
Have something to say about this article? Leave your comment via Facebook below!
advertise with us
Example: "Gen 1:1" "John 3" "Moses" "trust"
Advanced Search
Listen to Your Favorite Pastors