14 Wise Words of Advice for Upcoming High School Graduates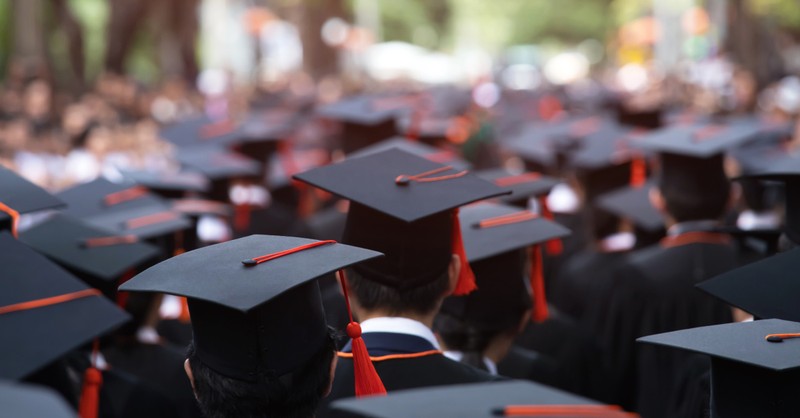 It's nearly graduation season for high schoolers, and what better time than now to think about what advice to give these young men and women on the cusp of adulthood. But first, some ground rules for sharing your wisdom with high school graduates.
Depending on your age and life experiences, you have a lot to offer high school graduates, who think they know it all but don't really. Here's what not to do when talking with a high school graduate.
Don't talk about your own experience, good or bad.
Don't pressure them about a career choice.
Don't expect them to have all the answers about their future.
Don't give them a hard time about their post-high school choice (college, gap year, trade school, etc.).
On the positive side, employ the following when congratulating a teenager upon completion of high school.
Do be sincere.
Do be short and sweet.
Do be positive.
Do be kind.
Here's 14 pieces of advice to give students who are about to graduate from high school:
1. Be the President of your life.
You are the only one in charge of you. You'll sometimes make good decisions and sometimes not-so-good decisions. But remembering you're the CEO, the head boss, of your own life is important as you navigate life beyond high school. Don't let others make decisions for you—become the President of you.
2. College isn't for everybody.
Say that out loud in some areas (Northern Virginia, I'm looking at you!) and you'll be met with incredulous stares from parents and bewilderment from teenagers. But the truth is, not everyone will benefit from a college education…and that's okay. There are other options, such as trade schools, military, certificate programs, and retail, restaurant, and construction work, that will lead to a fulfilled and happy life.
3. High school doesn't define you.
As Washington Post journalist Carl Bernstein (of Woodward and Bernstein Watergate fame) put it so eloquently in a high school commencement speech at his alma mater in 1976, "Your life isn't over if you're not at the top of this class. You've been graded and you've been tested and you've been ranked and I'm here to tell that it really doesn't mean a thing. The die isn't cast yet, the final scores aren't in. And that goes for the top of the class, too."
4. Call home often.
You might be ready to start the next chapter of your life, but don't forget, you still need Mom and Dad for advice, for a shoulder to cry on, for unconditional love, and for a reminder of what matters most. Establish a regular check-in time with them and you'll be glad you did. We video chat with our college freshman Sunday afternoons, and while some weeks we don't have a lot to talk about, it's been good for her and us to keep in touch.
5. Be open to God's leading for your life.
As Christians, we do want to remind our high school grads that God cares about them and their futures. "You may have a particular area of study or career in mind at this point but find out later it simply isn't as exciting or well-suited to you as you had thought," says Janet Holm McHenry, speaker and author of 50 Life Lessons for Grads: Surprising Advice from Recent Graduates. "Instead of quitting, do some reflection. Pray for God's leading. Consider classes you really enjoyed and activities that absorb your attention. Think about what others have said are your strengths. Take others' counsel seriously, especially when they see positive qualities and strengths in you."
6. Spread kindness.
This can't be said too much—it's up to each of us to be as kind as we can with everyone we encounter. It doesn't take much to sprinkle kindness each day, but it can make a huge difference in your own outlook and those with whom you interact.
7. Make volunteering a priority.
Whether it's with an on-campus group or an off-campus ministry, find ways to give back to the community you're in. Everyone can spare an hour a week to help another group or person. Volunteering is a wonderful way to make new friends, put your faith into action, and think of someone else besides yourself.
8. Get a job.
Spend some of your summer or school year working. It builds character as well as your bank account. We push our high schoolers to find work, partly because they need to earn their own spending money for college and partly because they need to experience a work environment. Our college freshmen scooped ice cream at an independent shop during high school, while our current high school senior grades homework at a tutoring company.
9. Always try your best.
As you make your way into the "real" world, remember you'll make mistakes. You'll fall flat on your face. You'll also have success. No matter what, you should always do the best you can.
10. Focus on the soft skills.
So much of high school revolves around what classes to take, what grades you received, and what sports or extracurricular activities you participated in, but those are all hard skills. Soft life skills include getting along with others, developing perseverance, and weathering the ups and downs. "High school is a breeze compared to college, the work world and the military. Whatever you choose to do after graduation will require grit. But God will give you that quality and more as you seek Him," says McHenry.
11. Ask questions.
While you think you know everything, increase your knowledge by asking questions. Not just of teachers or parents, but of others you meet along your journey. Be interested in other people—you never know what you might learn when you ask questions more than you give answers.
12. Listen.
Learning how to listen to others is a skill that will pay in dividends as you go out into the world. Cultivate a listening attitude when conversing with those you meet and those you know.
13. Plans change—and that's okay.
"Don't get too hung up on the plans you've made at this point for life beyond high school or what you think the next season will look like," says Elizabeth Spencer, who blogs about parenting at Guilty Chocoholic Mama. "This stage of your life is all about meeting new challenges and being made stronger by them, so don't get scared and think you've ruined your life when all of a sudden, college is harder than you expected, you don't like the major you thought you'd love or you or your roommate isn't your BFF (even though you both ticked off all of each other's 'perfect roommate' boxes). Some plot shifts and re-computing at this stage are not only normal, they are part of the journey from where you are to where God is taking you."
14. Pick up a hobby.
In high school, many teens have little time to explore their interests because every moment is packed with an eye to polishing that college resume. But once high school graduation rolls around, you can find something you want to do simply for the joy it brings. Hobbies provide creative outlets and relaxation for all ages, but I think it's especially important for those starting out their adult life to discover the enjoyment of exploring their interests.
Above all, remember that you have your whole life ahead of you—a life filled with endless possibilities. Go forth and live your best life.
Photo Credit: ©Getty Images/Rattankun Thongbun

Sarah Hamaker is a national speaker and award-winning author who loves writing romantic suspense books "where the hero and heroine fall in love while running for their lives." She's also a wife, mother of four teenagers, a therapeutic foster mom, a UMFS Foster Parent Ambassador, and podcaster (The Romantic Side of Suspense podcast). She's a biblical parent coach and certified Leadership Parenting Coach™ with a heart for helping parents develop stronger relationships with their children. For more on her encouraging and commonsense approach to raising kids, visit her online at sarahhamaker.com.