Natalie Grant: Even Better as the Real Thing
Christa Farris, CCM Magazine
Tuesday, April 05, 2005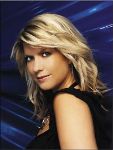 Deveraj and the people who work with him at the clinic help build relationships with locals by providing for their physical needs in hope of gaining their trust and getting them to voluntarily leave their current situation. Deveraj also built a nighttime daycare center so that the children will have a safe, clean place to go while their mothers "work."
"A lot of these girls are moms because they've been forced to have sex since they were 8, so they'd get pregnant very young," Natalie says. "They'd have no place to put their children. So if they had a small child and would start work around 5:30 at night, they'd tether their child to the bed while they service clients. That way their kid won't run away, and they don't have to worry about childcare."
Natalie says there are about 200 children who go to the daycare center and while she was there, she was able to spend some quality time with them and provide them with a few treats and trinkets her fan club had collected as a surprise for her to take on her trip.
A Place Called Hope
After seeing where these kids came from, the last stop of the trip was the Village of Hope, the rescue oasis for victims of human trafficking located two and a half hours outside of Bombay. "It's a beautiful facility," Natalie says. But what impressed her even more than the incredible schooling opportunities, practical training, pristine conditions and the overall beauty of the scenic location is the 95 percent success rate. "This spoke volumes to me," Natalie said. "Ninety-five percent of them are completely off drugs, rehabilitated, educated, and 95 percent have accepted Christ and renounced Hinduism — amazing!"
And it was through this experience of seeing these kids freed from the bondage of human trafficking that Natalie got a vision for her own "home" — The Home Foundation and a song called "Home" that she dedicates to these girls on "Awaken." "I didn't go there thinking that God was going to burden my heart and life for India. But I fell in love with the culture, the people, the city — everything. I knew I was going to spend this year doing anything I can to share funds with them as there's a desperate need for a medical clinic," Natalie says. "The best way to accomplish what I want to do was to start my own foundation. That way I can give 100 percent of the money to exactly where I want it to go."
And she's serious. In an earlier conversation with CCM's editorial staff, she said that the plan is to devote a certain number of shows on her spring tour to The Home Foundation — meaning, all profits, including commissions for booking and management, will go directly to the foundation. Natalie said she wanted to reach high goals financially, and the only way to be sure she'd reach them was to dig into her own pocket.
But when it comes to processing all that she experienced while in India, Grant says she "still has hard times with it," even months after she's returned to "life as usual."
"I really pray that God will continue to make me uncomfortable with my life because once you get back, it's very easy to get comfortable and forget the impact.
"I really don't think I'll ever be the same. What was always my driving passion was my music and making the right record. I loved the business side, too, the marketing meetings. This experience, however, has changed the course of my entire life. I've had an awakening. I've been awakened to the reality of how selfish we are and how the only way we can get outside of that is by allowing God to penetrate every area of our lives. It's funny because it's easy to blame the kind of music I did in the beginning of my career on my record company. But part of why I was doing this 'false-front' music was because I was a false front. I can't just blame it on everyone else because my music was as deep as I was. So I guess I'm learning to be honest about my failures and why I do music and have a platform. It's to effect change."

© 2005 CCM Magazine.  All rights reserved.  Used with permission.  Click here to subscribe.
Have something to say about this article? Leave your comment via Facebook below!
advertise with us
Example: "Gen 1:1" "John 3" "Moses" "trust"
Advanced Search
Listen to Your Favorite Pastors