What To Do When You Disagree with Authority
May 14, 2015
Likewise, you who are younger, be subject to the elders. Clothe yourselves, all of you, with humility toward one another, for "God opposes the proud but gives grace to the humble."
1 Peter 5:5
A number of years ago, there was a study published that surveyed 2100 pastors throughout the United States who had been fired or quit their churches. The conductors of this study asked these pastors and their churches, "What was the reason this pastor left?"
Now, you might expect to hear that these pastors were preaching heresy or that the churches they led weren't Bible-believing churches. But the study found that more than any other reason – 58% of the time – these pastors were forced out or left because of personality differences with their churches. The pastor wanted to zig and everyone else wanted to zag.
I believe that many, if not most, of the problems churches encounter today might be remedied if people would be willing to move in new directions instead of just keeping the status quo. But many churches today have so many "sacred cows" that they're unwilling to do so.
It's my prayer that the people of God today would be willing to be led by leaders who would challenge them… by those who will introduce new ideas and push the body of Christ in a new direction. Be moldable by those who are in authority over you, even when you disagree with them. Perhaps God is using them to shape you!
BE TEACHABLE BY THOSE IN AUTHORITY OVER YOU EVEN WHEN YOU DISAGREE WITH THEM.
---

For more from PowerPoint Ministries and Dr. Jack Graham, please visit www.jackgraham.org
and
Listen to Dr. Jack Graham's daily broadcast on OnePlace.com.
Watch Jack Graham and Powerpoint Ministries Video Online.

Tap into a fearless, Spirit-filled life!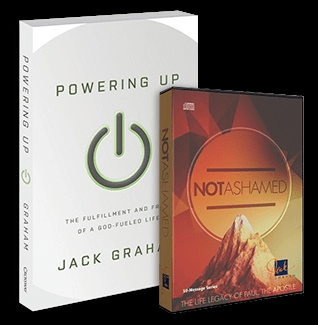 Many Christians today are paralyzed by fear when given the chance to share the Gospel. But you can rise above any apprehension you may face in sharing the hope of Jesus with others. Find out how in Pastor Jack Graham's 10-message CD series, Not Ashamed, and his encouraging book, Powering Up.
Thank you!
Jack Graham
PowerPoint Ministries