Are You a Religious Person? - Powerpoint - June 9

Are you a Religious Person?
June 9
"And this is eternal life, that they know you the only true God, and Jesus Christ whom you have sent."
John 17:3
Are you a religious person?
I don't know about you, but I hear that question fairly often and I cringe just about every time I do. I know what most people are really asking: "Is faith important to you?" But the word religion is such a loaded word because every person has a different experience.
For some, religion is mindless obedience. For others, it's sleeping through Sunday morning service. And yet for others, it's a different expression of worship altogether, whether it be in a Hindu temple, a mosque, or a synagogue.
But the real difference between Christianity and religion is clear. Religion is spelled with two letters: d-o. Do this, and you'll be a better person, receive blessings, or earn heaven. It's focused on human achievement.
Christianity, however, is spelled with four letters: d-o-n-e. It's centered around the finished work of Christ on the cross. It's not about what we can do, but what Christ has already done for us. Praise God today that you're not enslaved to mindless religious obedience, but are free to pursue a life-giving relationship with Jesus Christ!
THANK GOD THAT YOUR FAITH ISN'T BASED ON RELIGION, BUT A LIFE-GIVING RELATIONSHIP WITH JESUS CHRIST.
---

For more from PowerPoint Ministries and Dr. Jack Graham, please visit www.jackgraham.org
and
Listen to Dr. Jack Graham's daily broadcast on OnePlace.com.
Watch Jack Graham and Powerpoint Ministries Video Online.

Revitalize your prayer life in 30 days!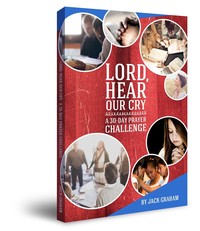 We want to help you Discover how to revitalize your prayer life in 30 days, by sending you Pastor Graham's book, 'Lord, Hear Our Cry.' It's our gift to thank you for your donation to help proclaim the Gospel 'til the whole world hears.
Thank you!
Jack Graham
PowerPoint Ministries