10 Ways to Experience More of God's Presence
Whitney Hopler, Crosswalk.com Contributing Writer
Tuesday, July 29, 2014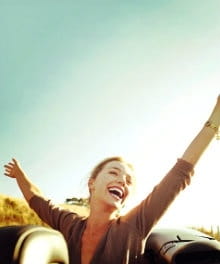 Editor's Note: The following is a report on the practical applications of Alec Rowland's upcoming book The Presence: Experiencing More of God (Tyndale House Publishers, 2014).
God has promised always to be with us, but often we're not aware of his constant presence in our lives. It's easy to get so caught up in dealing with the demands of daily life that we don't notice God at all, and we wonder when – if ever – we may experience the thrill of encountering him again.
The good news is that God loves to be close to us and wants us to know him better. If you long to experience more of God's presence, you can take steps that will lead you closer to him, inviting him to make his presence known more strongly in your life. Here's how:
Choose adventure over safety. Accept the fact that there's nothing safe about pursuing God and decide to take whatever risks you need to take in order to experience the blessing of getting closer to God. Be willing to have God turn your life upside down, reshape your values and redirect your energy. Rather than trying to stay inside your comfort zones, be open to saying "yes" to God whenever he calls you to follow him on adventures. Expect encounters with God that inspire awe and wonder in you.
Pursue revival. The definition of revival is: "the overwhelming sense of God's presence that falls powerfully on a Christian people who have become dead and lethargic in their spiritual lives, reviving those elements of the Christian life that God intends to be normal for his church." You may have heard about revivals in history or on the news that affect whole churches or entire geographic areas. Keep in mind that large-scale revivals start when individual people pursue fresh encounters with God. The signs of revival include: repenting of sin, worshiping and obeying God with joy, experiencing a new love for fellow believers that restores broken relationships, using ministry gifts both inside and outside of the church, and witnessing about God to unbelievers who then come to faith in God themselves.
Instead of trying to make a tangible encounter with God happen, prepare yourself for when God decides manifest his presence to you. The constant presence of God around you (and within you, in the form of the Holy Spirit, if you're a believer) that you may or may not sense is his essential presence, while the tangible encounters with God that capture your attention are his manifest presence. You can't convince God to show you his manifest presence whenever and however you'd like, no matter how hard you may try or how faithful you may be. God shows up on his terms only, according to his own wisdom and purposes. But you can prepare yourself for encountering God's presence in the future by making your relationship with God your top priority in life and investing it in regularly (such as through prayer, Bible reading, and service), so you'll grow closer to God and invite him to reach out to you more. Cultivating your life for God's presence isn't about your own effort as much as it is about responding to God's initiatives of love and grace so you'll be in the right place at the right time, and in the right soul condition, when God shows up.
Expect to encounter God. Supernatural encounters with God aren't actually rare; God manifests his presence through the Holy Spirit in tangible ways every day to various people on Earth. So expect to encounter God through his Spirit in a way that you can powerfully sense, whenever God decides that it's the right time and place to show up in your life that way.
Recently on Spiritual Life
Have something to say about this article? Leave your comment via Facebook below!
advertise with us
Example: "Gen 1:1" "John 3" "Moses" "trust"
Advanced Search
Listen to Your Favorite Pastors