10 Ways to Find True North
Whitney Hopler, Crosswalk.com Contributing Writer
Tuesday, September 20, 2011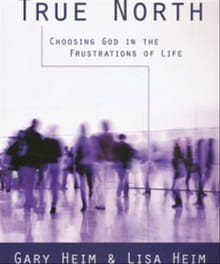 Editor's Note: The following is a report on the practical applications of Gary & Lisa Heim's book True North: Choosing God in the Frustrations of Life (Kregel Publications, 2011).
Jesus warned that trouble is inevitable in this fallen world. From illnesses and injuries to relationship conflicts and job stress, it's natural for the trouble that hits you to make you feel frustrated. But when you feel frustrated, do you stay in that place? If so, you'll find yourself stuck dealing with negative attitudes and desperate, unsuccessful attempts to control people and situations.
There's a better option. Jesus also said that He has overcome the world's troubles. If you respond to frustration with faith in Jesus, you can overcome it, too. Here's how:
Understand what's at stake. Your choice to either surrender to frustration or work to overcome it with faith matters a lot. It affects how deeply you worship God, how close you grow to Him, and how accurately you show other people what faith in action looks like.
Remember that God has purposes for the pain you go through. Every time you suffer pain, you have a choice to make: Will you groan and grumble about it, or will you trust God to lead you through it and teach you something valuable in the process? Ask God to give you the faith you need to help you trust Him to bring about good purposes from even the worst circumstances in your life. In the midst of pain, remind yourself that God's love is enough to sustain you, no matter what happens. Intentionally view your life through the lens of God's purposes, which are greater than any frustrating situation you can encounter.
Look in the right place to get your needs met. Rather than putting pressure on fallen people to meet your needs for love and respect and getting frustrated when they fail to do so enough, turn to God for the love and respect you need. Make a habit of honestly expressing your painful thoughts and feelings to God in prayer, and accepting the healing peace that He offers you. Derive your sense of love and respect from the reality that God loves you completely and unconditionally, and He makes you worthy of respect as His beloved child.
Identify what unmet desires are behind your grumbling. Whenever you catch yourself grumbling about how frustrated you are, stop and ask yourself what you want in that moment that you're not getting. Then consider how grumbling about your lack of whatever it is causes negative attitudes such as anxiety, envy, anger, shame, and pride in your life.
Understand how you try to grasp for control when you feel frustrated. Figure out when you're most tempted to manipulate people and situations to try to get what you want out of them: Is it when you feel small, weak, alone, needy, or inadequate? Then figure out how you may be using power, performance, punishment, possessions, or pleasures to try to manipulate others. Once you identify your patterns of control, pray for the Holy Spirit to humble you so you can see how pointless it is to grasp for control, and be motivated to trust God instead to provide what's best for you.
Pray for grace. Humbly confess your struggles with doubts, confusion, and discouragement to God in prayer. Then ask God to give you a fresh vision of who He is – one that will motivate you to draw closer to Him. Make pursuing a closer relationship with God your top priority above all other pursuits. When you do, you'll gradually discover why God is all you need, and how you can find true fulfillment reliably through your relationship with God. Even though the people and things of this world can fail you; God will never let you down.
Recently on Spiritual Life
Have something to say about this article? Leave your comment via Facebook below!
advertise with us
Example: "Gen 1:1" "John 3" "Moses" "trust"
Advanced Search
Listen to Your Favorite Pastors