A Reason for Hope
Rebecca Barlow Jordan, Author
Tuesday, December 27, 2011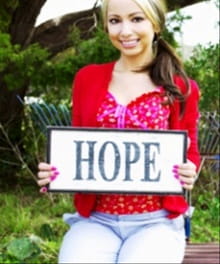 Always be prepared to give an answer to everyone who asks you to give the reason for the hope that you have. But do this with gentleness and respect.
1 Peter 3:15 NIV
I overheard them talking from several rows back on the plane. I glanced back to see an older woman and a young international about nineteen or twenty years old, engaged in a serious conversation. They talked non-stop for almost the entire two-hour flight.
The grandmother spoke with excitement and joy, answering the young man as he questioned her in broken English. I overheard bits and pieces: "hope," "trust in Christ," "plan for you," "joy," "heaven," and I smiled with understanding. The woman was intently sharing her faith in Jesus. Just before the plane landed, I heard her ask the young man, "Would you like to pray with me?"
After we stepped off the plane, I found the woman and told her how glad I was that she had a chance to share about Jesus with the young man. "He is a new believer in Christ!" she grinned.
On another occasion I was attending a conference several hundred miles away. A cab driver in the taxi in which I was riding started a conversation. He was a follower of Christ, and had driven a taxi for thirty-two years. "I always wanted to take more music and play the saxophone, but friends told me I couldn't play jazz and be a Christian."
I encouraged him to follow his dream again, that it was never too late to accomplish what he might have been—or what God might want to do through his life.
"I'm living proof of that," I said, before exiting the taxi.
Some women think by the time they're grandmothers they have more limitations and therefore, fewer opportunities to live out and share their faith in Christ. Not so. In my own church, senior women have helped serve both the physical and spiritual needs of the homeless in places like Dallas and New Orleans. Many have given "life" away both in their apartment complex and in other countries around the world. For those who are retired or who have flexible schedules, the senior years are wonderful times to volunteer in places and with organizations that truly make a difference.
On a mission trip to Peru a few years ago, God gave me several opportunities to share my faith with those of various ages: children, young adults, and with grandmothers like myself—on the streets, in their homes, and in Vacation Bible schools.
Each time I shared my testimony, a young Hispanic man interpreted for me. I had watched in amazement as this same young man led one after another to Jesus on a bus—in the amount of time it would take me to brush my teeth. On one particular occasion, we talked to a grandmother and daughter on the street. The grandmother, in tears, nodded in agreement when I asked if she would like to know Jesus personally. As we were finishing our conversation, the young adult daughter interrupted. The interpreter explained to me what she was saying. She had wanted to trust Jesus from the very beginning of our conversation, but we misunderstood her desire. Before we left, both said "yes" to following Jesus.
When I saw the interpreter again at our reporting time back in the States, he apologized to me. "All those times I was interpreting your story, I was using a word that means 'fingernails' in Mexico, but 'cloth' in Peru." (My testimony told how my pastor father had used a special liquid solution and cloth to explain God's love. That visual illustration influenced me greatly to follow Jesus at an early age.) I told the interpreter not to worry. The people understood God's love and message anyway.
Recently on Spiritual Life
Have something to say about this article? Leave your comment via Facebook below!
advertise with us
Example: "Gen 1:1" "John 3" "Moses" "trust"
Advanced Search
Listen to Your Favorite Pastors