Become a Modern Moses
Whitney Hopler, Live It Editor
Thursday, February 17, 2005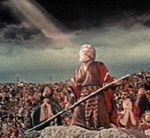 Satisfy your hunger. Just as Moses told the Israelites of God's command to collect manna each morning to nourish them physically, you should collect fresh inspiration from daily Bible reading for spiritual nourishment. Meditate on the words you read and consider how God wants you to respond to them. Feed on a healthy diet of God's Word at church; don't go to a place that offers a junk food diet of pop psychology rather than the inspired wisdom of holy Scripture. Crave the only One who can truly satisfy you: Jesus, who is the Bread of Life and the Living Water.

Lean on the rock of ages. No matter what your needs, bring them to God and trust Him to touch your life with creative genius. Intercede in prayer for other people as well. Know that you can always count on God to hear and answer your prayers; He's even stronger and more reliable than a rock. Rely on God's power to help you make the right choices in tough situations. Practice saying no to selfishness and yes to God, no matter how you feel, and the feelings will follow your actions. Claim God's authority over even the most difficult situations.

Understand the purpose of the Law. Know that the Law God set forth in the Old Testament still has the same purpose today - to help people recognize their own sin and need for God, and to point them toward Jesus, who alone has the power to save people in our fallen world. Don't make the mistake of thinking that you can earn your salvation by keeping the Law. Understand that God's standard is perfection, which is impossible for any human apart from Jesus' gift of forgiveness. Hold classes in your church to educate yourself and others on the non-Christian belief systems around you. Then build relationships with non-Christians and engage them in spiritually intelligent conversations to help them discover the purpose of God's law and their own need for Jesus.

Avoid sacred cows. Give more of your time and energy to your relationship with God than you do to any other pursuit. Don't let anything or anyone replace God as your top priority. When you need guidance before making a decision, be patient enough to wait until you hear clearly from God before acting. Realize that acting prematurely can cause great destruction in your life. When you become disillusioned about something or face despair, don't give up or turn away from faith. Instead, ask God to encourage you, and offer every part of your life to God to use for His glory. Be determined to live a faithful life.

Put your talents and spiritual gifts to use. Know that true worship includes cheerfully and generously offering to use your talents to serve others as God leads you. Just as the Israelites all pitched in to help build a tabernacle for worship, you, too, should offer God all you have. Think about what you enjoy doing and what you're good at doing. Then ask God to show you specific ways He wants you to use your talents to contribute to His work on Earth. Ask the Holy Spirit to fill you and help you discern which spiritual gift(s) you have. Then use that knowledge to decide how best to serve within your church.

Enter the tabernacle. Just as the priests of Moses' day entered the tabernacle to present the people's prayers at the altar, you can intercede for the needs of people around you. Make time on a regular basis to pray for the specific needs of family, friends, neighbors, co-workers, and people in the news and around the world.

Keep following the cloud and the fire. Just as God led the Israelites in a cloud by day and a pillar of fire by night, He has promised to stay close to you. Don't lose sight of Him. Stay connected to Him through prayer and be willing to follow wherever He leads.


---

Adapted from Here Am I, Lord ... Send Somebody Else!, copyright 2004 by Jill Briscoe. Published by W Publishing Group, a division of Thomas Nelson Publishers, Nashville, Tn., www.wpublishinggroup.com.    

Jill Briscoe currently serves as minister-at-large for Elmbrook Church in Brookfield, Wisconsin with her husband, Stuart, who served there as senior pastor for 30 years. In addition to her writing and an international speaking ministry, she also advises numerous non-profit organizations and serves on the boards of World Relief and Christianity Today, Inc. Jill and Stuart have three children and 13 grandchildren. Visit her Web site at www.briscoeministries.com.
Recently on Spiritual Life
Have something to say about this article? Leave your comment via Facebook below!
advertise with us
Example: "Gen 1:1" "John 3" "Moses" "trust"
Advanced Search
Listen to Your Favorite Pastors