Change the World: Pray for Preachers
Dr. Paul Dean
Friday, December 08, 2006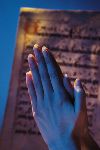 Big name pastors have been in the news lately as is often the case. Unfortunately, Ted Haggard is well known now for tragic reasons. After admitting to allegations of sexual immorality with a homosexual male prostitute, he resigned as pastor of the 14,000 member New Life Church and as president of the National Association of Evangelicals.
In a written apology, among other things, Haggard stated that he had struggled with sexual sin most of his adult life. He confessed, "For extended periods of time, I would enjoy victory and rejoice in freedom. Then, from time to time, the dirt that I thought was gone would resurface, and I would find myself thinking thoughts and experiencing desires that were contrary to everything I believe and teach."
Rick Warren has been in the news though not for the same reasons as Haggard. Of course, that doesn't mean the news he's making is all good. From his ecumenical push, to Barack Obama in his pulpit, he's making plenty of controversial headlines.
Just this week, WorldNetDaily reported that Brigitte Gabriel, founder of The American Congress for Truth and a Lebanese-American who wrote "Because They Hate," responded to Warren's statement that Syria is "a moderate country, and the official government rule and position is to not allow any extremism of any kind." She retorted, "Rick Warren can do us all a favor and keep his remarks and opinions to himself. When you don't stand up against and condemn evil, let alone say misrepresented facts about an evil regime, you become an enabler and defender of evil, plain and simple."
Not all pastors are in the news and not all pastors are facing the same kind of trouble. Yet, one thing is certain in the midst of a fallen world: all pastors and gospel preachers need people praying for them. The very progress of the gospel is at stake. Not only is gospel advance hindered when men of God fall or get derailed with other agendas, but the gospel is hindered when men of God lack power and intentionality regarding this high calling.
The Apostle Paul asked the Thessalonian believers to pray for him and his companions in the progress of the gospel. The plain truth is that in God's economy, it is absolutely necessary that we develop the habit of praying for God-called preachers. If we are faithful to pray, we will see fewer men of God fall, get off track, or simply lose heart. And yet, as always, the issue is deeper than that. Other reasons exist as to why we must pray in this regard.
First, in God's economy, it is absolutely necessary that we develop the habit of praying for God-called preachers because only God can cause them to faithfully preach that His word may be effectual. As always, that was Paul's concern: the progress of the gospel. Thus, he said, "Finally, brethren, pray for us, that the word of the Lord may run swiftly and be glorified, just as it is with you (2 Thess. 3:1)."
Note that Paul does not merely pray for gospel advance, but he requests prayer for himself and his gospel companions. God is the One who causes the gospel to spread, but He uses means to accomplish that spread. Part of the means God uses is God-called preachers who live to herald forth the good news of Jesus Christ. Paul knows that those men, as all Christians, need strength from the Lord on a constant basis. Thus, he says, "pray for us."
Now, the purpose in asking for prayer is ultimately "that the word of the Lord may run and be glorified." Paul speaks in word pictures from time to time and has borrowed a metaphor from the Greek games here. He desires that the word of the Lord may have a free course. The picture is that of running freely over the course of a race with power and speed to the finish.
Recently on Spiritual Life
Have something to say about this article? Leave your comment via Facebook below!
advertise with us
Example: "Gen 1:1" "John 3" "Moses" "trust"
Advanced Search
Listen to Your Favorite Pastors