Change the World: Pray for Preachers
Dr. Paul Dean
Friday, December 08, 2006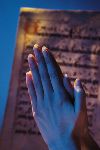 The picture is completed with Paul's desire that the word be glorified, that is, crowned with glory. The winner of the race was adorned with a wreath (crown) of glory. The word of God, as it runs, is adorned with glory. As the word is proclaimed with power and freedom, the hearts and lives of people are changed. That change is the crown of glory. The word of God is crowned with glory as it is made effectual and reflected in the lives of men.
Paul's hope is that the word of God will run the race and be crowned with glory "just as it is with you." The word had been made effectual in the lives of the Thessalonians and that reality had been noised abroad. Paul put it this way:
"And you became followers of us and of the Lord, having received the word in much affliction, with joy of the Holy Spirit, so that you became examples to all in Macedonia and Achaia who believe. For from you the word of the Lord has sounded forth, not only in Macedonia and Achaia, but also in every place. Your faith toward God has gone out, so that we do not need to say anything. For they themselves declare concerning us what manner of entry we had to you, and how you turned to God from idols to serve the living and true God, and to wait for His Son from heaven, whom He raised from the dead, even Jesus who delivers us from the wrath to come." (1 Thes. 1:6-10)
Through prayer, we can be part of what God is doing to cause His word to run and be crowned with glory. Prayer must be our constant companion. Spurgeon explains it this way: "Prayer pulls the rope down below and the great bell rings above in the ears of God. Some scarcely stir the bell, for they pray so languidly; others give only an occasional jerk at the rope. But he who communicates with heaven is the man who grasps the rope boldly and pulls continuously with all his might."
Second, in God's economy, it is absolutely necessary that we develop the habit of praying for God-called preachers because only God can deliver them from unreasonable and wicked men who seek to destroy. If the word was going to run by way of Paul's proclamation, those obstacles which hindered him and his co-laborers would have to be removed. The gospel and those who proclaim it will be met regularly with opposition. The Lord must overcome that opposition as He is the only One who has such power. Thus, Paul requests prayer, "that we may be delivered from unreasonable and wicked men; for not all have faith (v. 2)."
Paul had been plagued by false teachers, opponents, and enemies of the cross throughout his ministry. The particular reference here is to opposition from the Jews in Corinth (Acts 18:5-6). Paul needs rescue or deliverance from unreasonable and wicked men. The word unreasonable refers to being "out of place." These men were out of place with their claim. They did in fact claim to know God, but, they were out of place, wicked, and did not have saving faith. Paul's point is that not all have saving faith and that not all who claim to have faith actually do. These Jews claimed to know God but they were bound in self-righteousness and far from Him. They opposed Paul at every turn as he preached what they considered to be a blasphemous message. Only God could deliver Paul from such difficult circumstances.
Ultimately, because the very progress of the gospel is at stake, Christians must pray. Samuel Chadwick pointed out, "The one concern of the devil is to keep Christians from praying. He fears nothing from prayerless studies, prayerless work and prayerless religion. He laughs at our toil, mocks at our wisdom, but he trembles when we pray." We must pray for those who are raised up to preach the gospel. Of course, that includes all Christians, but, some men have a special call upon their lives in this area. But, even those men are simply men. That means they have no spiritual power in themselves. Further, they have no power to save. If they are going to be used in a powerful way, God must work in them and through them.
Recently on Spiritual Life
Have something to say about this article? Leave your comment via Facebook below!
advertise with us
Example: "Gen 1:1" "John 3" "Moses" "trust"
Advanced Search
Listen to Your Favorite Pastors