Church on Christmas? Sorry, We're Closed
Paul J. Dean, Pastor, Counselor & Professor
Wednesday, December 14, 2005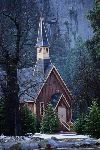 "There is an old carol that has a line that goes, 'And all the bells on earth shall ring, on Christmas Day, on Christmas Day, and all the bells on earth shall ring, on Christmas Day in the morning.' If churches still bother with bells anymore, they won't be ringing on Christmas Day in the morning this year. Chestnuts roasting on an open fire and presents under the tree are issuing a louder call."
So says Ingrid Schlueter as she laments the nation-wide news reports concerning churches closing on Christmas this year. For example, Fox News reports, "This Christmas, no prayers will be said in several mega-churches around the country. Even though the holiday falls this year on a Sunday, when churches normally host thousands for worship, pastors are canceling services, anticipating low attendance on what they call a family day."
The famous Willow Creek Church in South Barrington, Illinois is leading the way in this move saying they wanted people to be able to "be with their families on Christmas Day" rather than be in church.
Schlueter asks, "What does it say about the followers of Jesus Christ that the day on which his incarnation is remembered, there is no desire to gather corporately as the visible church on earth to worship at His feet? What does it say about our pastors and leaders who are more concerned about family values than emulating the example of the Magi in worshiping the long awaited Messiah?
They traveled a vast distance to find the Lord of glory in his humble home. We can't be bothered to drive across town. What a searing indictment this is of those who claim to follow Christ." What an indictment indeed. This indictment raises a number of issues for the contemporary church.
First, there is the issue of the object of the Christian's true devotion: Christ. He is more to be preferred than anything. He is the pearl of great price, the treasure in the field, the bread of life, and the living water that quenches our thirst in such a way that we will never thirst again. He satisfies completely and at His right hand are pleasures forevermore. When men prefer things over Christ, the heart of the problem is a problem with the heart.
We are not talking about law here. There is no Scripture that says we must be in church every time the door is open or that we must celebrate the birth of Christ. However, Christians go to church on the Lord's Day out of love for Christ. Indeed it is a heart issue for those who choose to celebrate a cultural holiday bound up in materialism rather than gather with God's people for worship on a day that has significant meaning in the Christian context.
What do I love more is the question we should be asking ourselves: Jesus or things? Part of the problem lies in the fact that many Christians have no concept of the all satisfying joy that is to be had in Christ. Some have not been discipled in that regard.

Others, sadly, are Christians in name only. Far too many Christians see church or worship as a duty rather than a delight. Again, this view is an issue of the heart. A heart transformed by the love and grace of Christ will find greater pleasure in Him than in anything. Yet, in our self-centered, Laodicean, and consumeristic culture, when Santa Claus and Jesus Christ compete, it is Santa Claus who wins. This reality should break our hearts.
Recently on Spiritual Life
Have something to say about this article? Leave your comment via Facebook below!
advertise with us
Example: "Gen 1:1" "John 3" "Moses" "trust"
Advanced Search
Listen to Your Favorite Pastors